VP of Info Nominations
SP Helpers
Go here to sign up to hear about ways you can help out at SP!
Officer and Hall Councilor Applications
Hall councilor applications close on March 28 (in 0 days and 19 hours)
Officers and hall councilors do not need to enter the continuing status lottery to live in SP for the 2017-2018 academic year.
3D Printer Town Hall Slides
Slides from the 3D printer town hall are available here!
April 4th House Meeting
Tuesday, April 4, 2017 20:00 – 21:00 | MP Room | sp-president [at] mit.edu
On April 4th at 8PM in the MP room, SP will have a special house meeting to elect a new VP of Information. The meeting should take about 30 minutes. The meeting agenda is as follows:
VP of Info Election
Upcoming Events
Open floor
Dessert
All residents are invited to participate.
SP Outing: Skywalk Observatory Boston
Saturday, April 8, 2017 10:00 – 11:00 | 800 Boylston St, Boston, MA 02199 | sp-outing-chair [at] mit.edu
Hey SP, join us for an early April visit to Skywalk Observatory Boston! It's a great chance to see and learn our city!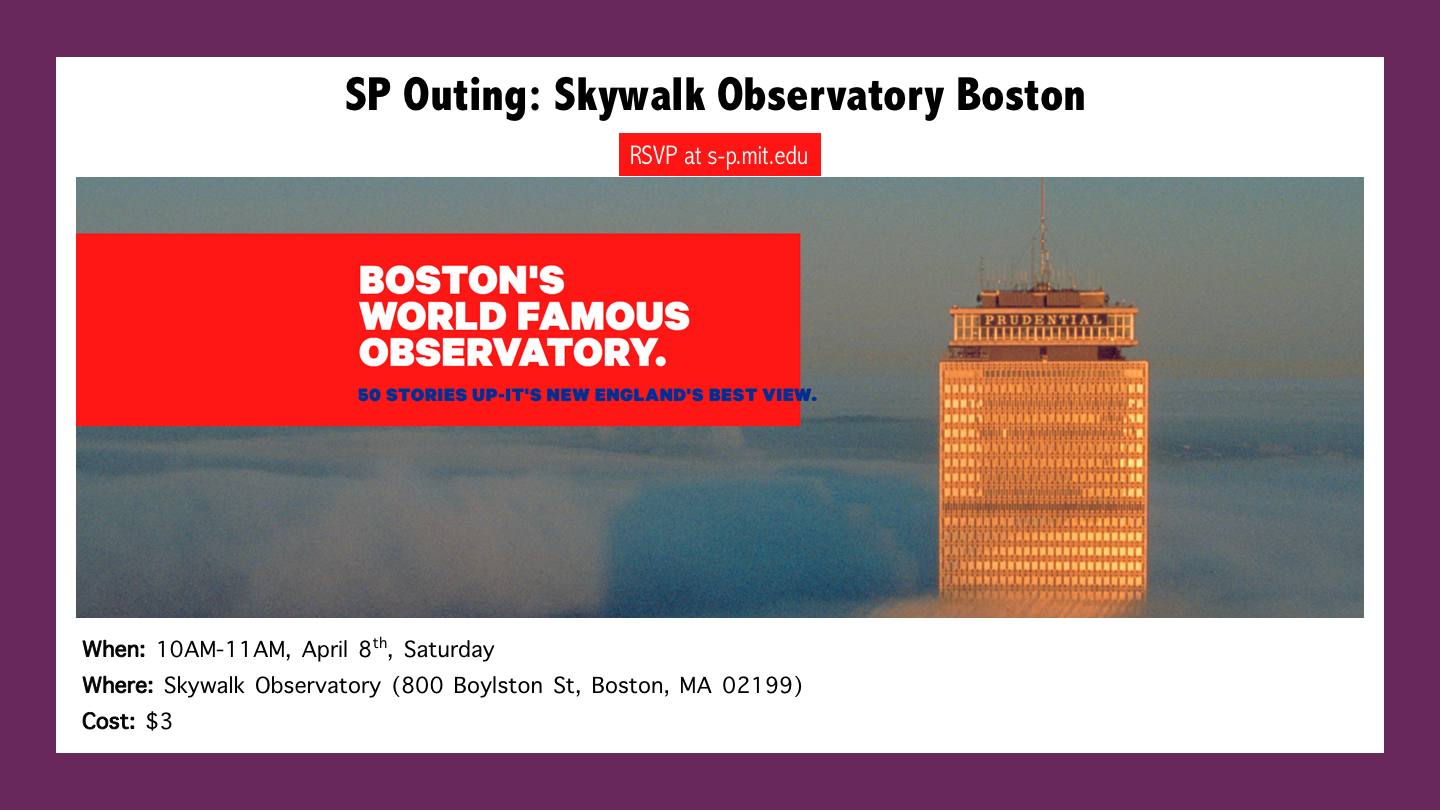 SP Outing to The King and I
Thursday, April 13, 2017 18:15 – 22:00 | Boston Opera House | sp-outing-chair [at] mit.edu
Join us for an SP Broadway outing to go see Tony-award winner The King and I on its national tour! When: Thursday, April 13th Time : Meet in SP Lobby at 6:15 pm Where: Boston Opera House (we will take the T - Red Line to Downtown Crossing) Cost: $24 (subsidized) Tickets are limited so RSVP on the SP website! Please note that this event is currently for SP residents only.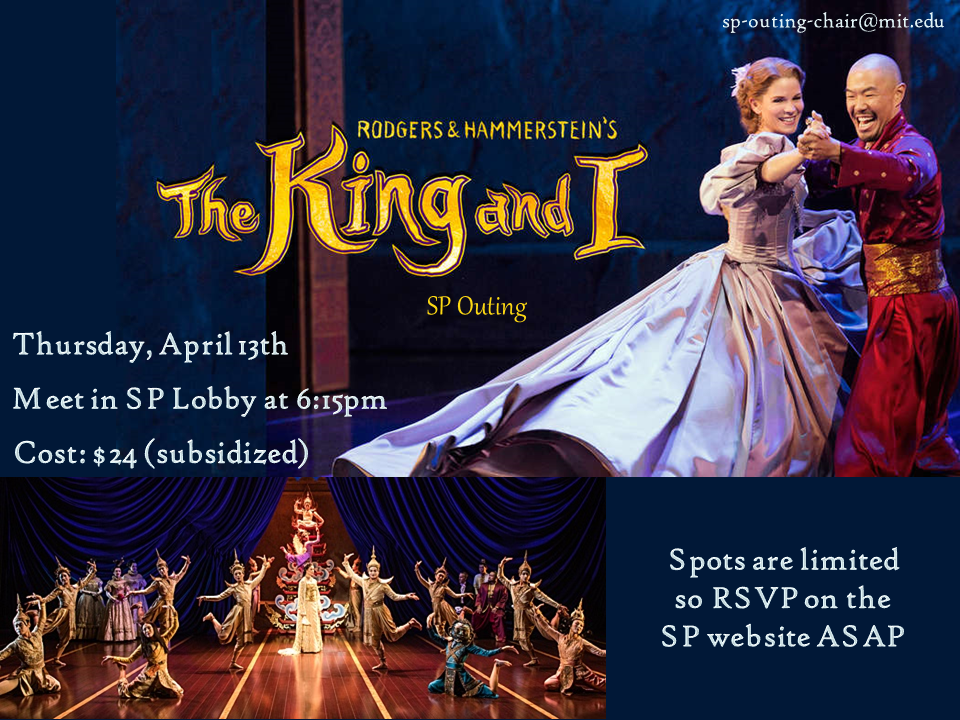 Together in Service: CityDays
Tuesday, April 18, 2017 12:00 – 12:00 | sp-outreach-chair [at] mit.edu
Service Day: Tue, Apr 18 Group Deadline: Tue, Apr 4 Individual Deadline: Thu, Apr 6 Join your MIT peers in a one-day volunteering opportunity as part of MITís Together in Service Initiative. Open to students, faculty, alumni, and staff. More information and registration at http://studentlife.mit.edu/pkgcenter/citydays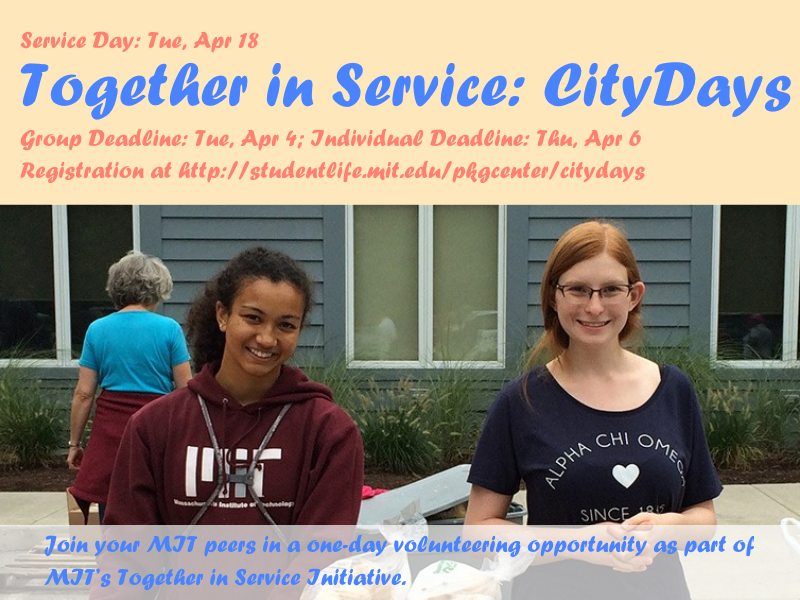 IT Outing: Server room tours
Wednesday, April 19, 2017 18:00 – 19:30 | Meet in Lobby | sp-it-chair [at] mit.edu
Come see the servers that run MIT. IS&T will be giving us a tour of their operations. We will meet in the SP Lobby at 6 PM, and then walk over to W91.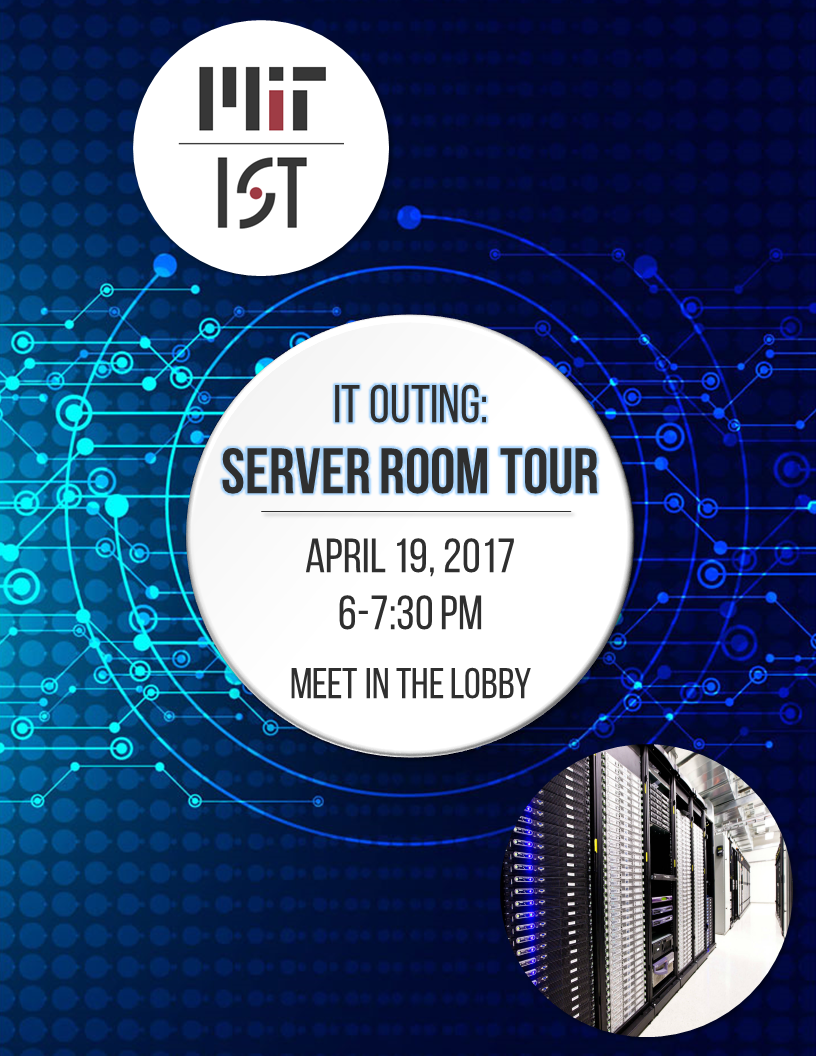 SP April Brunch
Sunday, April 23, 2017 12:00 – 14:00 | Multipurpose Room | sp-brunch-chair [at] mit.edu
As the weather gets warmer (hope this time it's true), please come hang out with friends and enjoy our glorious glamorous April brunch. Our ambition, as usual, is to provide you a great community as your second "family", a family you can share your thoughts to, a family you can count on. Please do not forget to bring your own plates and utensils to keep SP green, and do not forget to bring your smiles:) Any help is deeply appreciated.