HVAC Room Allocation


For questions about move dates or any other issues, email sidpachvac@mit.edu to reach MIT administrators.
Please remove bikes from East bike room by Aug 2nd
Monday, August 3, 2015 23:59 – 23:59 | sp-hvac-committee [at] mit.edu
The East bike room (closer to Pacific St) will be converted into the gym for phase I of the HVAC renovation. If you have a bike parked there, please move it to a different location by Aug. 2nd 2015. Any bikes left in the bike room after Aug. 2nd 2015 will be removed and safely stored.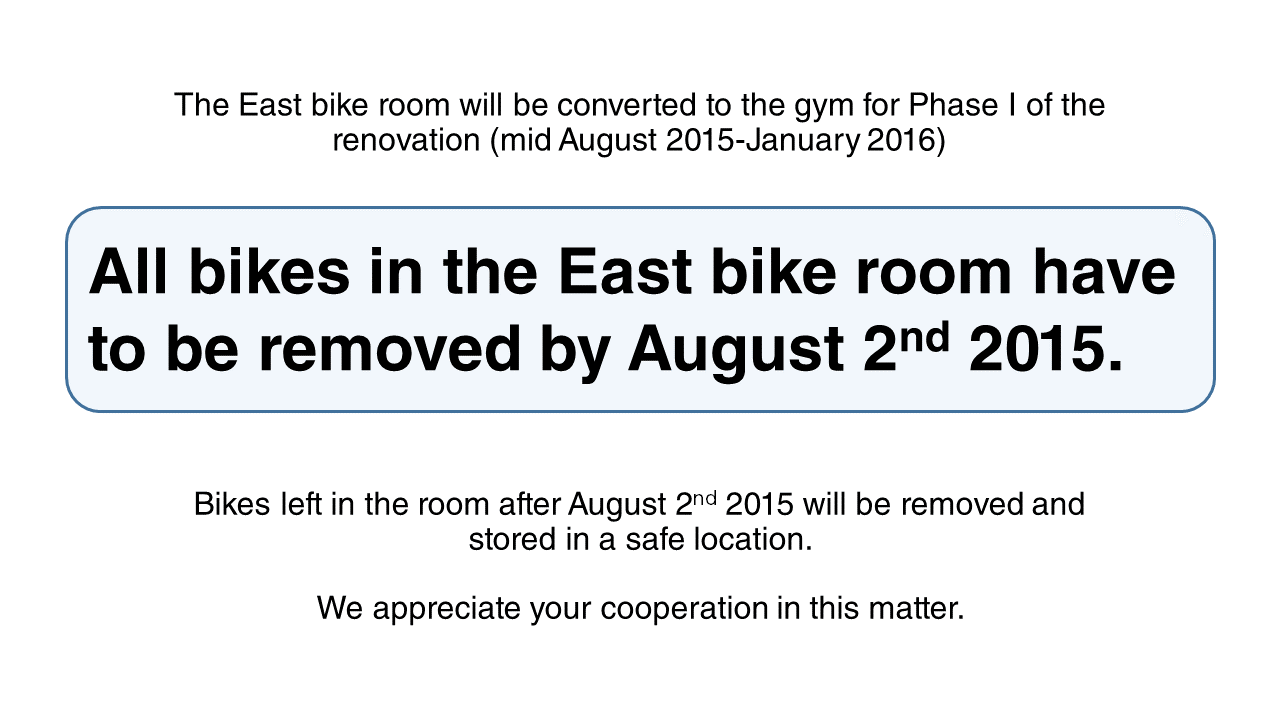 New England Aquarium trip
Sunday, August 9, 2015 11:00 – 16:00 | New England Aquarium | sp-aquarium-chair [at] mit.edu
As summertime continues in its stifling furnace form, why not enjoy a relaxing weekend day by the cool water? While you're at it, why not touch a stingray, or watch majestic sharks, and funny penguins go by? This is what a day at the New England Aquarium is all about, a day spent with friends and SP neighbors, by the water, far, far away from both work and heat. Tickets will be a reasonable $5/person. The rest of the cost is covered, courtesy of SP. Please RSVP :)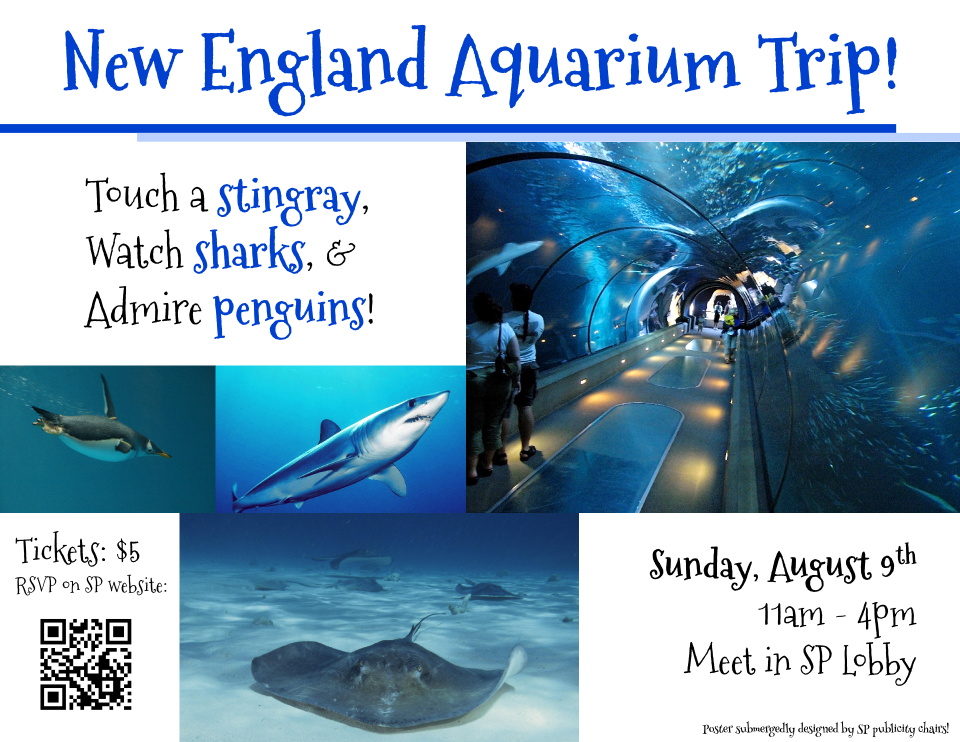 Grad Dorm Furniture Donation Day
Monday, August 10, 2015 07:00 – 12:00 | Collection Point under the Bird's Nest artwork between Lobby & Bike Room | sp-environment-chair [at] mit.edu
August 10th is GSC Sustainability Grad Dorm Furniture Donation Day! If you'd like to a) reduce waste from move-outs, b) make affordable furniture available to other students, and c) support the Furniture Exchange scholarship for undergraduate women at MIT, sign up here: https://tinyurl.com/nndrk3k & drop off your furniture across from the parking lot entrance under the Bird's Nest on August 10th before noon. For non-furniture items, stay tuned for the upcoming Choose to Reuse Coffee Hour!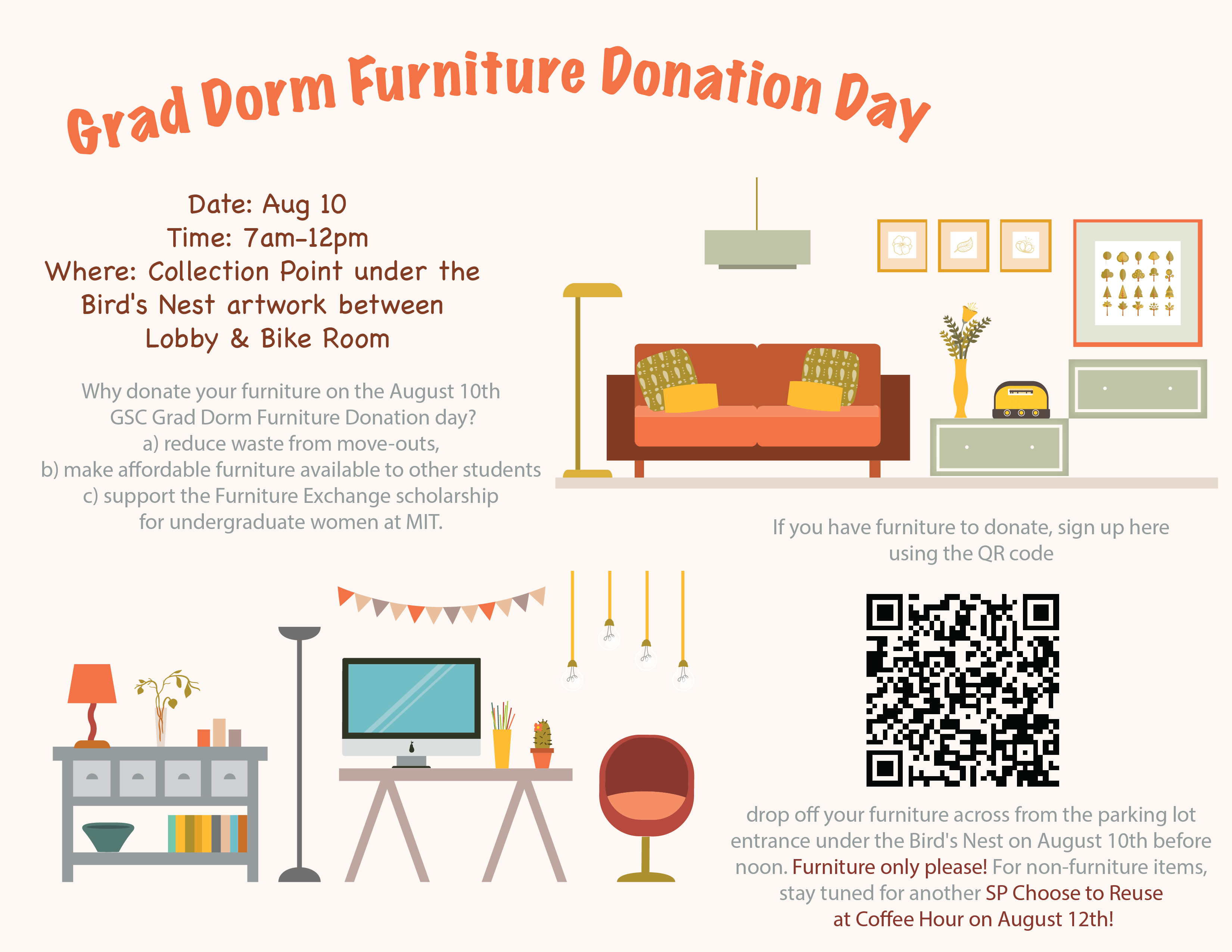 Open Mic Night at The Thirsty Ear
Tuesday, August 11, 2015 19:30 – 23:30 | Thirsty Ear Pub | cfoy3 [at] mit.edu
Come out to the Thirsty Ear's Open Mic Night on August 11th. Doors open at 7:30.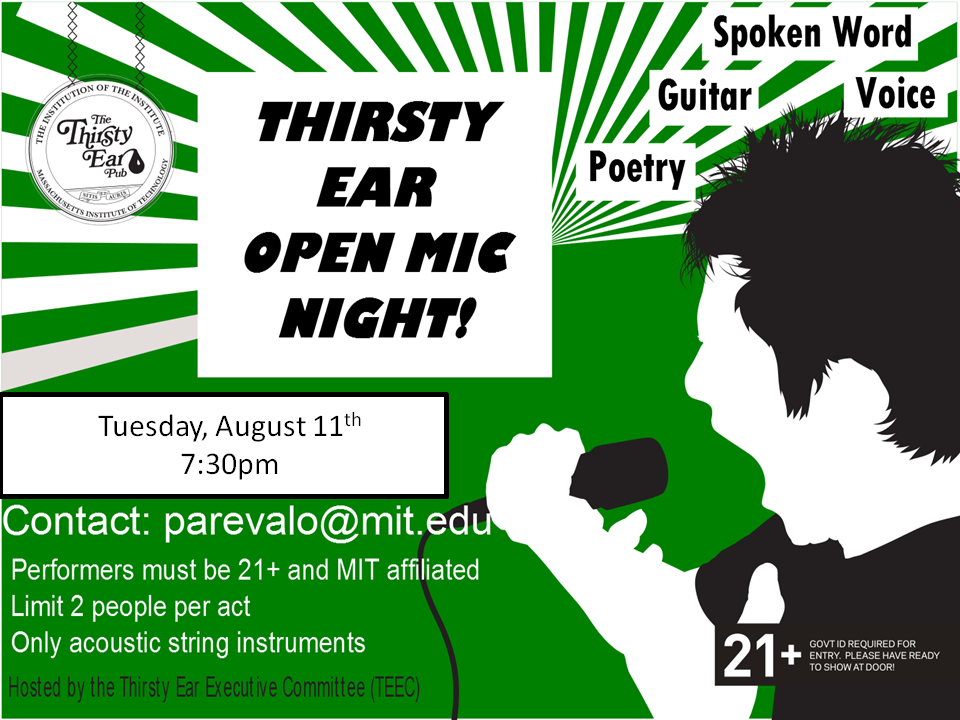 Kinky Boots Broadway Outing
Thursday, August 13, 2015 18:15 – 22:00 | Boston Opera House | sp-outing-chair [at] mit.edu
Join SP as we go to see Kinky Boots on Broadway on Thursday, August 13th! The show is at the Boston Opera House so we will meet in the SP lobby at 6:15pm. The tickets are subsidized by SP so the cost is $30 for residents. Winner of six 2013 Tony Awards, including Best Musical, Kinky Boots features catchy songs, top-notch performances, colorful costumes, big sets, dazzling dance sequences and even a few scenes that could make you cry.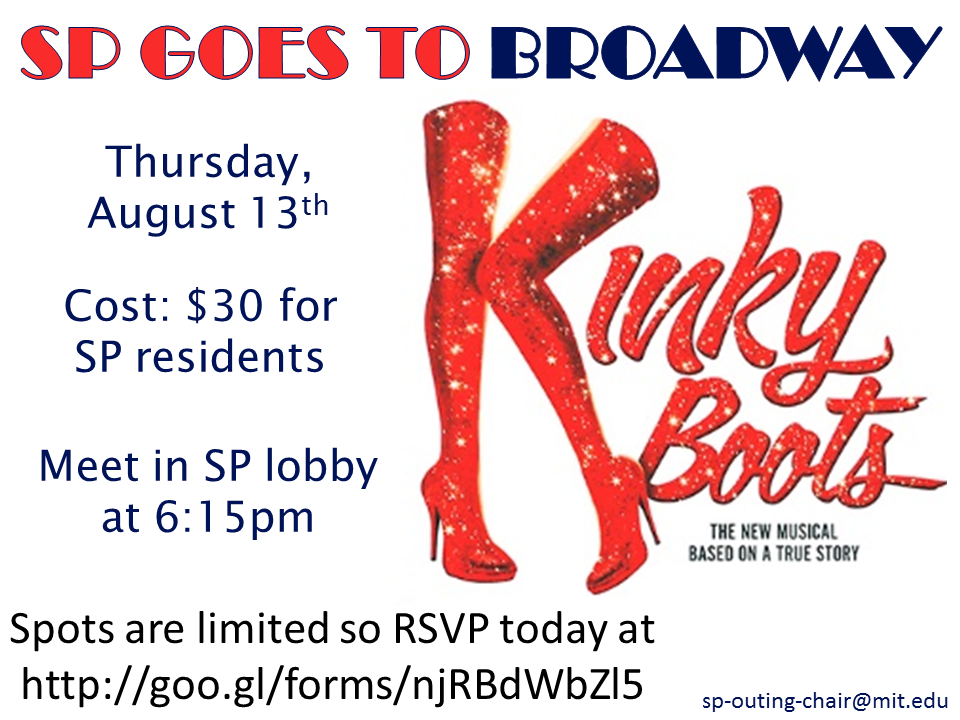 Flight Night at The Thirsty Ear on August 18th
Tuesday, August 18, 2015 19:30 – 23:00 | Thirsty Ear Pub | cfoy3 [at] mit.edu
Hey guys come out to the Thirsty Ear on August 18th at 7:30 PM and celebrate summer! We will have four summer themed beers which are paired with a food option. As always 21+ w/ govt & MIT photo ID only. Please have ID ready to show at door. The Thirsty Ear Pub is located in Ashdown House (NW35). Please enter through the building's lobby. Stay thirsty my friends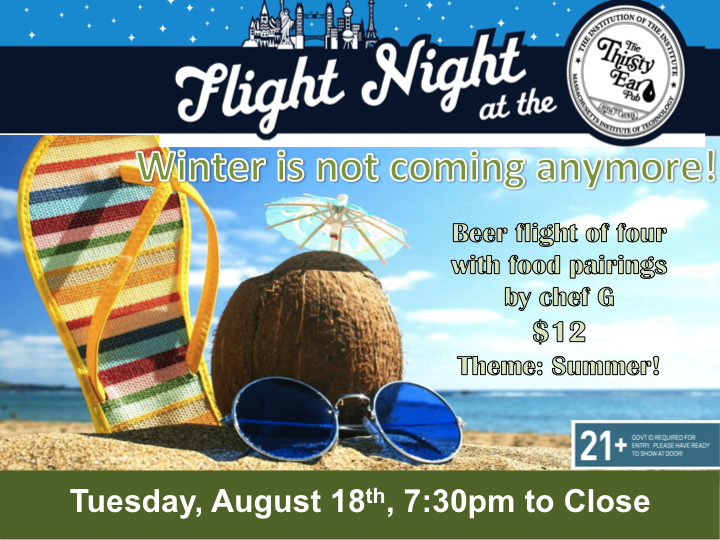 Moving out of SP? Don't throw all your stuff away!
Thursday, August 20, 2015 23:59 – 23:59 | sp-environment-chair [at] mit.edu
Are you moving out of Sid Pac this summer? As you pack, please remember that you do not have to trash everything! There are MANY ways for you to have a greener move-out by reducing the trash you generate. You can SELL your stuff (reuse-sell@mit.edu, Craigslist, for-sale signs on bulletin boards), or DONATE them (CASPAR homeless shelter, Goodwill Store, Planet Aid bins, MIT Furniture Exchange, freecycle.org, reuse@mit.edu, sp-igroups-reuse@mit.edu).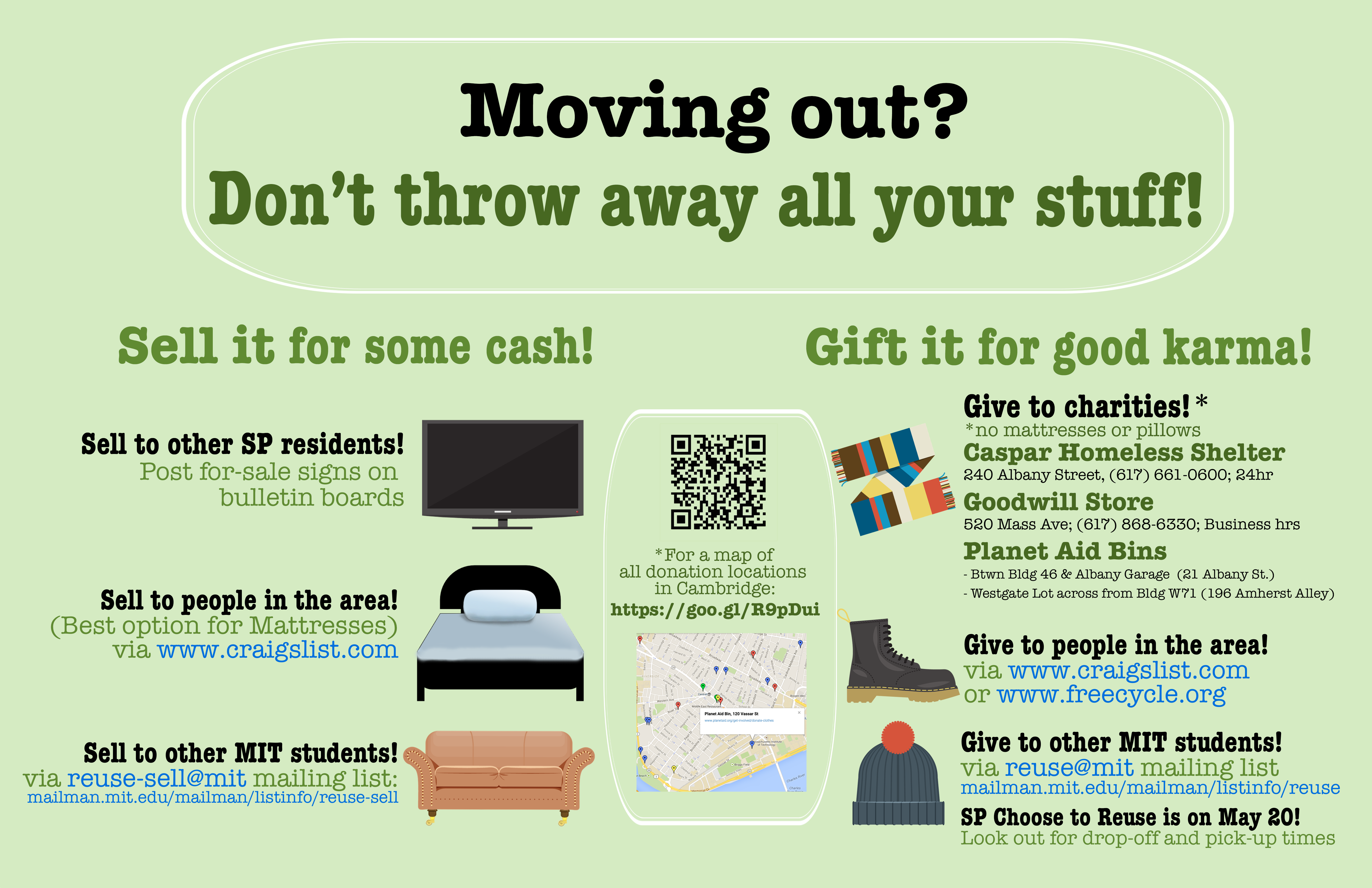 Plant volunteers
Thursday, August 27, 2015 23:59 – 23:59 | sp-aquarium-chair [at] mit.edu