VP of Resources Nominations
Nominations are open for VP of Resources! Current residents are eligible to submit nominations and/or be nominated.
Submit nominations to: sp-nominations@mit.edu
Nominations close on July 4 (in 10 days and 16 hours)
Questions? Email sp-trustees@mit.edu
SP Helpers
Go here to sign up to hear about ways you can help out at SP!
SP Broadway Outing to Wicked
Wednesday, June 28, 2017 18:15 – 22:00 | Boston Opera House | sp-outing-chair [at] mit.edu
Join us for an SP Broadway outing to go see Wicked! Winner of over 100 international awards, including a Grammy and three Tony Awards, Wicked is "Broadway's biggest blockbuster" (The New York Times), and has broken box office records around the world. When: Wednesday, June 28th Time : Meet in SP Lobby at 6:15 pm Where: Boston Opera House (near T-Red Line to Downtown Crossing) Cost: $43.5 (subsidized) Tickets are limited so RSVP on the SP website! *This event is currently for SP residents only!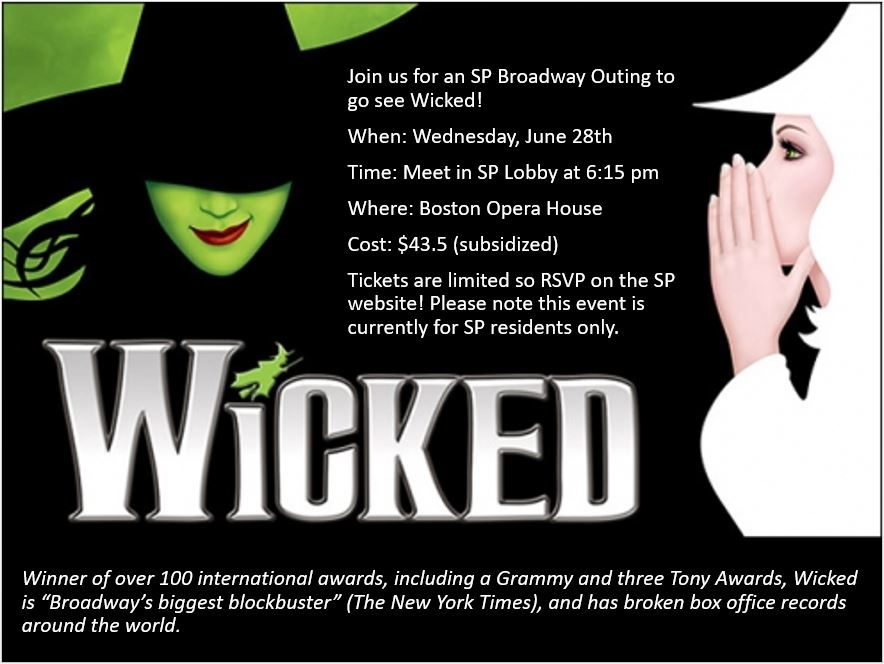 Summer Dance Party
Friday, June 30, 2017 21:00 – 01:00 | SP MP room | sp-social-chair [at] mit.edu
As a part of SP 15th anniversary reunion program, we are holding the summer dance party in the MP room on June 30th, 2017 from 9 pm to 1 am. There will be DJ, food, and alcohol. All are welcome! (Valid ID 21+ for alcohol.)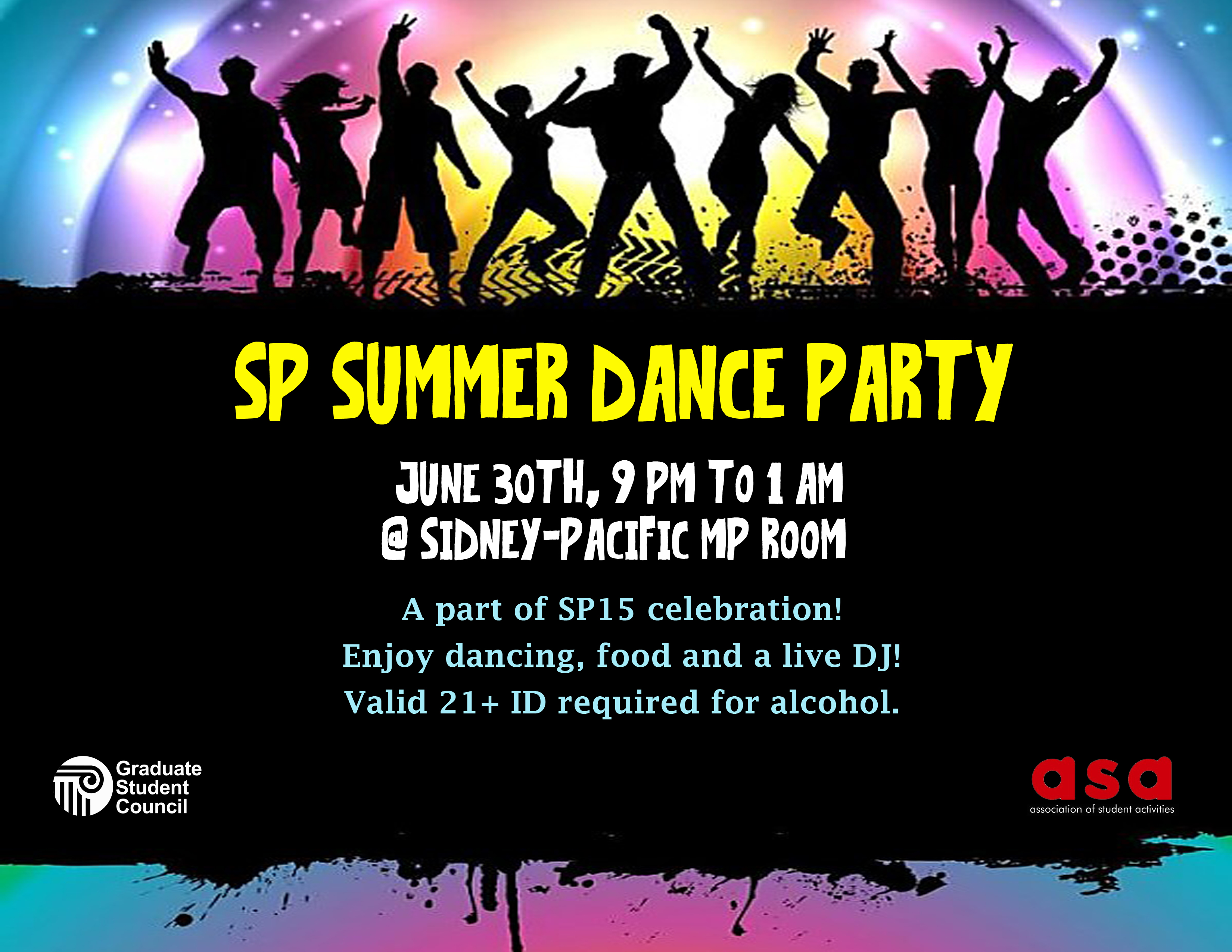 SP15 Celebration Brunch
Sunday, July 2, 2017 12:00 – 14:00 | SP MP room | sp-brunch-chair [at] mit.edu
Celebrating 4th of July weekend and SP15 Celebration with our first summer brunch! We will have all the usual delicious brunch food including pancakes, french toast, fruits, eggs, sausages, bacon, and much more! Please bring your own plates and cups to keep SP green! Helpers always welcome anytime between 8am-2pm.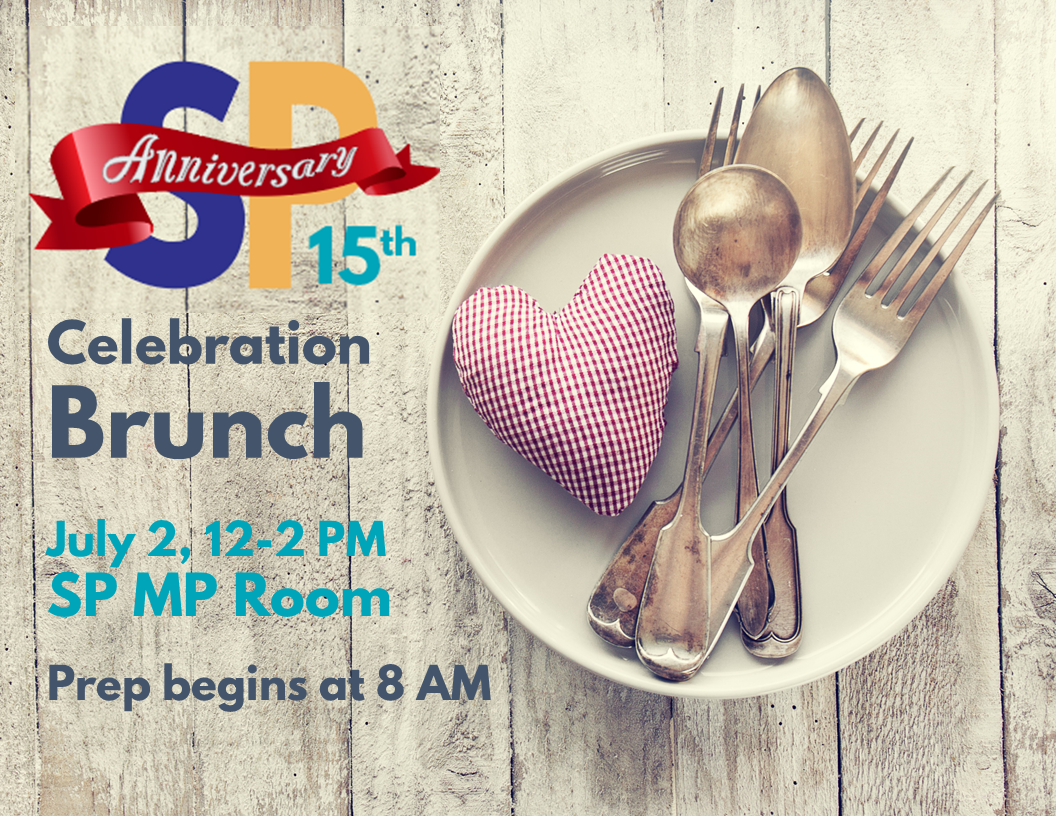 VP of Resources Election
Tuesday, July 11, 2017 23:59 – 23:59 | sp-trustees [at] mit.edu
There will be a special election for the VP of Resources. The nominations will open on 6/20 and close on 7/4. The election will be on 7/11.
Please submit nominations to sp-nominations@mit.edu. If you have any questions, email the Board of Trustees at sp-trustees@mit.edu.