Canadian Coffee Hour
Wednesday, April 16, 2014 21:00 – 22:00 | Multipurpose Room | sp-cultural-chair [at] mit.edu
Canadian Coffee Hour - Hosted by the Canadian Club Wednesday, April 16th, 9-10pm, Sidney Pacific Multipurpose Room The Canadian Club will provide a variety of Canadian treats, as well as cultural music, a slideshow of our most beautiful scenery, and even a short game to see how well you know Canada. Come out to socialize with your friends and discover Canada! Maple syrup sightings are expected.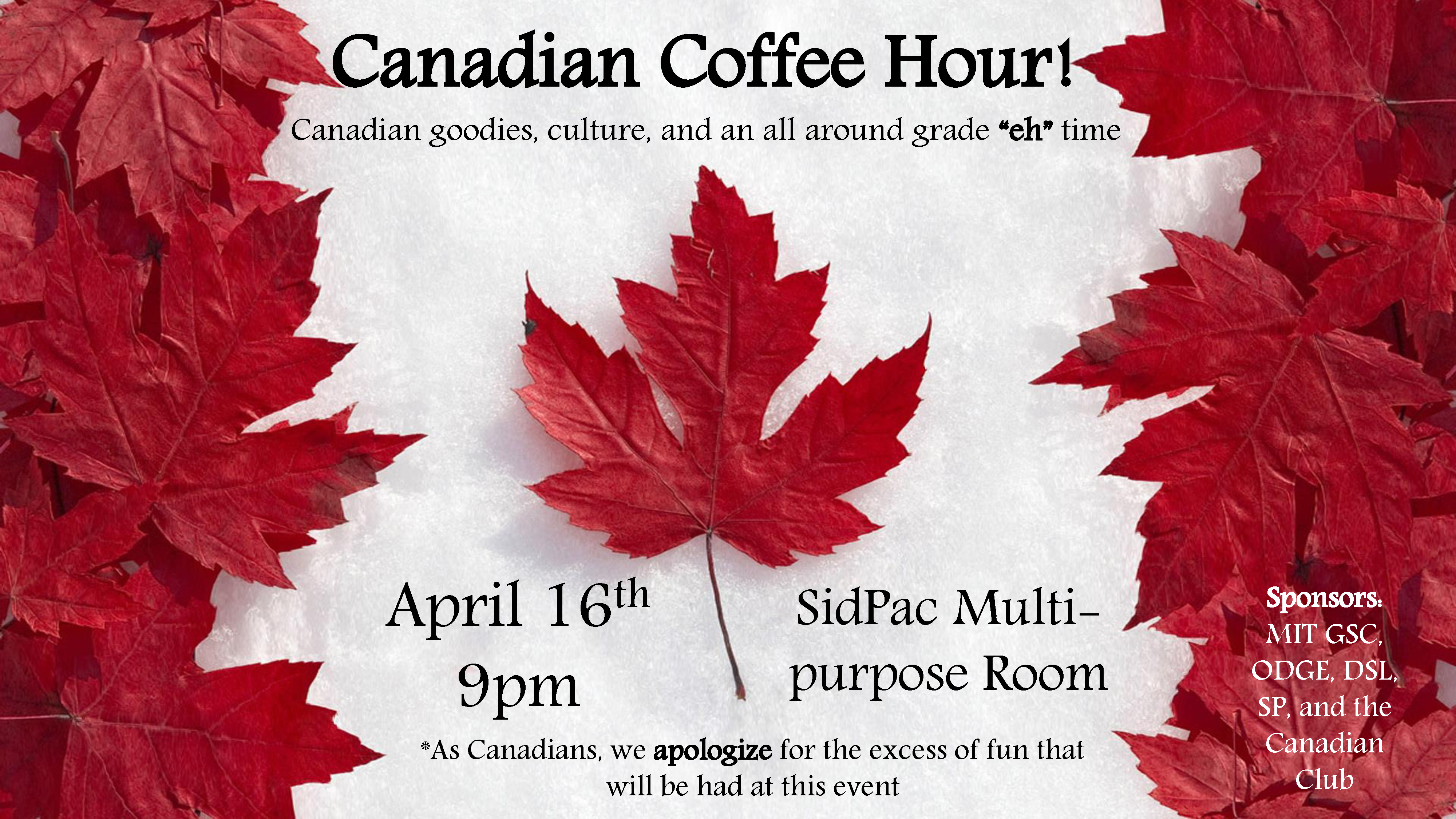 Hall Councilor Elections
Friday, April 18, 2014 23:59 – 23:59 | sp-housecup-coord [at] mit.edu
Hall Councilor Elections are open through April 18! Be sure to vote for your Hall Councilor for next year. You can read statements from the candidates at goo.gl/UDkcU1 and you can vote at goo.gl/pUuycE. House Cup points will be awarded based on turnout.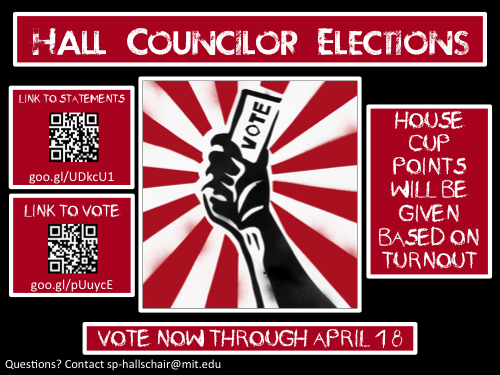 SP Regalia Rental
Sunday, April 20, 2014 | sp-regalia [at] mit.edu
Still need to reserve your PhD gown for graduation? Rent it now from SP! Hurry while they still last. Registration at: http://s-p.mit.edu/regalia/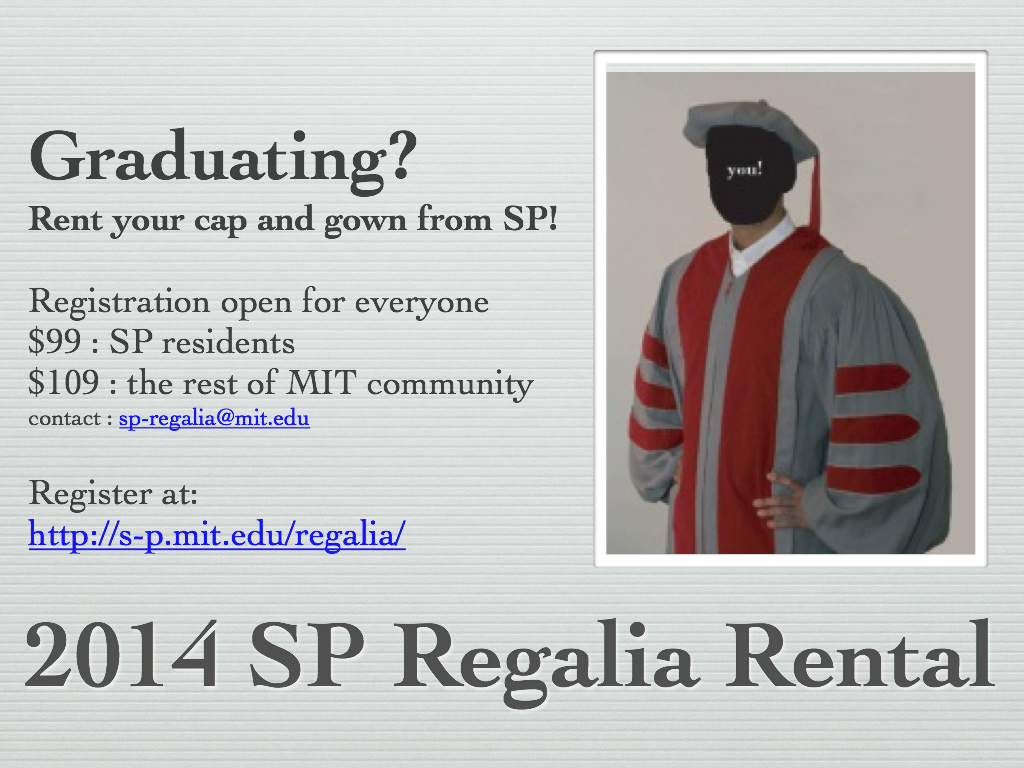 CityDays with SidPac!
Tuesday, April 22, 2014 09:00 – 13:00 | East End House, Cambridge, MA | sp-community-service-chair [at] mit.edu
Each year on the Patriot's Day holiday, the whole MIT community participates in CityDays - a volunteering event where we have a chance to help out at local community organizations. Events include gardening for the CASPAR homeless shelter, helping preschool teachers in East End House, and others. Join your SP neighbors in participating in this event! We plan to serve at East End House in the preschool classrooms, where we'll work as classroom assistants and be playmates for the kids. The MIT CityDays website can be found here: http://web.mit.edu/mitpsc/whatwedo/volunteering/programs/citydays/index.html A more detailed description of all the possible service opportunities may be found on the signup link. RSVP to sp-community-service-chair@mit.edu, preferably by Wednesday April 16th!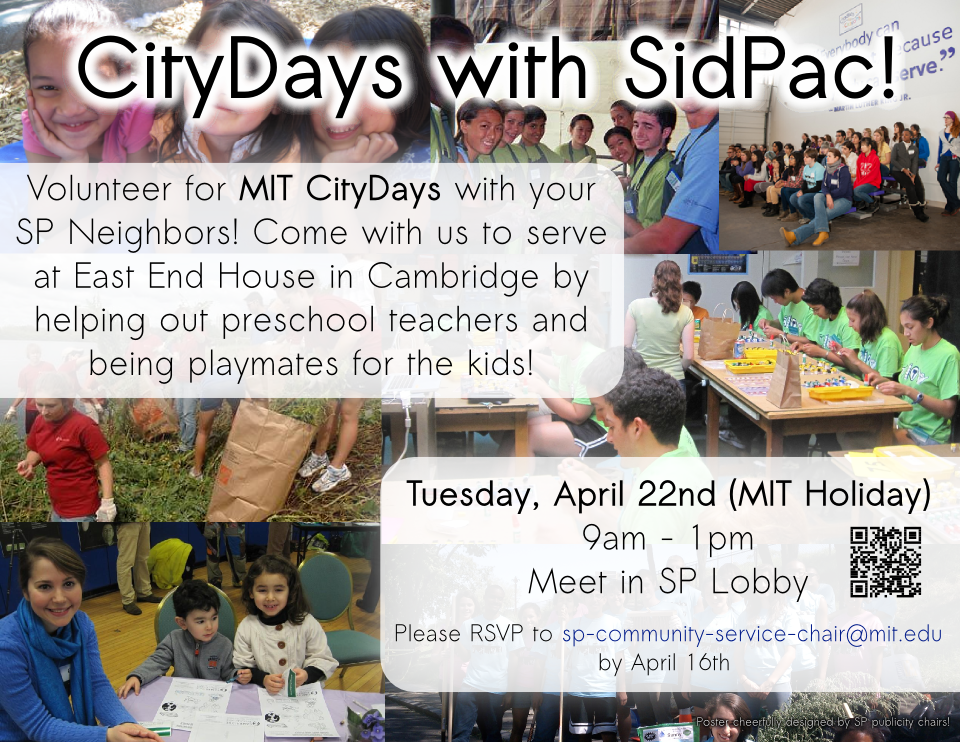 Science Comedy Night
Tuesday, April 22, 2014 20:00 – 22:00 | teec-comedy [at] mit.edu
- Join us for a science themed comedy show featuring researchers at MIT, poking fun at the odd experiences that define life as a scientist.
- Presented by Chemistry Graduate Student Committee, MIT PDA, and Thirsty Ear Executive Committee.
- Food provided by the Thirsty Ear Pub. Event sponsored by Peter de Florez '38 Humor Fund.
- 21+ govt ID & MIT ID required for entry. Please have ID ready to show at the door.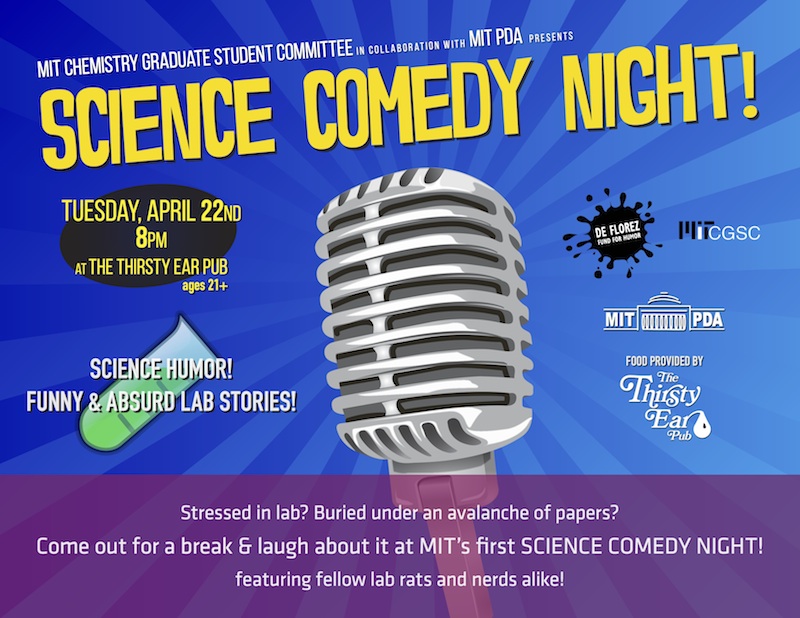 MIT Earth Week
Tuesday, 22 April 2014 00:00 — Saturday, 26 April 2014 00:00 | Please visit website for full schedule: mit.edu/earthday | sp-environment-chair [at] mit.edu
Happy Earth Day, Sid Pac! The MIT Earth Day Collaborative brings you Earth Week 2014. Starting April 22nd, we are challenging the MIT community to Re:Think Consumption - a critical exploration of how we design, produce, consume, and dispose of the "stuff" in our lives. Explore how we can make more sustainable choices in our work and personal lives and reduce the use of natural resources and carbon dioxide emissions through a series of events. For a full schedule, visit mit.edu/earthday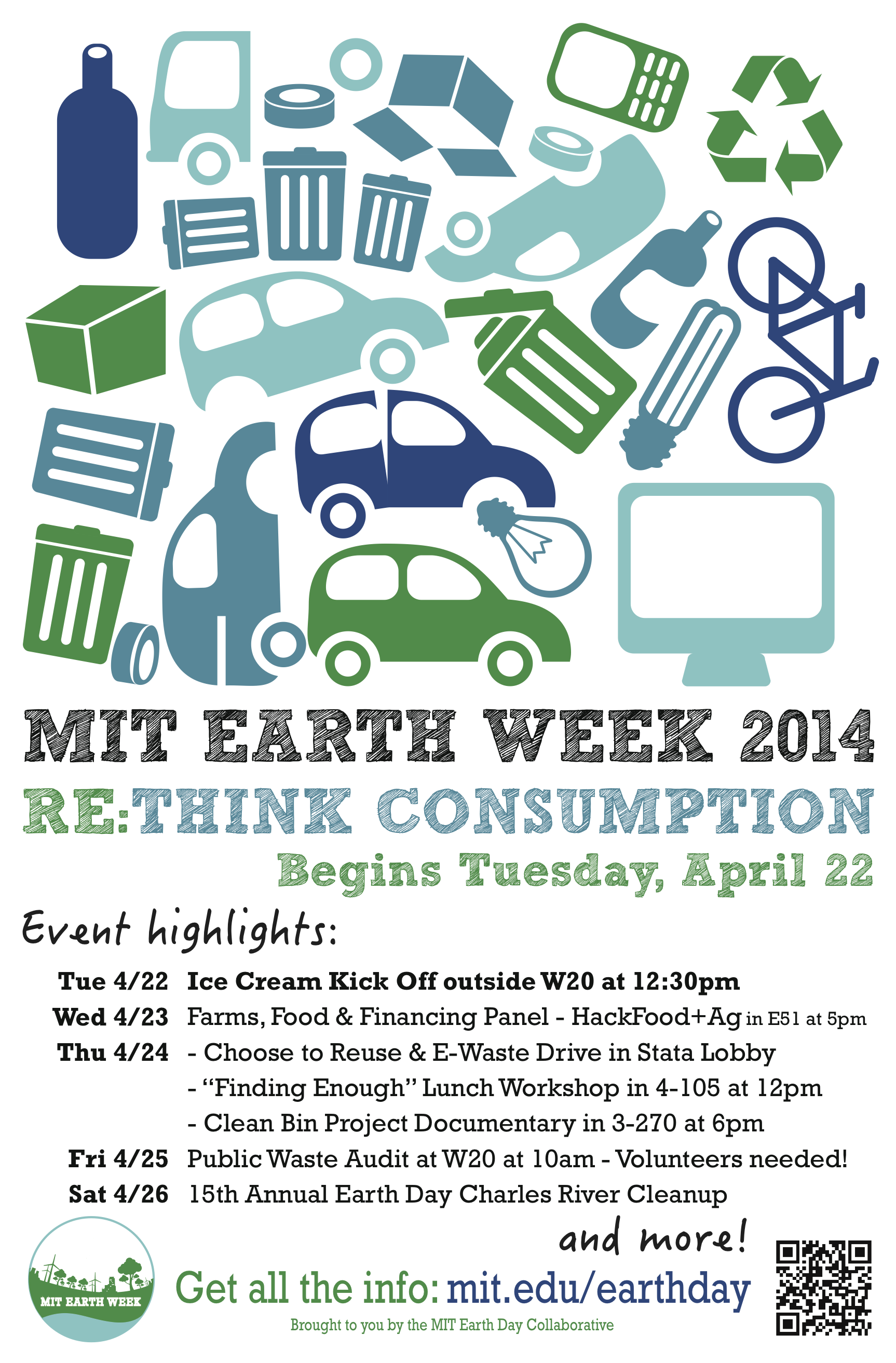 EARTH WEEK: Clean Bin Project Film Screening
Thursday, April 24, 2014 18:00 – 20:30 | 3-270 | sp-environment-chair [at] mit.edu
The Clean Bin Project is a fun, indie documentary about waste and consumption. In this multi-award winning, festival favorite, find out how a Canadian couple challenged themselves to live completely zero-waste for a whole year. Come and enjoy some snacks and get inspired! The screening will be followed by a panel discussion with MIT community members who have also challenged themselves to live zero-waste. This film screening is a part of a series of Earth Week events at MIT. For the full schedule, check out our website at https://mit.edu/earthday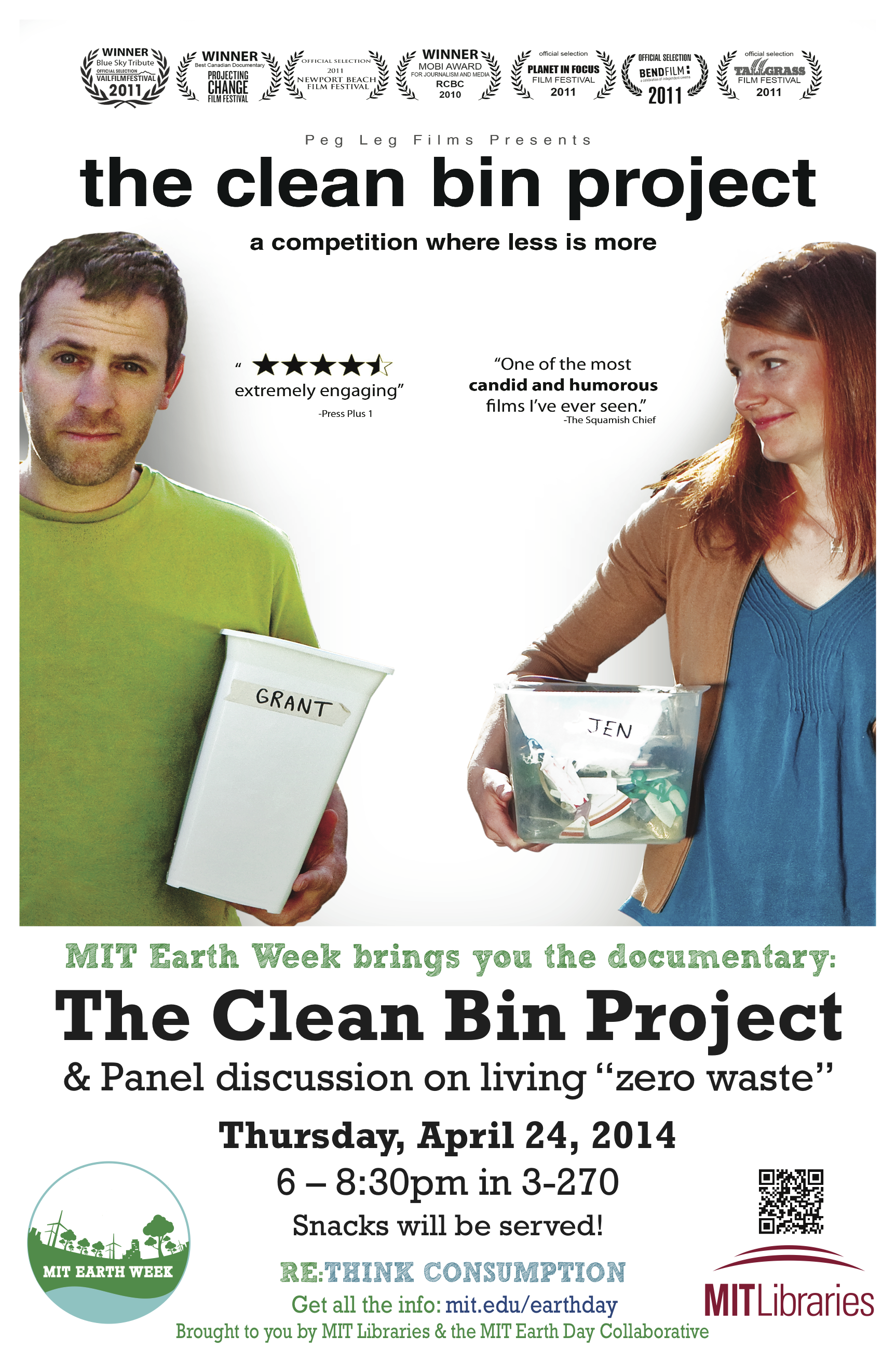 EARTH WEEK: Public Waste Audit at W20
Friday, April 25, 2014 10:00 – 13:00 | Steps of W20 (Student Center) | sp-environment-chair [at] mit.edu
Get your hands dirty at the Public Waste Audit on Friday 4/25/14 from 10:00 AM to 1:00 PM on the steps of W20. This collaborative audit will assess the fractions of recyclables and organic waste mixed in with the garbage to raise awareness about consumption and waste at MIT. The whole event will be documented by video & photos by our very own Photofile chair, Chi Feng! Please RSVP to volunteer to either "get your hands dirty", or share information at the info table. This Public Waste Audit is a part of a series of Earth Week events at MIT. For the full schedule, check out our website at mit.edu/earthday
An introductory class to Argentine tango
Saturday, May 3, 2014 14:00 – 15:30 | MP Room | dongying [at] mit.edu
Come out, learn to tango, and meet new friends!
RSVP here!