SP Helpers
Go here to sign up to hear about ways you can help out at SP!
MIT giving tree
Friday, December 9, 2016 23:59 – 23:59 | MIT PKG Center (W20-549) | sp-outreach-chair [at] mit.edu
"MIT Giving Tree" is the annual drive organized by the PKG public service center. Individuals pick up the gift tag beginning 11/21 from the PKG center and fulfill the child's wish. The suggested monetary range for gifts is $15–$25, and you can drop the gift to the PKG center (W20-549).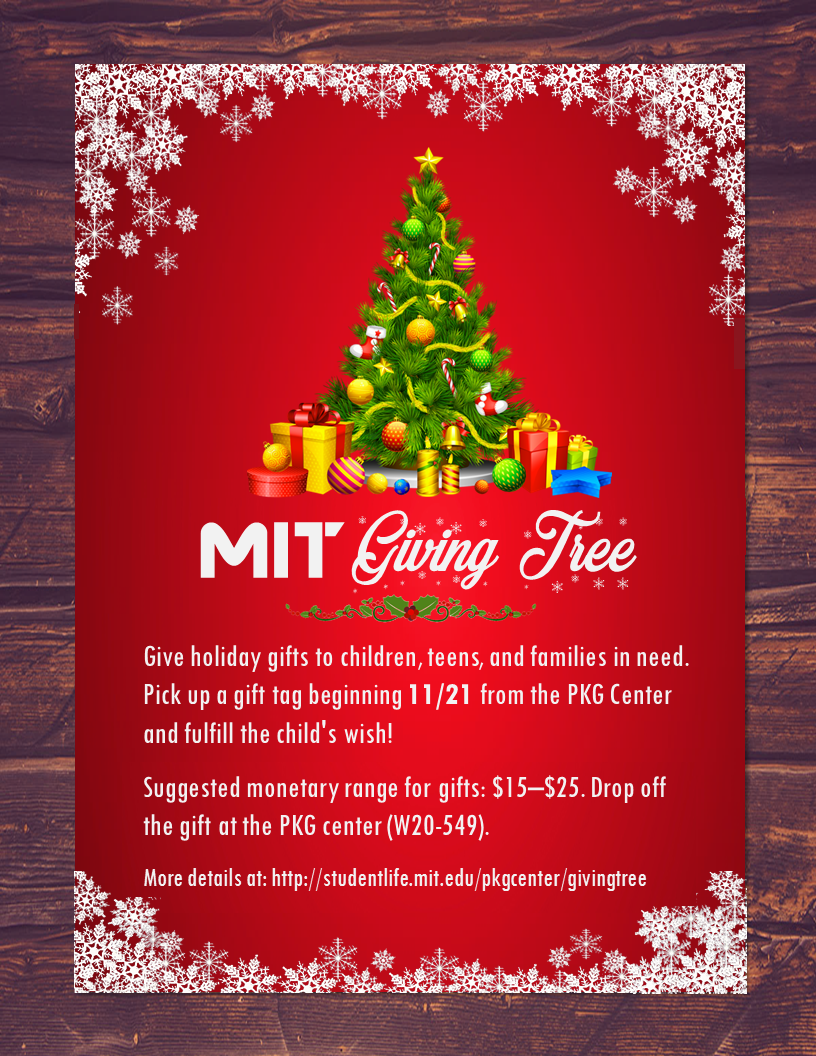 SP December Brunch
Sunday, December 11, 2016 12:00 – 14:00 | Multipurpose Room | sp-brunch-chair [at] mit.edu
It will be our end-of-year brunch, our final-exam brunch, our Christmas brunch, our ... OUR brunch! So come hang out with friends and have some delicious treats from SP. Bring your own plates and utensils to keep SP green and win prizes.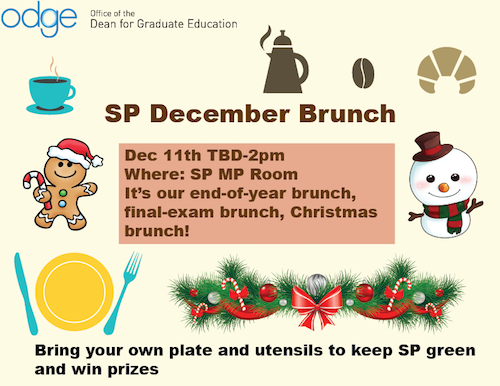 December 13 House Meeting
Tuesday, December 13, 2016 20:00 – 21:00 | spec [at] mit.edu
All residents are invited to attend at 8PM in the MP Room as we discuss SP government activities. The meeting agenda is: Trustee Election Service Awards/Shout-Outs Upcoming Events Open floor Dessert Officers are required to RSVP using the emailed links. If you RSVP as "no", please either 1) indicate that your co-chair will be attending (if applicable), or 2) send a proxy and include your proxy's name in the space below. In both cases, please indicate why you are unable to attend.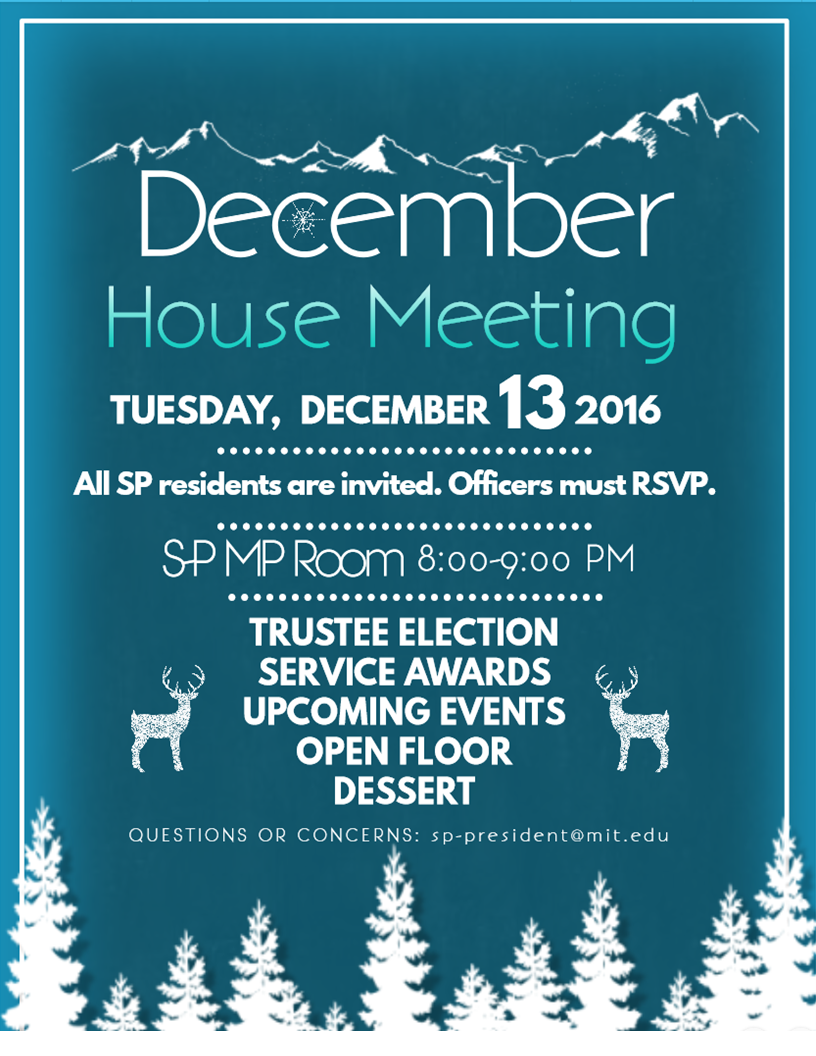 SP Gingerbread Making Competition Coffee Hour
Wednesday, December 14, 2016 | MP room | sp-social-chair [at] mit.edu
Join a cozy Sidney Pacific holiday coffee hour for a great gingerbread-fueled architectural challenge. Victory shall be sweet!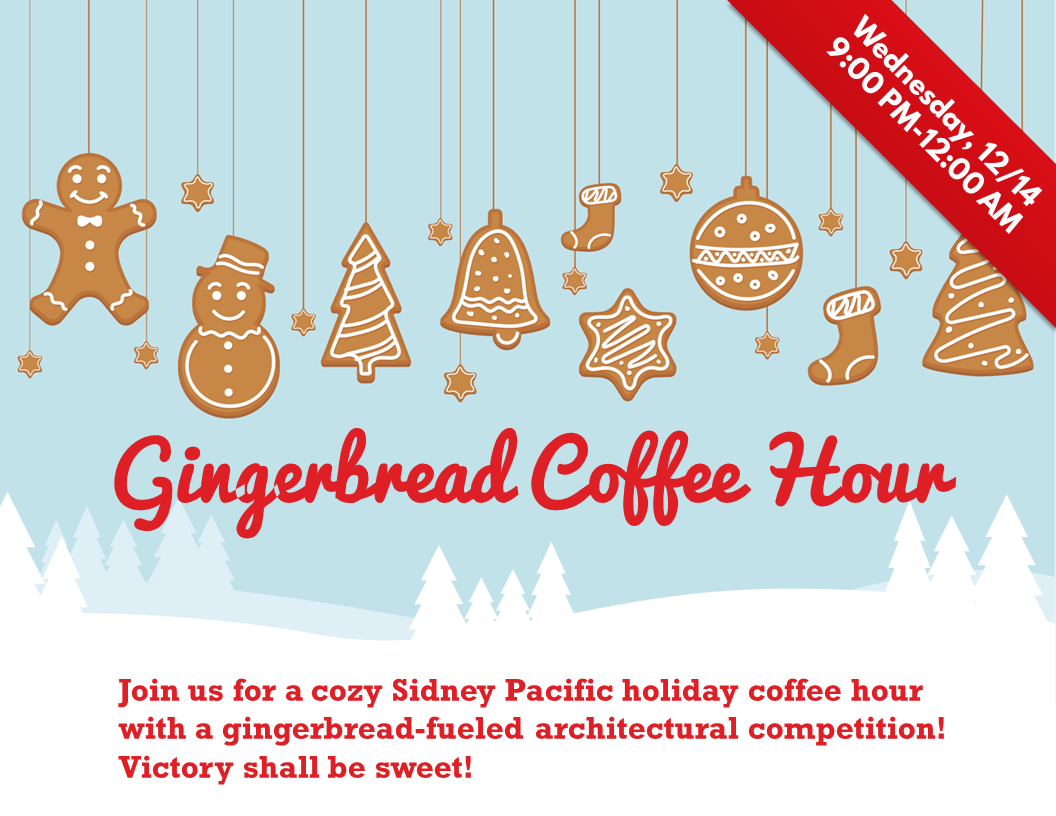 SPICE Holiday Dessert Exchange
Saturday, December 17, 2016 19:00 – 20:00 | SP Lobby | spec [at] mit.edu
Boisterous Bakers, The Holiday Season is fast approaching and that is an excellent excuse to consume large amounts of the buttery and sugary treats that remind us of home. In this spirit, let's have a Dessert Exchange on December 17 at 7 PM in the Lobby. We shall gather, share desserts, and reminisce about the traditions you grew up with! Better yet, SP will fund your baking adventures up to $20 per person. (Send an email to spec@mit.edu if you think you'll need to spend more.) Submitting reimbursements is easy; instructions will be available at the event. Even if you don't want to cook, feel free to come to the Lobby to enjoy some of your fellow residents' creations. And now for a word from our sponsors: A reminder that SPICE signups for the Winter semester are still open! (https://docs.google.com/forms/d/e/1FAIpQLSd9nBw_rMiFkIYmF1cFQ0gPFT0u8SZbwWSOpy9LJ2j3jmCltA/viewform?c=0&w=1) SPICE (the Sidney Pacific Intercultural Exchange) is a low-commitment way to get free food and meet people, while learning things about other cultures. Groups are designed with diversity in mind, so you'll get to know someone or something new! A great way to be involved is to be a coordinator -- all it involves is helping schedule your group's meetings, which is a low time commitment and guarantees that you can always take part in the free food -- and it helps us keep this program running smoothly. Holly Jolly Pastry!