MIT Grad Student Dinner Seminar
This series provides an institute wide platform for students to communicate their research and passion to a large audience outside of their own field, in low-pressure, diverse, inclusive, and collaborative environment.
Click here for more info or follow our Facebook page
SPods
Friday, August 28, 2020 23:59 – 23:59 | Virtually | sp-spice-chair [at] mit.edu
Reminder that virtual SPods are continuing to meet! Come (e-)hang out and enjoy great food with friends. If you missed the sign up but would still like to participate, e-mail sp-spice-chair@mit.edu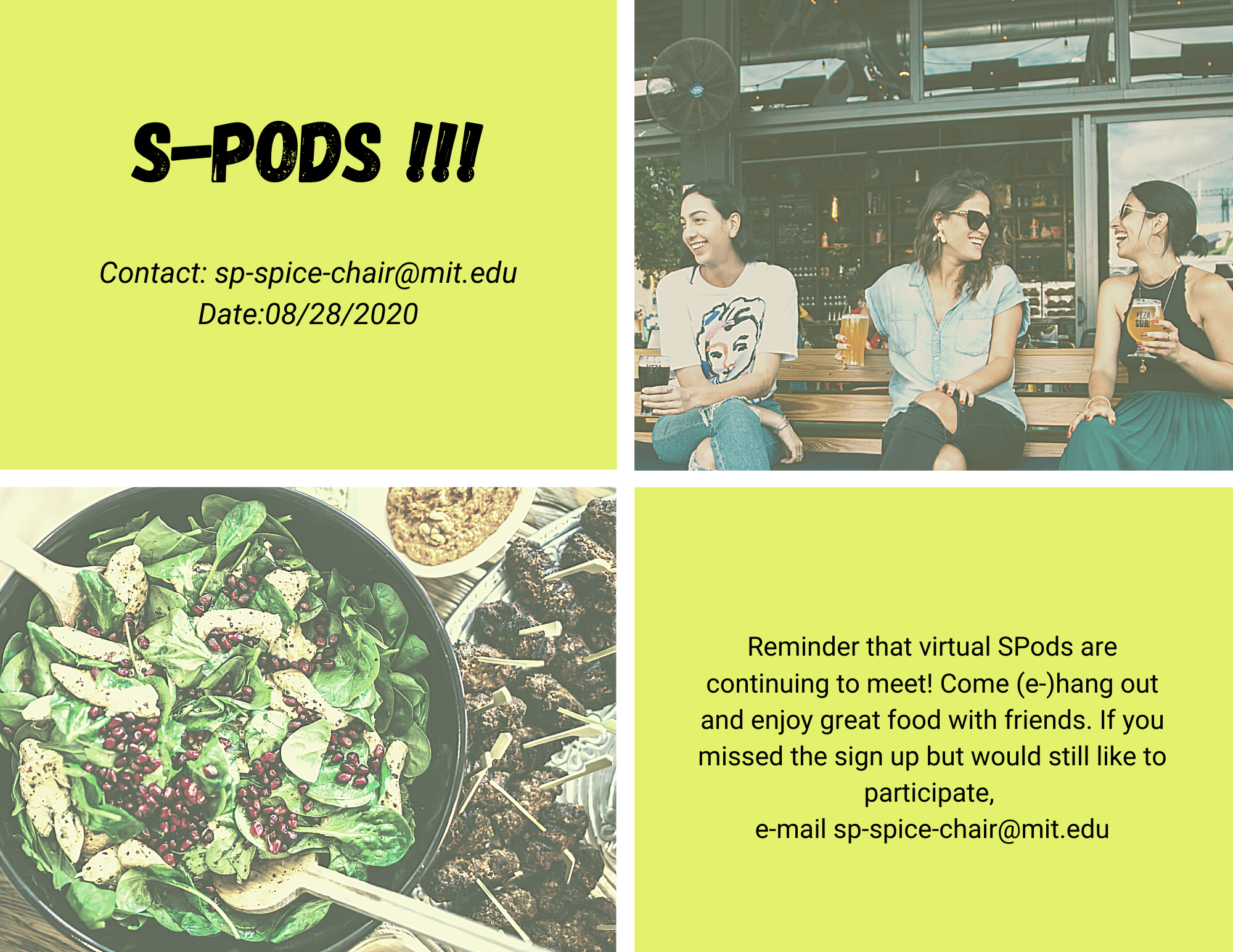 Borrow an SP Bike!
Monday, August 31, 2020 23:59 – 23:59 | sp-bikes-chair [at] mit.edu
If you wish to borrow a bike (for free!), please send the following information to sp-bikes-chair@mit.edu: 1. When you'd like to reserve the bike (up to 3 days; 24 hours advance notice requested) 2. Which bike (1/2/3/4) or what kind of bike (cruiser/road/hybrid) you'd like, or trip details if unsure 3. Your room number 4. Whether you need to borrow lights and/or a helmet Bikes, stored in stored in the west bike room, will be wiped down and serviced between uses; keys will be safely delivered to residents' mailboxes.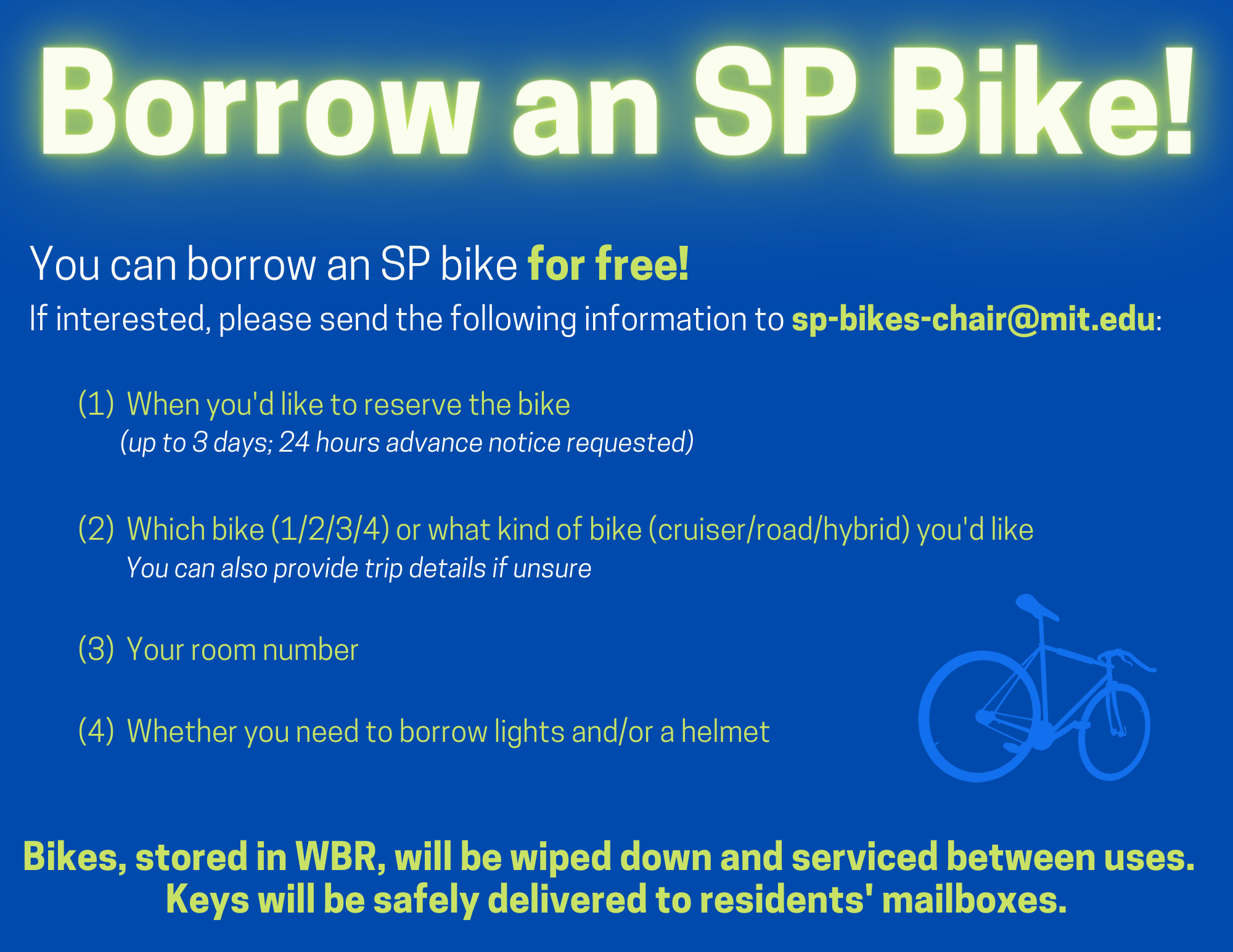 Stay Up-to-Date about SP Events!
Monday, August 31, 2020 | ~the internet~ | sp-publicity-chair [at] mit.edu
Many of our SP community members have been planning exciting virtual events! Here are some tips for staying up to date in case you have not been receiving the announcements.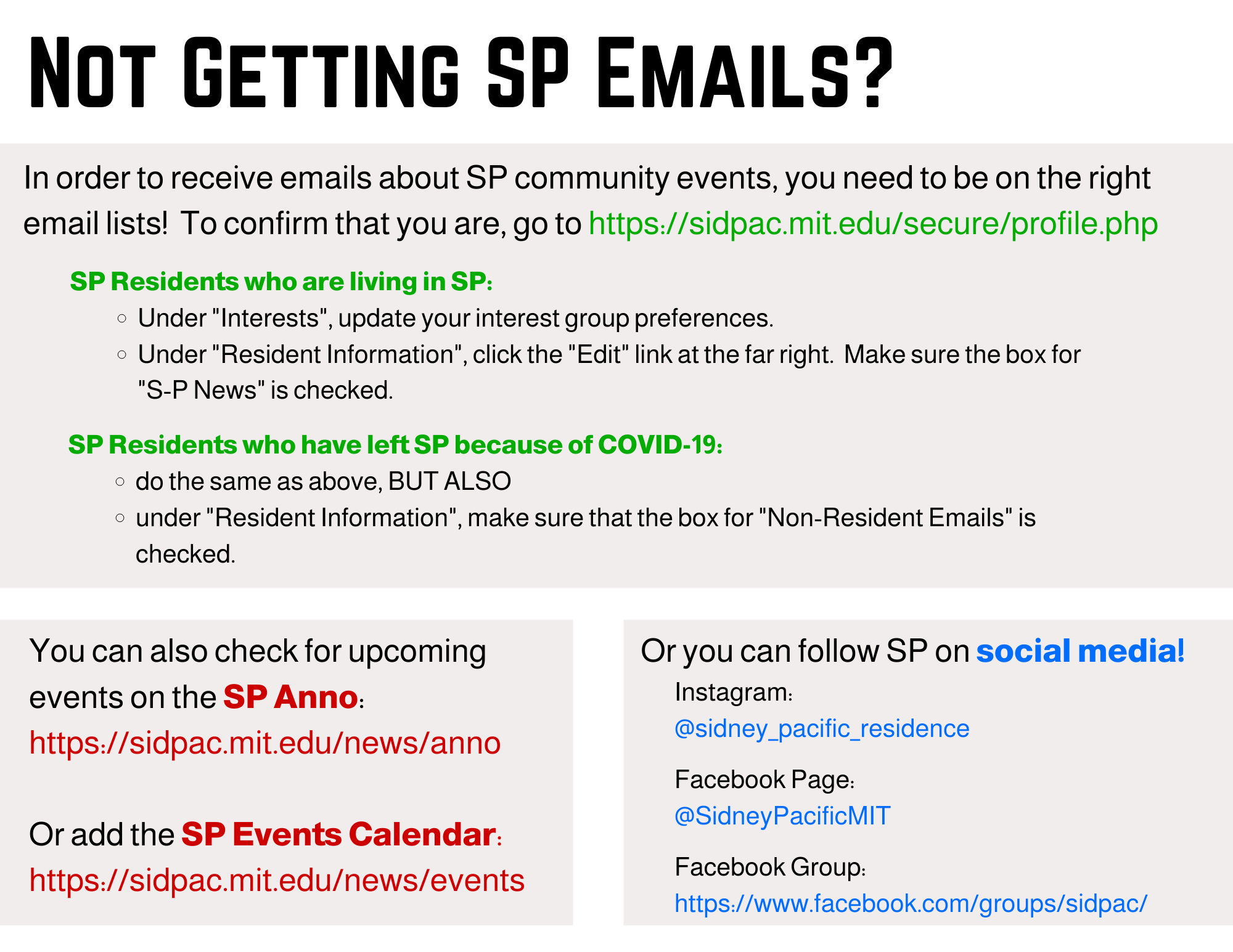 SPOCC - SidPac Online Cooking Community
Tuesday, September 1, 2020 23:59 – 23:59 | Your room! | sp-brunch-chair [at] mit.edu
We are hosting an online cooking community, SPOCC (SidPac online Cooking Community), on Facebook: https://fb.me/SidPacOCC for everyone to get together, discuss recipes, post questions, seek advice… etc. etc. SidPac residents are encouraged to submit their creations and cooking progress, and the recipes via Google Forms: https://forms.gle/qbmaa5diV6LbiqGe7. by submitting your creation (with a recipe) via the form, SidPac residents who submit will qualify for reimbursement of up to $12.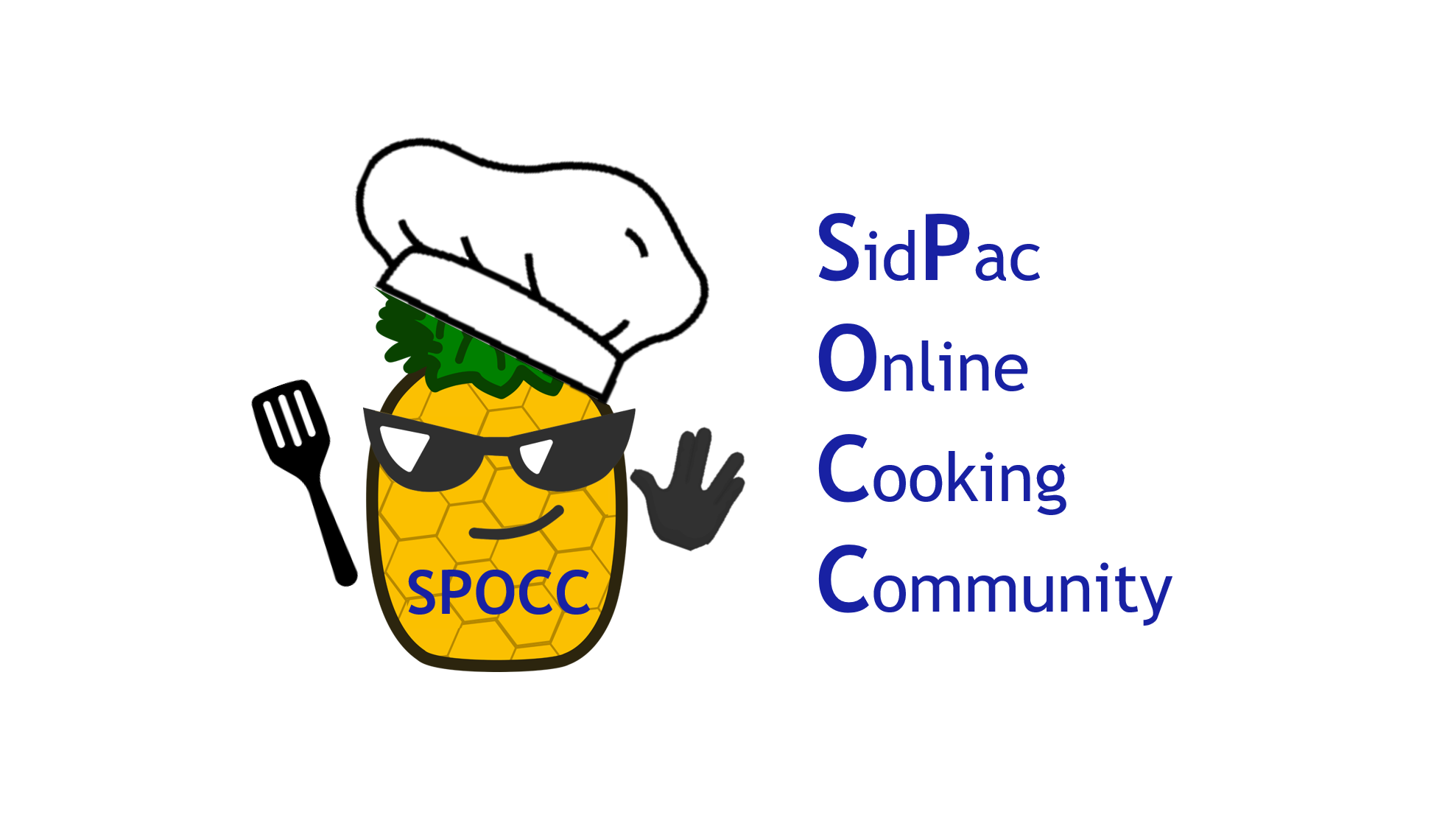 SP Book Club
Thursday, June 24, 2021 23:59 – 23:59 | nuriaj [at] mit.edu
Pick one, some, or all the books from the year-long list! You can get a free copy if you commit to attend the discussions. To stay up to date about all SP Book Club news, don't forget to subscribe to the "igroups-reading" list on the SP website. For more info, email nuriaj@mit.edu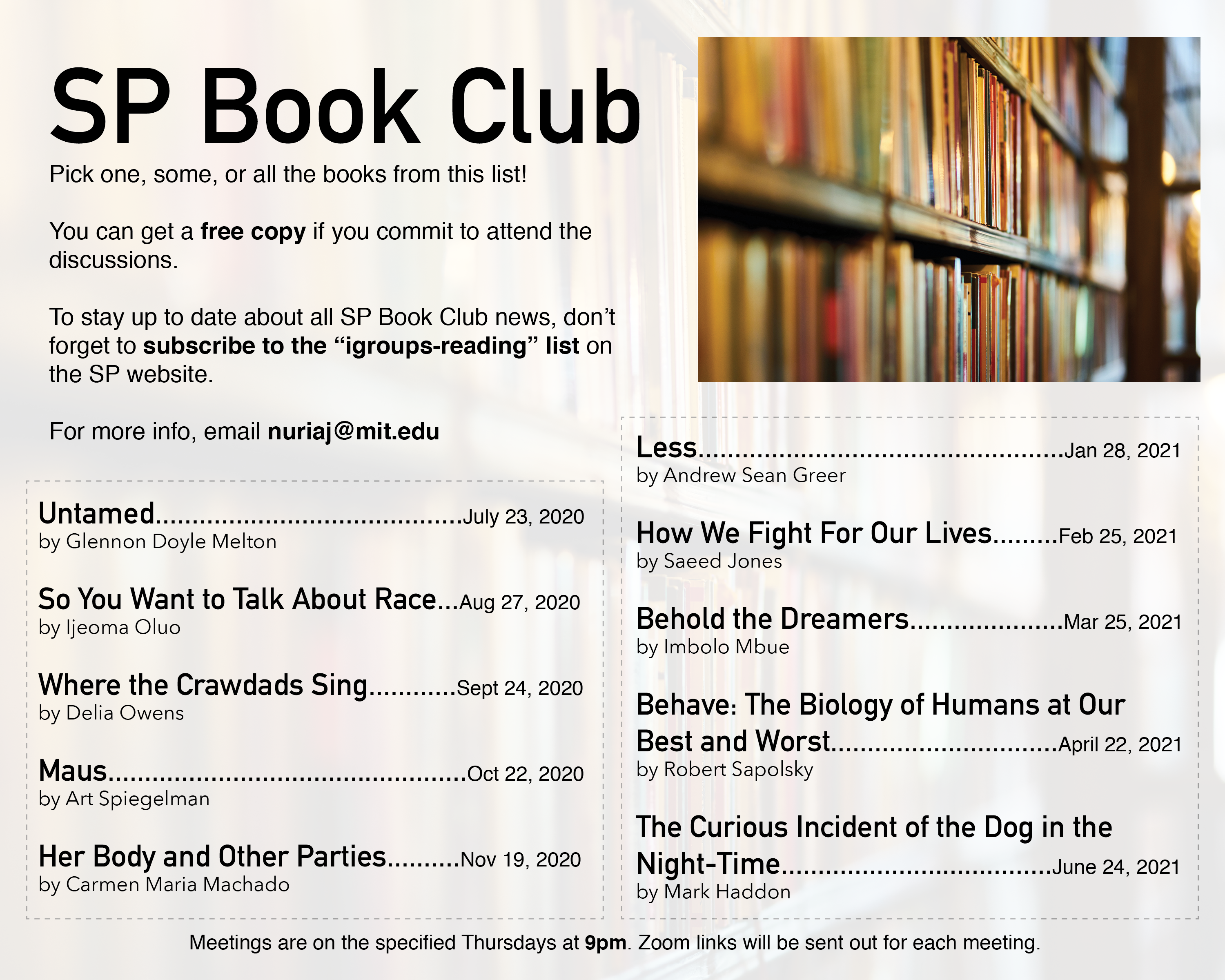 Coffee Hour
Wednesday, 12 August 2020 20:30 — Wednesday, 2 September 2020 22:00 | Zoom: https://mit.zoom.us/j/91280161337 | sp-coffeehr-chair [at] mit.edu
Zoom password: coffee Join us in the first thirty minutes to chat with other residents individually preparing fruit and snacks. RSVP'd participants will have fruit delivered to their door during this time, with a selection of tea available on each floor. Remote participants can be reimbursed for snack food! RSVP at https://tinyurl.com/sp-coffee-hour From 9pm to 10pm, join us for breakout rooms focused on different web games, discussion, and other activities while enjoying food!