Orientation Coffee hour
Wednesday, September 3, 2014 21:00 – 22:00 | MP room | sp-coffeehr-chair [at] mit.edu
New to the SP? Here is an opportunity to find lot's of friends. Waffels, Sholezard (a really delicious Persian dessert), fruits and coffee await you! Come and Enjoy! Want to help? Preparation starts on 7 PM and cleaning on 9:45 PM.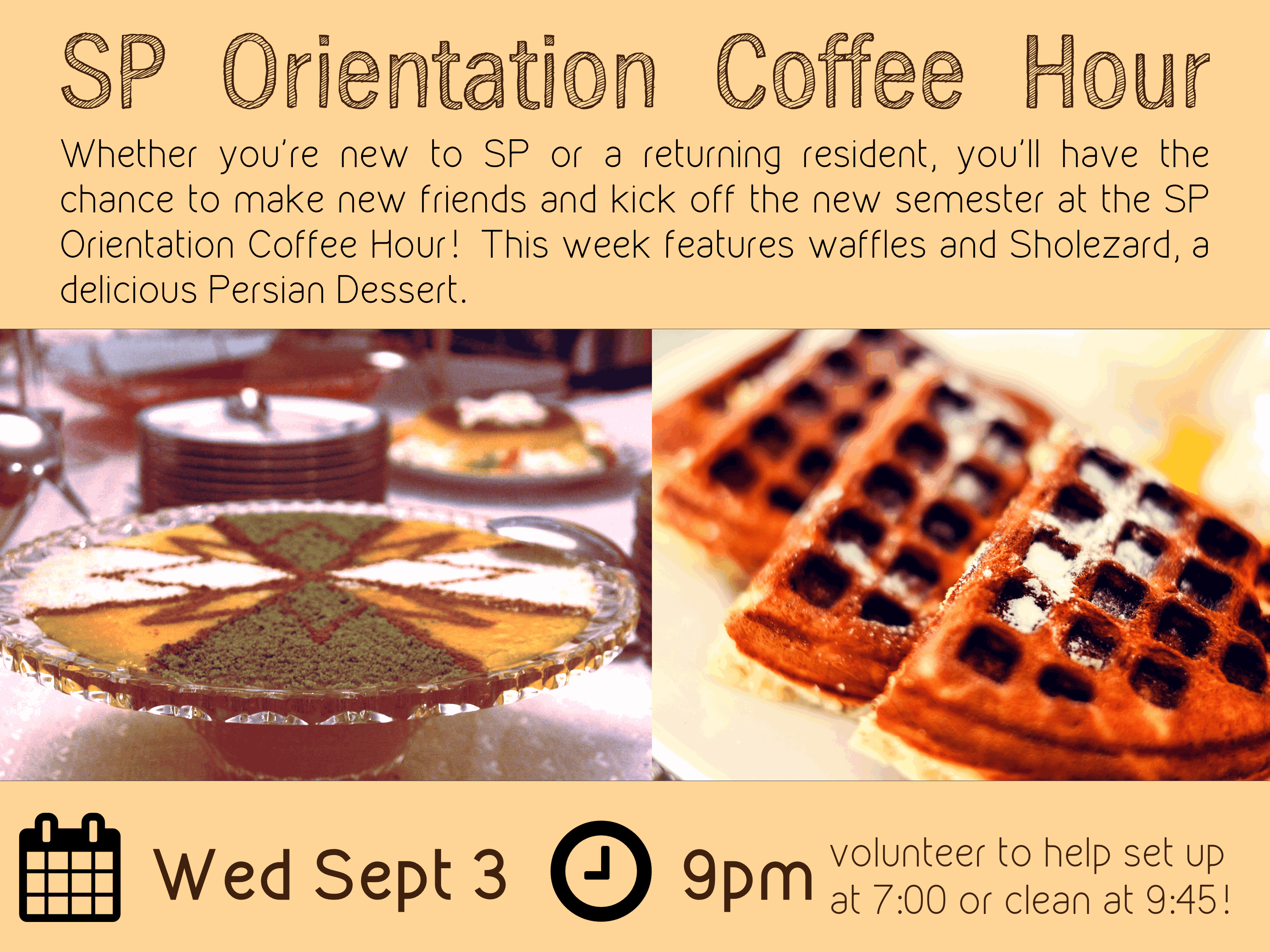 Sidney Pacific Plant Sale
Wednesday, September 3, 2014 11:00 – 16:00 | Sidney Pacific Courtyard | sp-plants-chair [at] mit.edu
Come enjoy fresh summer fruits & snack and pick up a plant for the room at the SP Plant Sale! Tropical house plants, cacti, terrarium plants, potted herbs and organic solís made available by Ricky's Flower Market.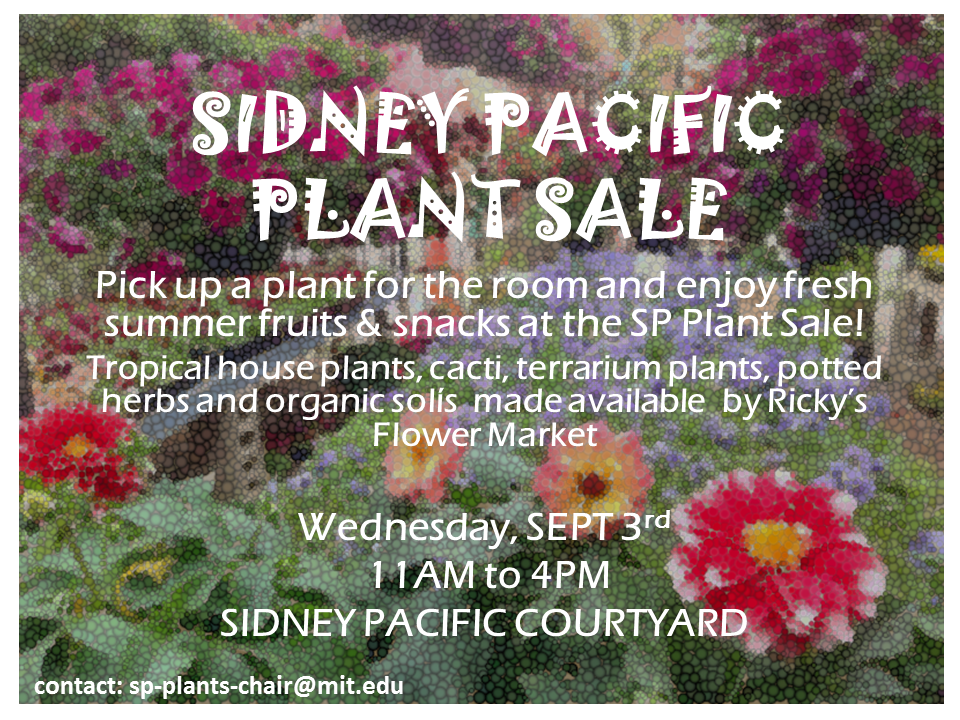 September House Meeting
Thursday, September 4, 2014 20:00 – 21:00 | SP Seminar Room | sp-vp-reslife [at] mit.edu
Agenda:
Trustee nomination
HM welcome dinners
Recap of SP orientation events
Fall budget
Service awards
Upcoming events
Open floor
SP-MORE Reuse Program Opening
Friday, September 5, 2014 23:59 – 23:59 | 2nd, 4th, and 5th floor study rooms (#278, 480, 578) | sp-environment-chair [at] mit.edu
SP-MORE Reuse Program is now open to NEW residents (August 22 - September 5)! Throughout the summer, we have been collecting furniture & household items donated by outgoing students to be made available to new residents in the Fall. Items can be taken from the storage rooms (#278, 480, and 578) on a first-come-first-served basis. However, please be respectful and do not leave a mess in the storage rooms.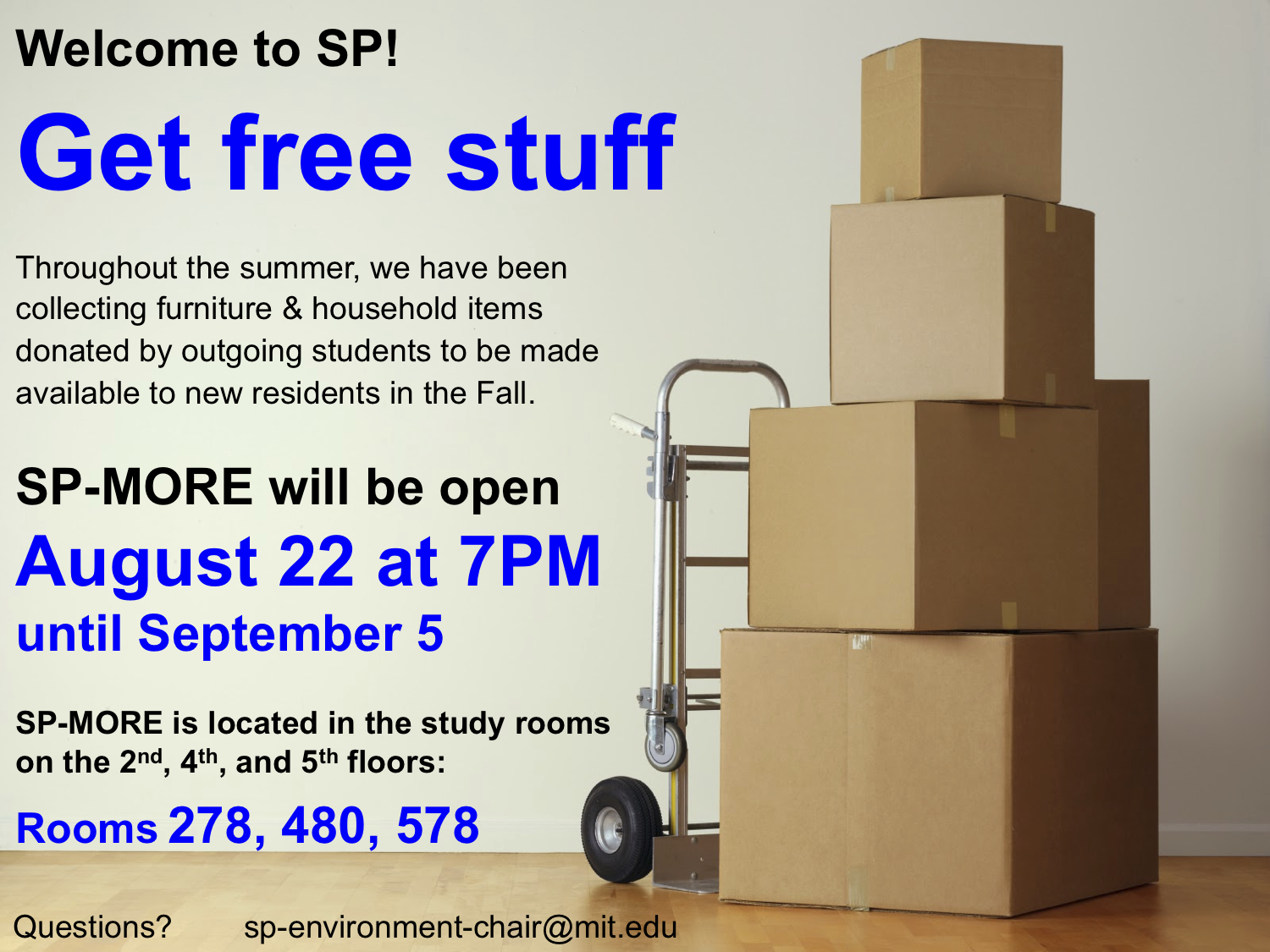 Taza Chocolate Factory Tour
Saturday, September 6, 2014 15:30 – 17:30 | 561 Windsor Street, Somerville, Massachusetts 02143 | sp-outing-chair [at] mit.edu
Come join us on an exciting adventure of chocolate making by Taza Chocolate Factory. Learn about and experience chocolate evolution from a bean to a bar. Join us on a tour to catch Taza's traditional Oaxacan molinos fused with roasted nuts and coated with chocolate awesomeness! Meeting at SP Lobby. Please RSVP on the SP web-page.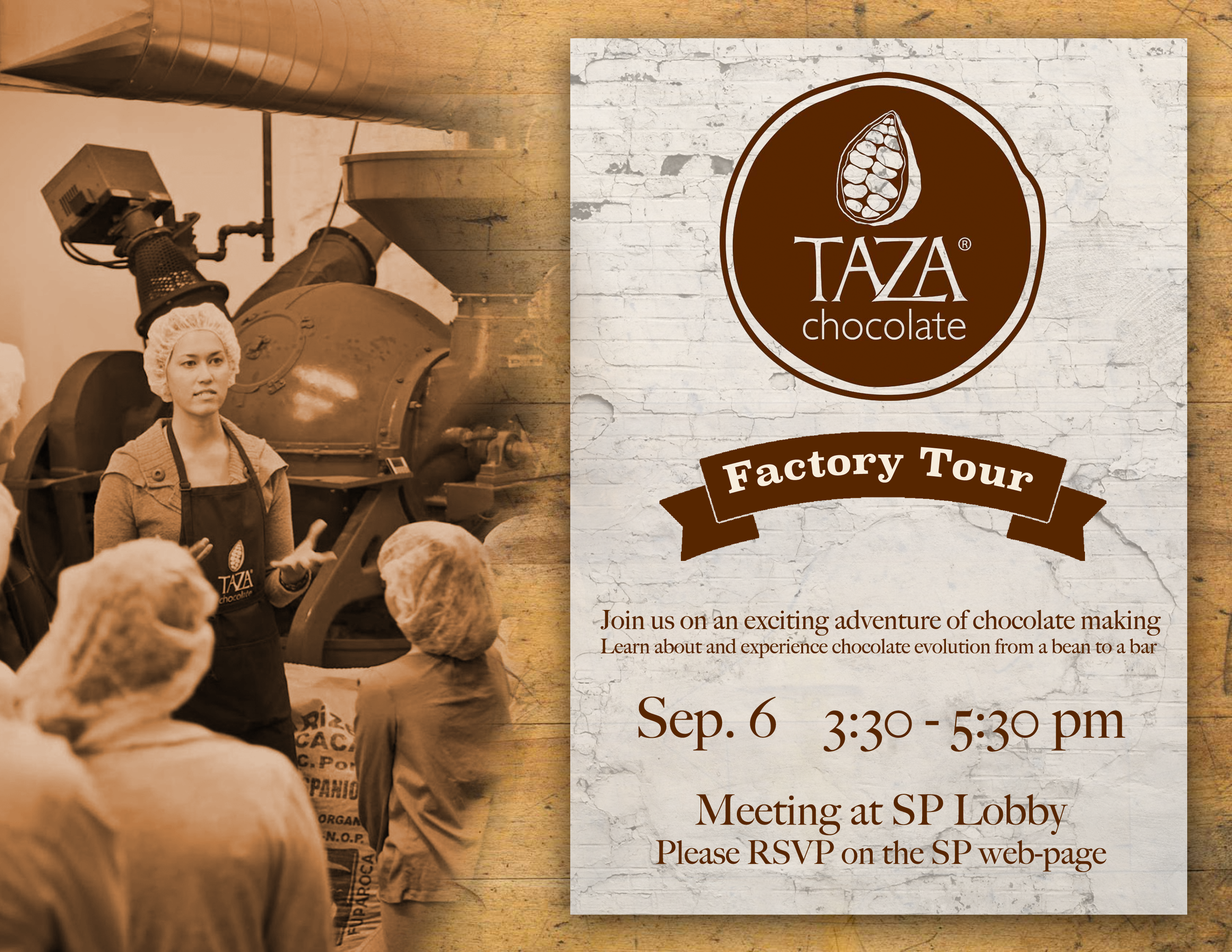 Graduate Orientation Olympics 2014
Saturday, September 6, 2014 14:00 – 18:00 | Zesiger Sports and Fitness Center (W-35, adjacent to the Student Center) | tang-sports-chair@mit.edu [at] mit.edu
As a part of GSC's Orientation, Tang Hall is organizing the "Graduate Orientation Olympics" in collaboration with SP and Ashdown. Join us for an afternoon of Soccer, Frisbee, Volleyball, Badminton, Dodgeball, and Athletics! Participants will be teamed on the spot to battle in a variety of sports. Meet new friends, win prizes and enjoy the dinner served after the games! The event is open to all MIT students, spouses & partners, but is not suitable for children.
Sign up to reserve a t-shirt.
Contact: tang-sports-chair@mit.edu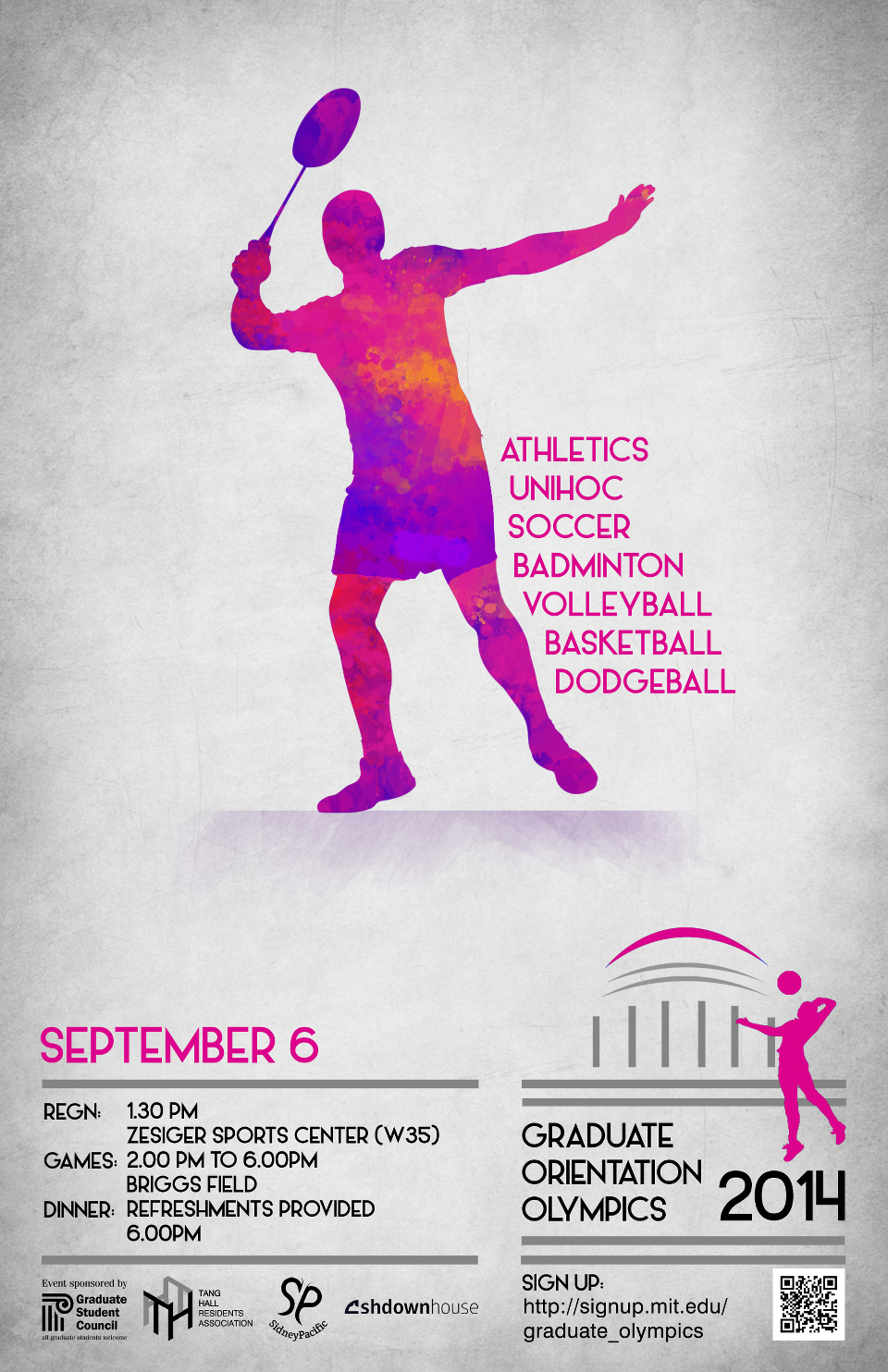 Volunteer for Bike Fest 2014
Sunday, September 7, 2014 23:59 – 23:59 | Student Center Steps | cherryg [at] mit.edu
Bike Fest 2014 is coming, and we are looking for volunteers to help out at the event (including campus tour guides on bikes)! Sunday September 7, 2pm - 5pm, on the Student Center Steps. There will be bike tune-ups, workshops, bike registration, raffles, food, music, and a BICYCLE TREASURE HUNT! Please fill out this form to sign up as a volunteer: http://goo.gl/N5kdWo
Hall Warming Parties
Sunday, September 7, 2014 18:00 – 21:00 | SP lounges | sp-hallchair [at] mit.edu
Save the date for one of the MOST IMPORTANT Orientation events! If you are a new resident, you must attend a hall meeting with your Hall Councilor, where you will learn more about S-P and your roommate. After the meeting, old and new residents are invited to join a Hall Warming Party! We'll provide food, so bring yourself to have a great time meeting your neighbors. Feel free to bring a snack, dessert or non-alcoholic drink for sharing (optional)!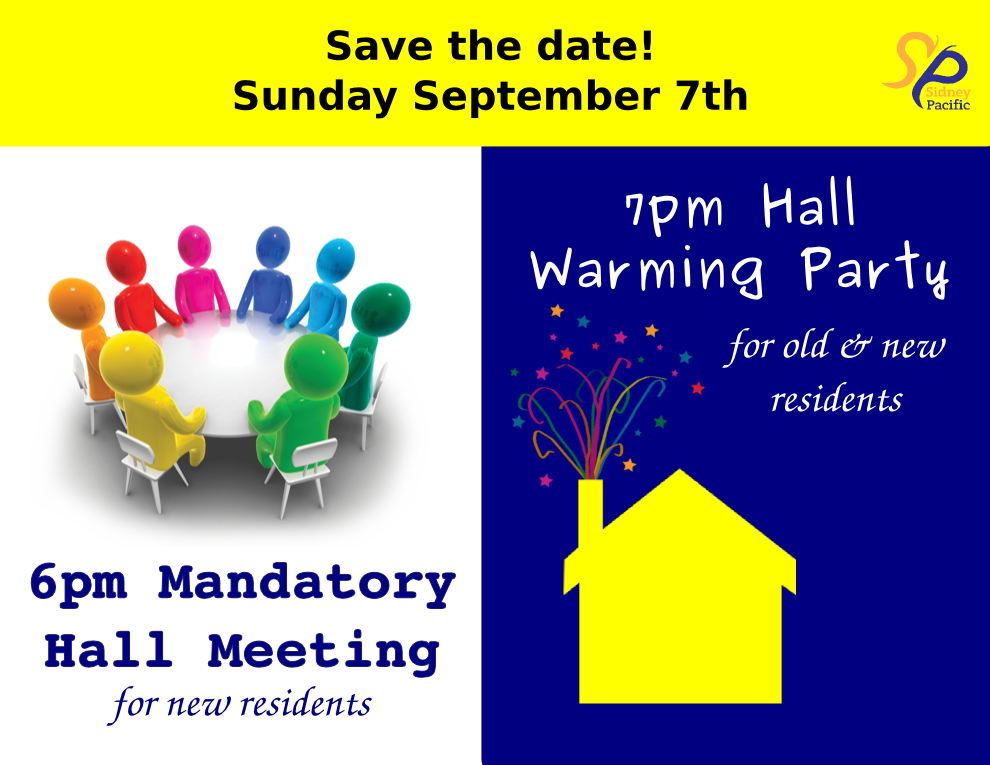 SP Orientation Brunch
Sunday, September 7, 2014 12:00 – 13:00 | Mark MP Room | sp-brunch-chair [at] mit.edu
It's time for one of the most popular Sunday Brunches at MIT! Come on down to the SP Multipurpose Room and enjoy some eggs, bacon, pancakes, pastries, fruits, lots of sunshine, and the company of your fellow (new!) graduate students. Like to cook or want to learn? Prep starts at 8am - come help at any time, and you'll get first dibs on brunch! Help keep SP green by bringing your own plate and utensils.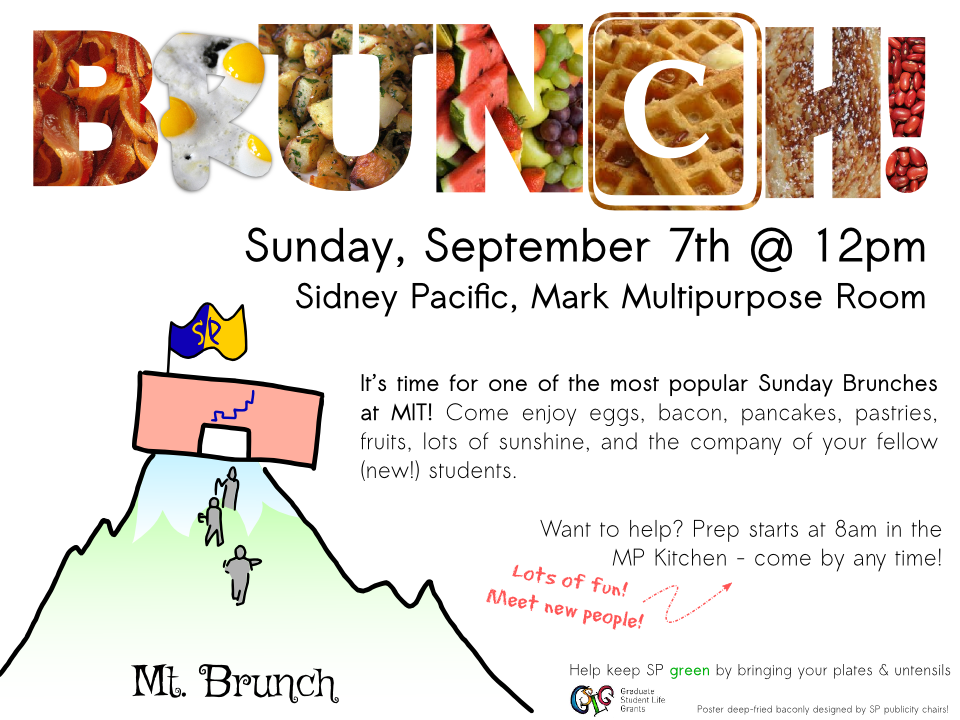 Roommate Dine Out
Sunday, September 7, 2014 12:00 – 12:00 | Flour bakery, Thelonius Monkfish or Toscanini's | sp-hallchair [at] mit.edu
Get to know your roommate better and your neighbors from another room in SP! Fill in your details in the form below to know where and when you would like to go and we will send you out in a group of four people! The program will subsidize up to $10.00 per person.
Click here to sign up!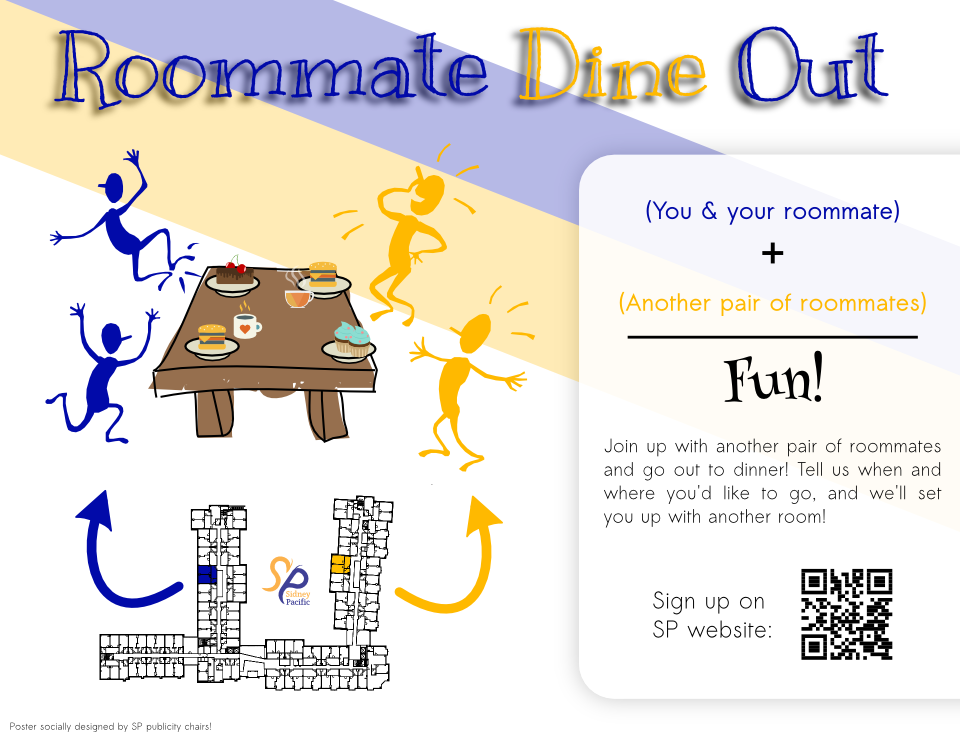 Orientation Laser Tag
Monday, September 8, 2014 05:00 – 21:00 | Entire SP | sp-orientation-chair [at] mit.edu
Interested in laser tag? Want to have a chance to explore our building and make new friends? This year, we will have our very first laser tag event around SP! Equipment and simple snacks will be provided! RSVP: Google Forms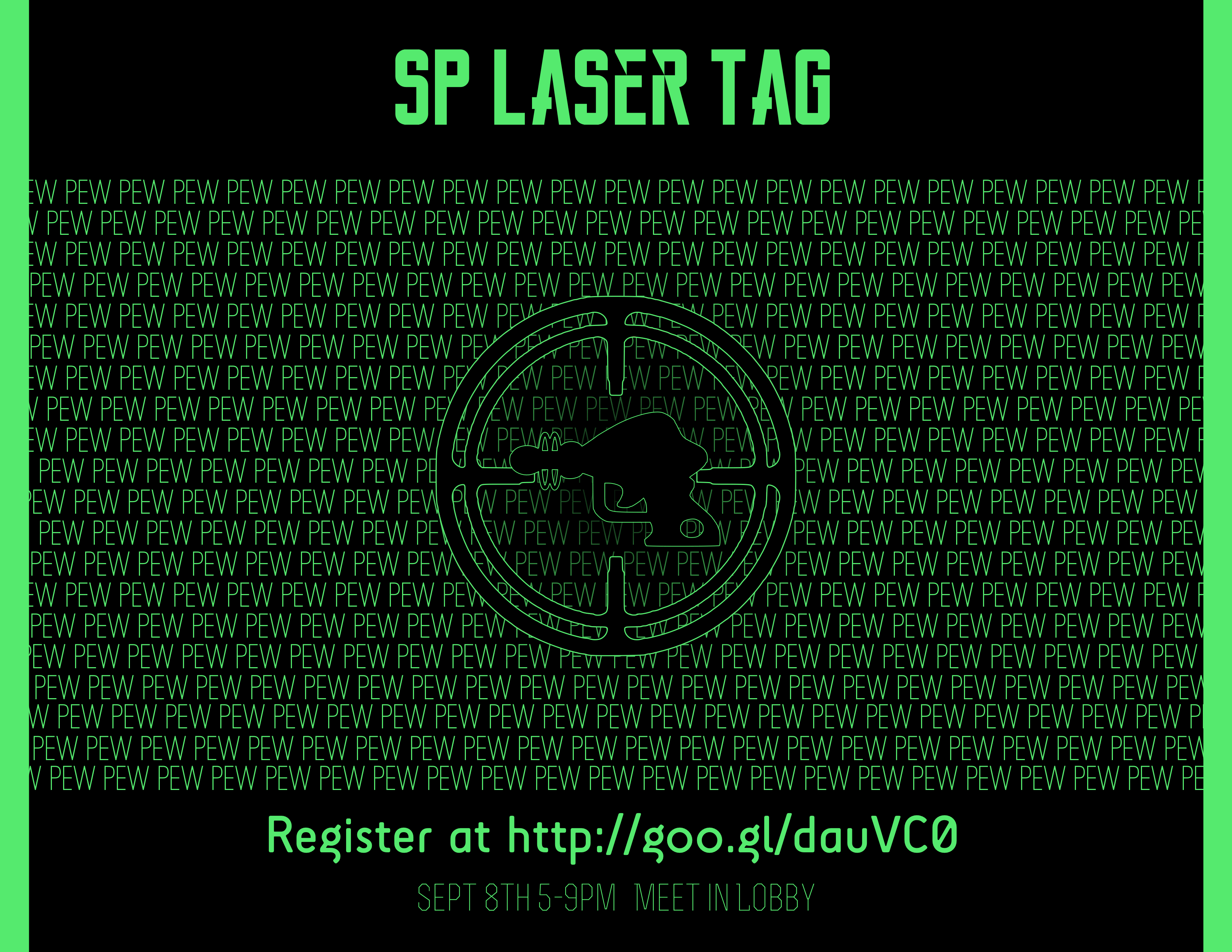 MIT Comedy Night at the Thirsty Ear Pub
Tuesday, September 9, 2014 20:00 – 22:00 | Thirsty Ear Pub | teec-comedy [at] mit.edu
- Join us for another MIT Comedy Night, with headliner Shawn Carter (Boston Comedy Festival).
- Hosted by Thom Crowley, featuring Tawanda Gona, Rohan Padhye, Al Park, and Emily Ruskowski
- Snacks and soda provided. Presented by the Thirsty Ear Executive Committee.
- Sponsored by GSC Funding Board, Peter de Florez '38 Humor Fund, and GradRat.
- 21+ govt ID & MIT ID required for entry. Please have ID ready to show at the door.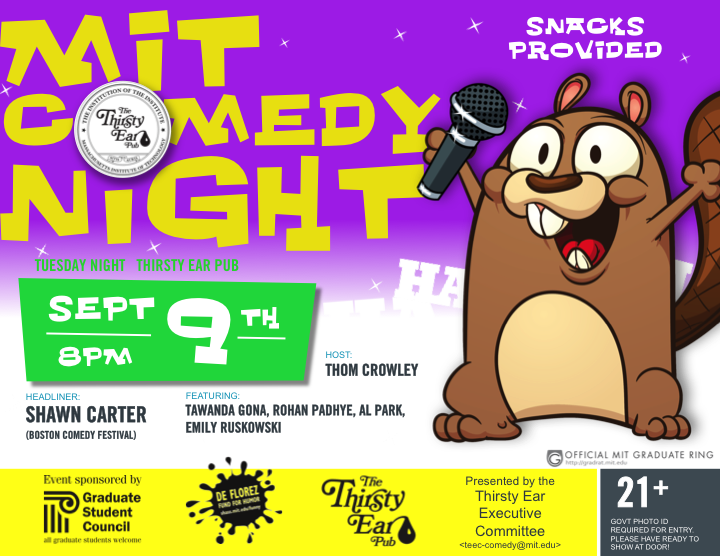 CoSI Presidential Lecture Series: Governor Michael Dukakis
Wednesday, September 10, 2014 17:30 – 19:00 | Multipurpose Room | sp-cosi-chair [at] mit.edu
CoSI Presidential Fellows Lecture Series Presents: US and International Politics Former Governor Michael Dukakis Michael Dukakis served as governor of Massachusetts from 1975-79 and 1983-91. He was the Democratic Party Nominee for President of the United States in 1988, and is currently a Distinguished Professor of Political Science at Northeastern University. Join us for a lecture with Gov. Dukakis on US and international politics.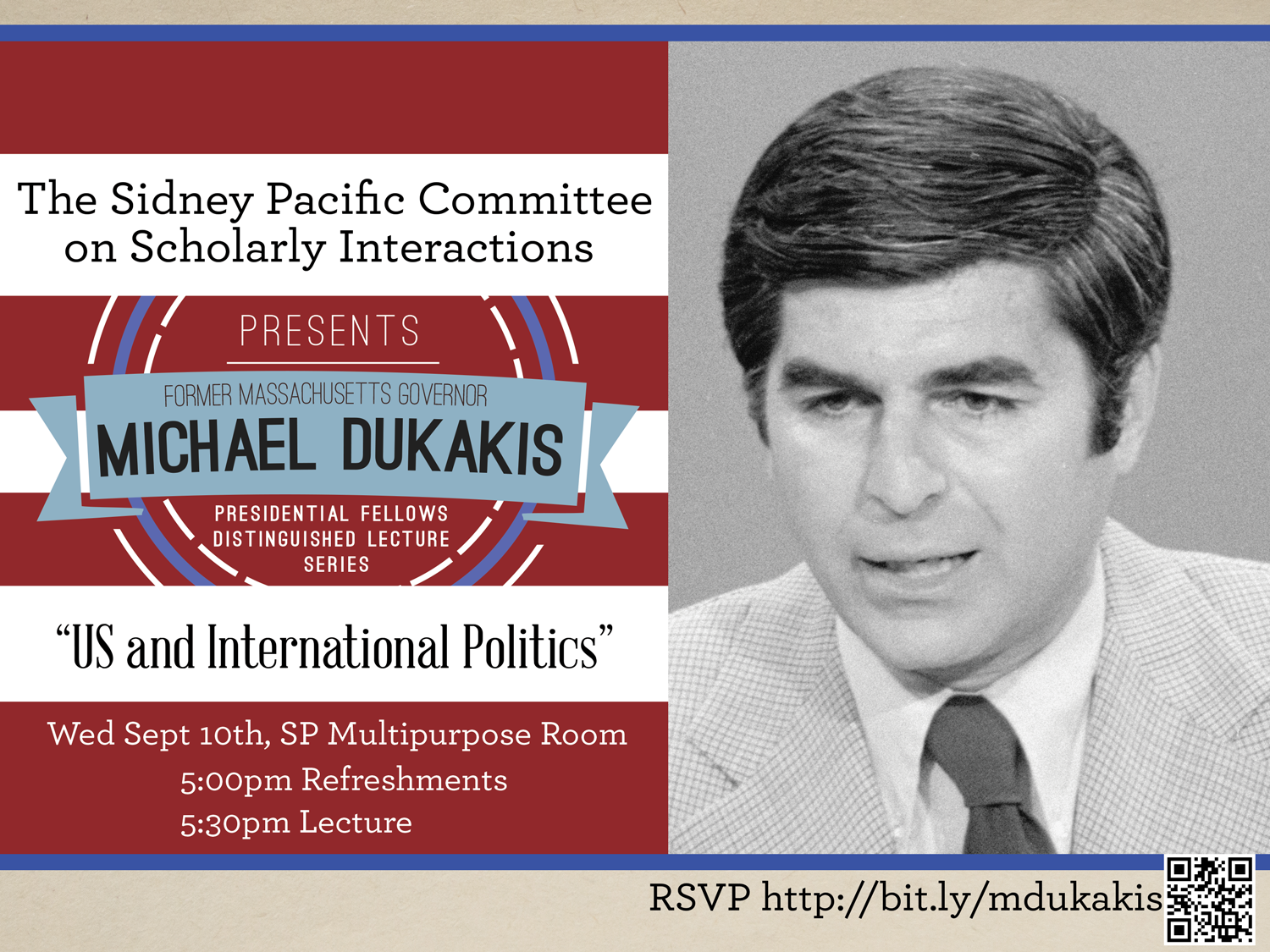 Open Doors Night
Saturday, September 13, 2014 20:00 – 23:00 | Rooms across SP | sp-hallchair [at] mit.edu
Friendly SP residents open up their doors and throw mini parties with food, music, and drinks. During each round people freely visit open rooms.
Sign up here! or email sp-hallchair@mit.edu.
Whale watching trip
Sunday, September 14, 2014 | 1 Central Wharf, Boston, MA 02110 | sp-aquarium-chair [at] mit.edu
Finish off your Orientation month with something truly memorable... Come whale watching with us at the Boston Wharf!!! See humpbacks, minkes, and dolphins for a AMAZING FINALE to your Orientation! Cost (after SP subsidy): $30/person. Meet at 11AM on Sunday September 14!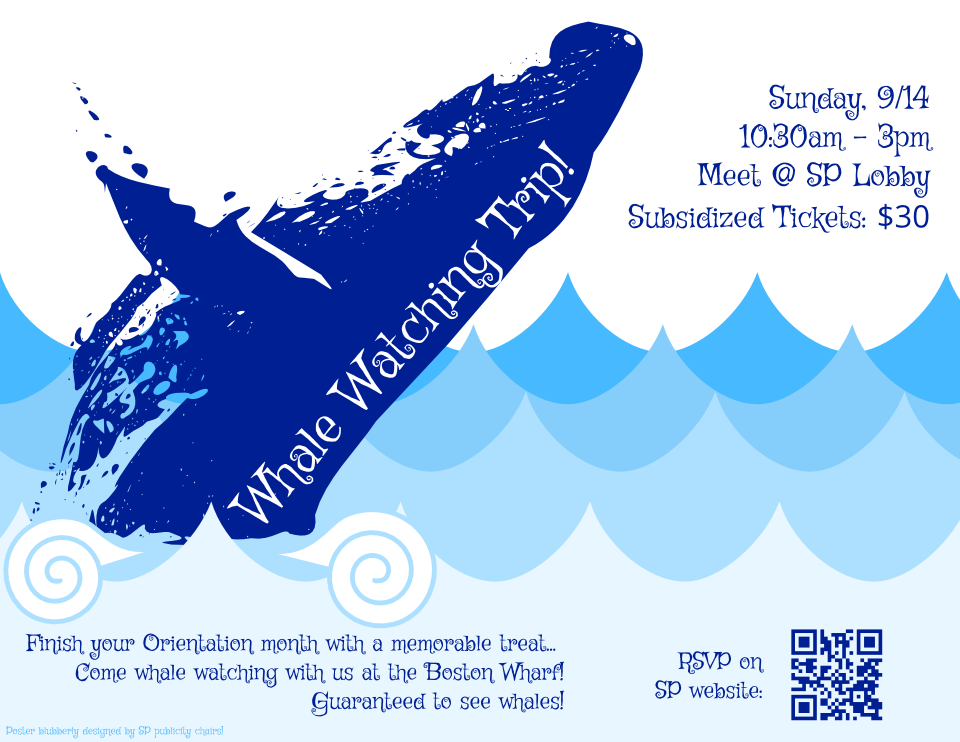 Check out the Calendar of Fun!
Sunday, September 14, 2014 23:59 – 23:59 | SP Lobby | sp-publicity-chair [at] mit.edu
Do you like fun? Check out the calendar in the SP lobby! You'll find many great events open to new and current grad students alike!