HVAC Renovation Project
HVAC Room Allocation
Room number allocation opens: April 23 10PM
Room number allocation closes: May 1 11:59PM
Off-campus Housing fair: May 5 4-6PM
Allocations results announced: May 6

Find a roommate:
An opt-in list of people looking for roommates is available at
http://tinyurl.com/SP-roommate-results
To join the list, fill out the form at
http://tinyurl.com/SP-roommate-form
Off campus housing fair
Tuesday, May 5, 2015 16:00 – 18:00 | MP room | sp-hvac-committee [at] mit.edu
Looking for off-campus housing next year? Come to the off-campus housing fair, meet landlords, see housing offers, schedule viewings & learn about resources to help you find housing. Brought to you by SP HVAC committee, GSC HCA committee & MIT Housing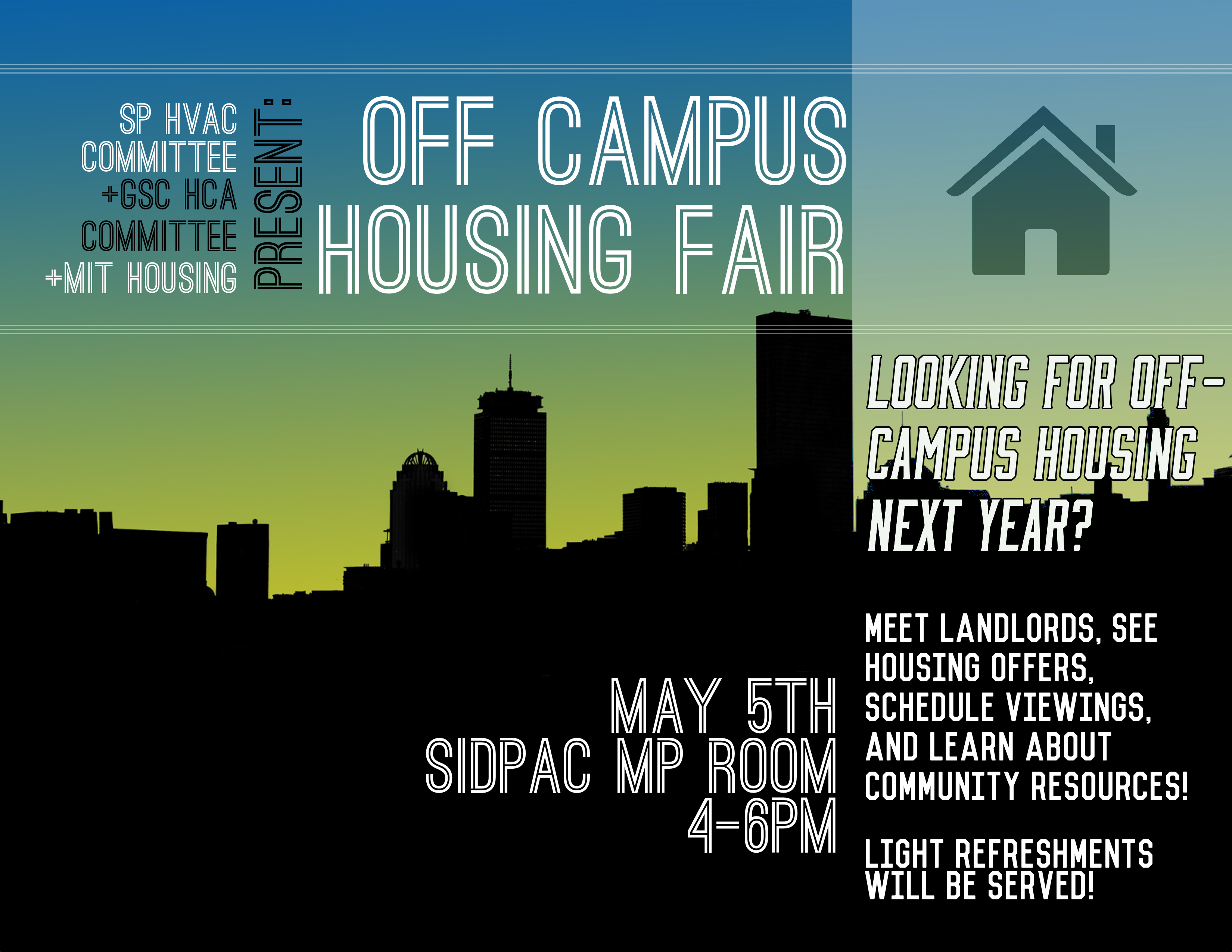 May House Meeting
Thursday, May 7, 2015 20:00 – 21:30 | SP Multipurpose Room | spec [at] mit.edu
May house meeting. All officers and hall councilors (old and new) are required to attend. Agenda: 1. Thank you to outgoing House Council 2. Introducing the new House Council 3. Officer retreat 4. Planning for summer budget 5. Trustee vote 6. Upcoming events 7. Open floor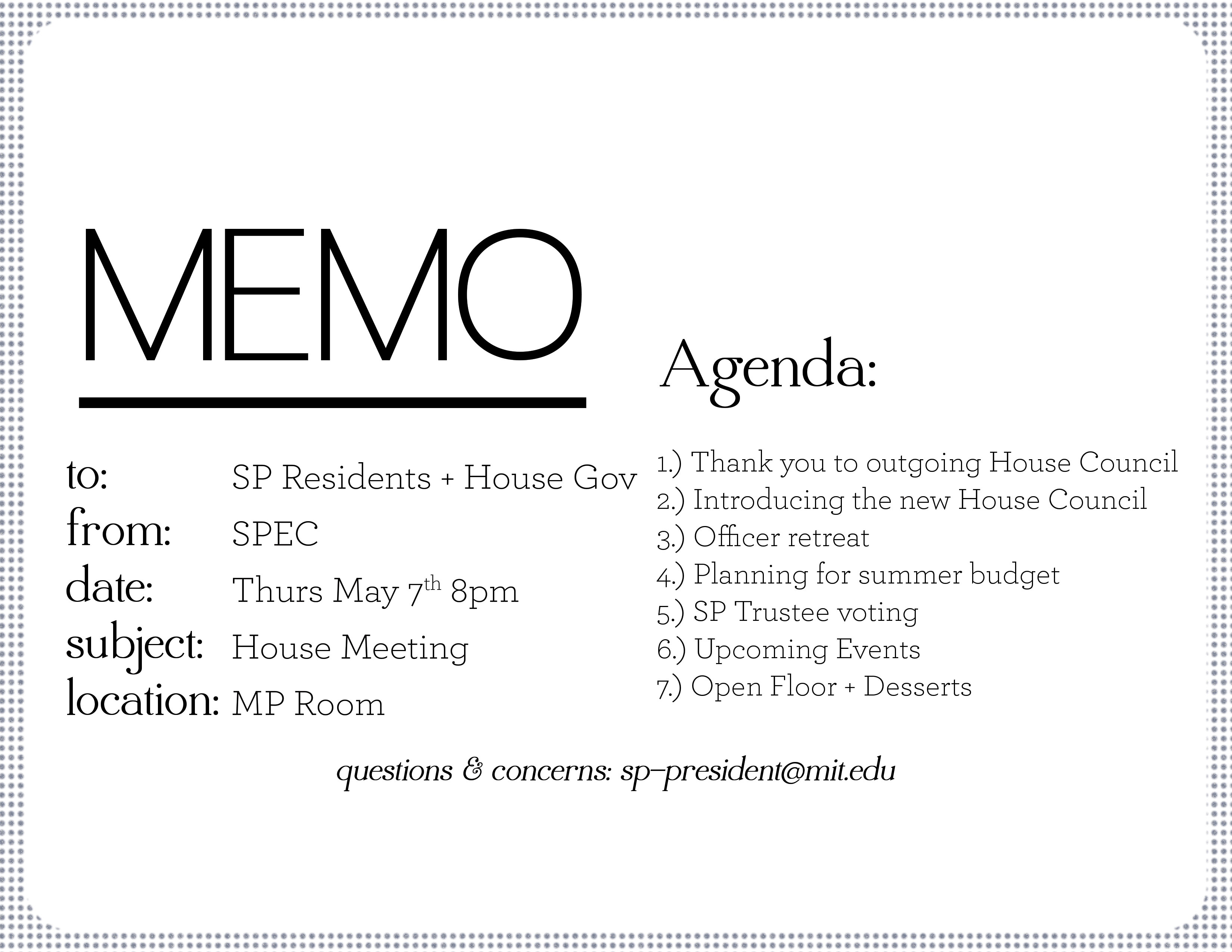 Dirty Dancing Broadway
Thursday, May 7, 2015 | Citi Emerson Colonial Theatre | sp-outing-chair [at] mit.edu
Two fiercely independent young spirits come together in this classic story of dance, love, and triumph. You'll be on the edge of your seat! Dirty Dancing Broadway at Citi Emerson Colonial Theatre. Date: Thursday May 7, Show starts at 7:30 pm. Meet in SP lobby at 6:30 pm. Balcony seats: $28 ($18 with SP subsidy) Mezzanine seats: $48 ($38 with SP subsidy) RSVP: https://docs.google.com/forms/d/1NTZtimCn_7_fF2N8DLSHfiUnkdVu7VCXJrQvgaMEDio/viewform?usp=send_form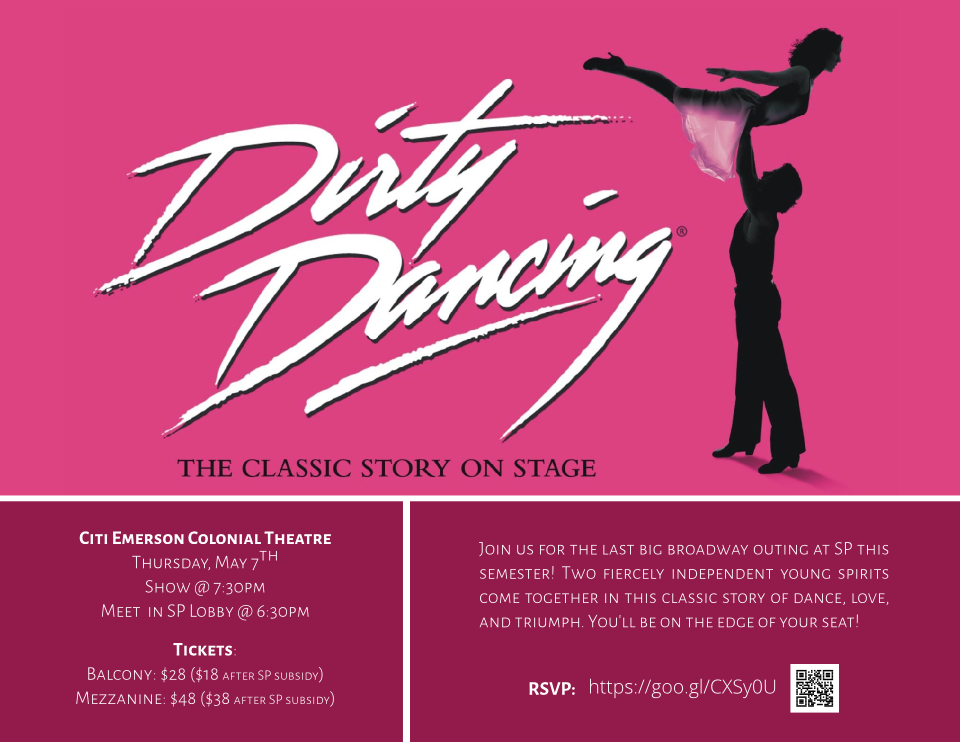 May Brunch
Sunday, May 10, 2015 12:00 – 13:00 | SP Mark Multi-Purpose Room | sp-bruch-chair [at] mit.edu
Come enjoy SidPac's monthly Sunday brunch! We'll have our usual array of delicious brunch food. Bring your own plate and utensils to win prizes and help keep SP green. As always, prep is from 8am to 2pm -- come at any time to help out, and skip the line!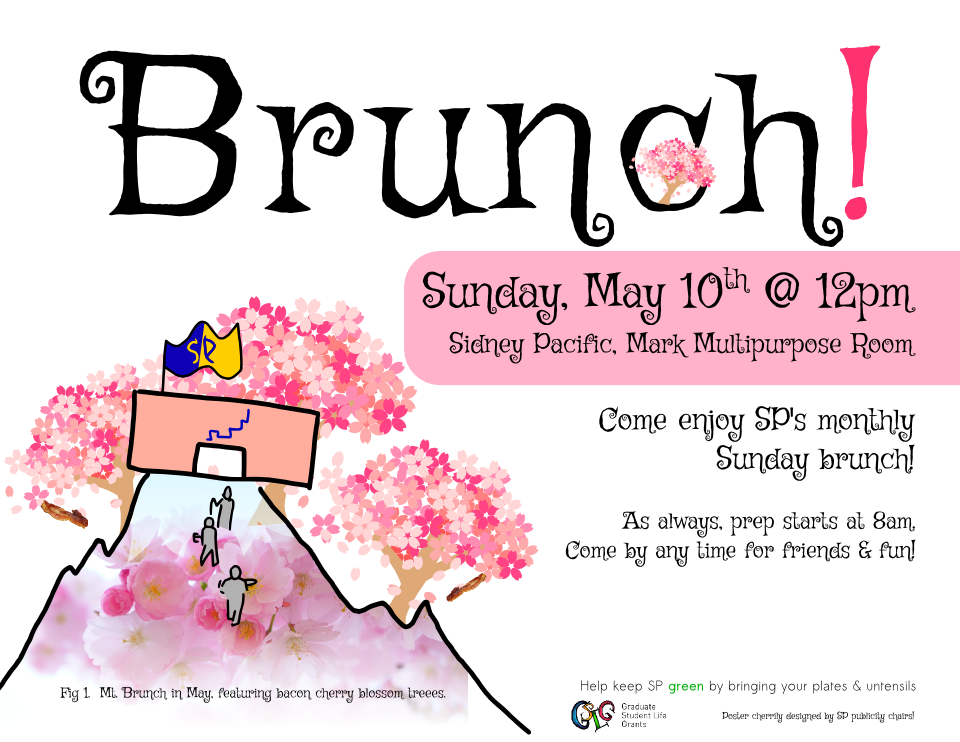 Sign up for the SP Reuse Interest Group to get FREE stuff!
Friday, May 15, 2015 23:59 – 23:59 | https://s-p.mit.edu/myacct/interest_groups.php#Misc | sp-environment-chair [at] mit.edu
Sign up for the SP Reuse Interest Group (sp-igroups-reuse@mit.edu) to get FREE stuff from students who are moving out! Because of the HVAC renovations, we cannot organize the SP-MORE reuse program over the summer this year. In order to minimize trash generated during this move-out season, and to lessen the burden on our housekeeping staff, sign up for the Reuse Interest Group today to get notices about people giving stuff away.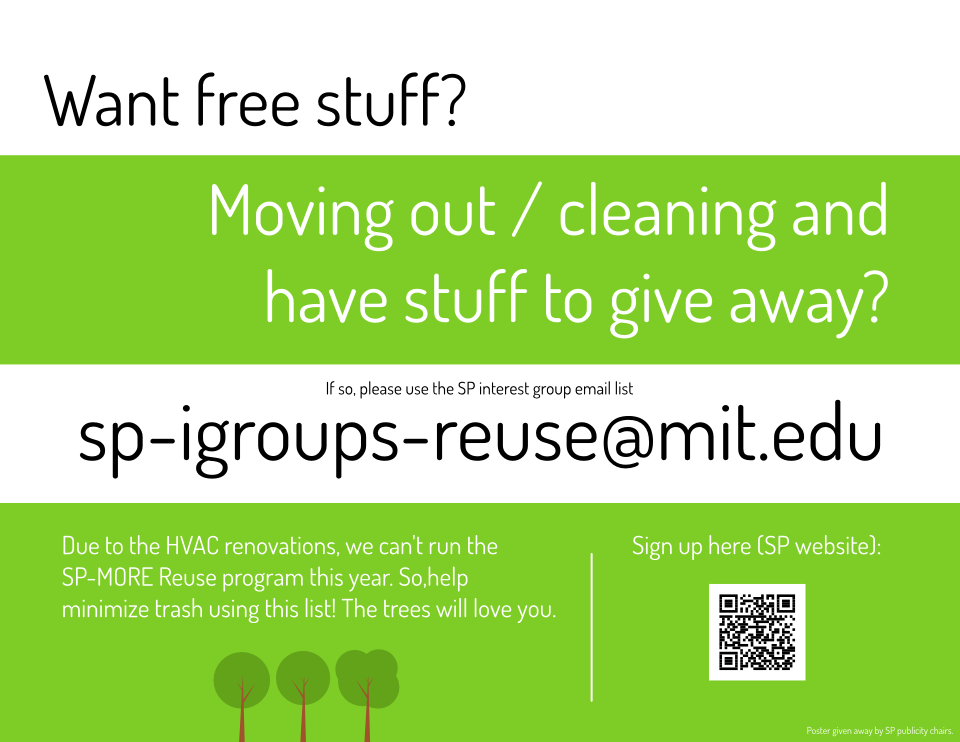 Dessert making competition
Saturday, May 16, 2015 19:00 – 22:00 | MP room | sp-housecup-coord [at] mit.edu
Join us for the traditional SP dessert making competition! Brainstorm awesome desserts with your hall councillor and get together to cook them and then showcase them in the MP room on the 16th May at 7:00pm! Winners win prizes!