HVAC Construction notices
January move dates: The move period for January will be Jan 23 to Jan 30. All residents are expected to move to their assignments on the other side of SP by Jan 30. Movers will be available to move your boxes on Jan 23, 28, 30. If you will be absent during that period, please pack before leaving and let housing know at sidpachvac@mit.edu & the movers will move the boxes in your absence. If you are taking quals during that week, please fill out this survey so we are aware of it: Quals Survey
Ongoing work: Digging in the courtyard & pipe installation on the roof
11/28 A crane will be used to remove the existing rooftop air handlers. The crane will be working on both Sidney Street and Pacific Street.
11/30 9 am-3 pm A full gas shutdown is scheduled for the entire building to install gas meters. The work will take place from 9:00 am - 3:00 pm. Residents can expect NO heat or hot water throughout the building once the shutdown begins. The construction team will make every effort to restore service as soon as possible.
Sid Pac Snack Time (aka Coffee Hour)
Wednesday, November 25, 2015 21:00 – 22:00 | MP Room | sp-coffeehr-chair [at] mit.edu
Kick off your Thanksgiving break with Sid-Pac snack time. With the kitchen newly reopened, we're back on the usual weekly schedule. Come on down to the MP room for fresh fruit, vegetables, cheese, and possibly some seasonal snacks. Prep starts at 8pm in the kitchen - we'd love a big group of helpers!
Flight Night at the Thirsty Ear
Tuesday, December 1, 2015 07:30 – 23:00 | Thirsty Ear Pub | cfoy3 [at] mit.edu
Come out to the Thirsty Ear Pub and get some left-over Thanksgiving food. 21+ id is required upon entry.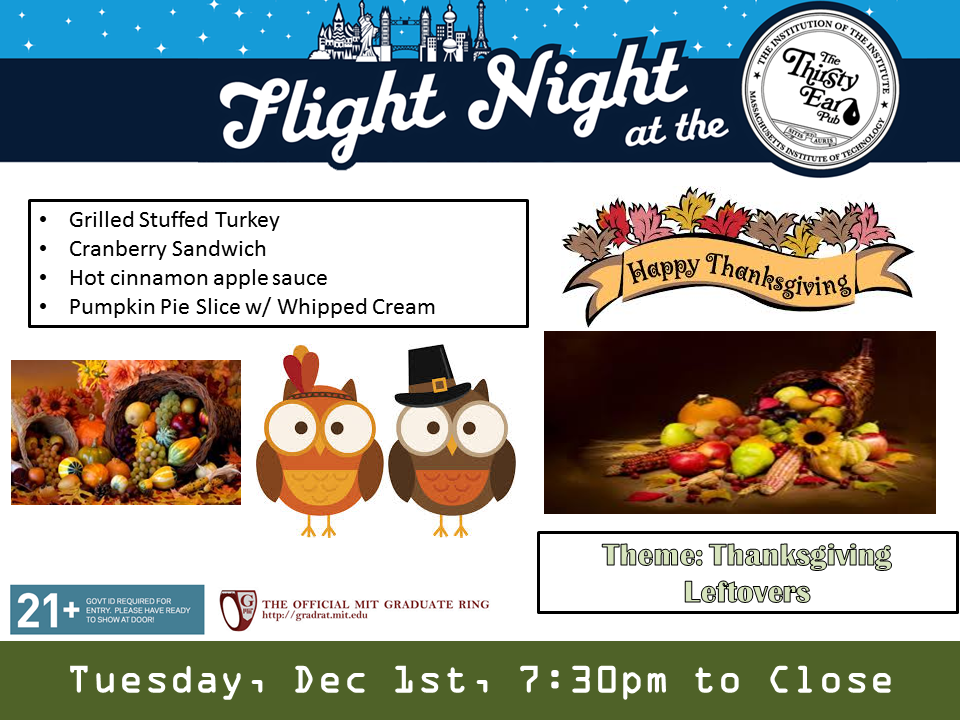 Security Enhancements Town Hall Meeting
Wednesday, December 2, 2015 18:30 – 20:00 | MP Room | spec [at] mit.edu
Join us for a security enhancements town hall meeting with Dean Humphreys and his team at residential life office. Important details regarding the security enhancements in Sidney Pacific will be discussed.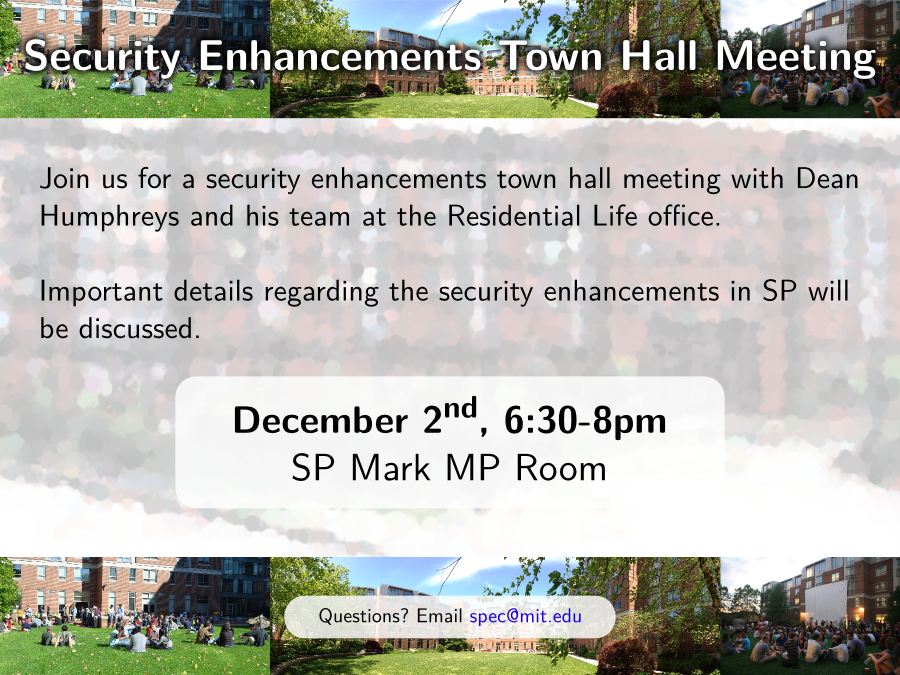 The Nutcracker Outing
Thursday, December 3, 2015 18:15 – 22:00 | Boston Opera House | sp-outing-chair [at] mit.edu
Join SP as we go to see the Boston Ballet's performance of The Nutcracker! We will meet in the SP lobby at 6:15pm sharp on Thursday, December 3rd. Tickets cost $29 for SP residents. Spots are limited so please RSVP today at http://goo.gl/forms/9yB18dK1My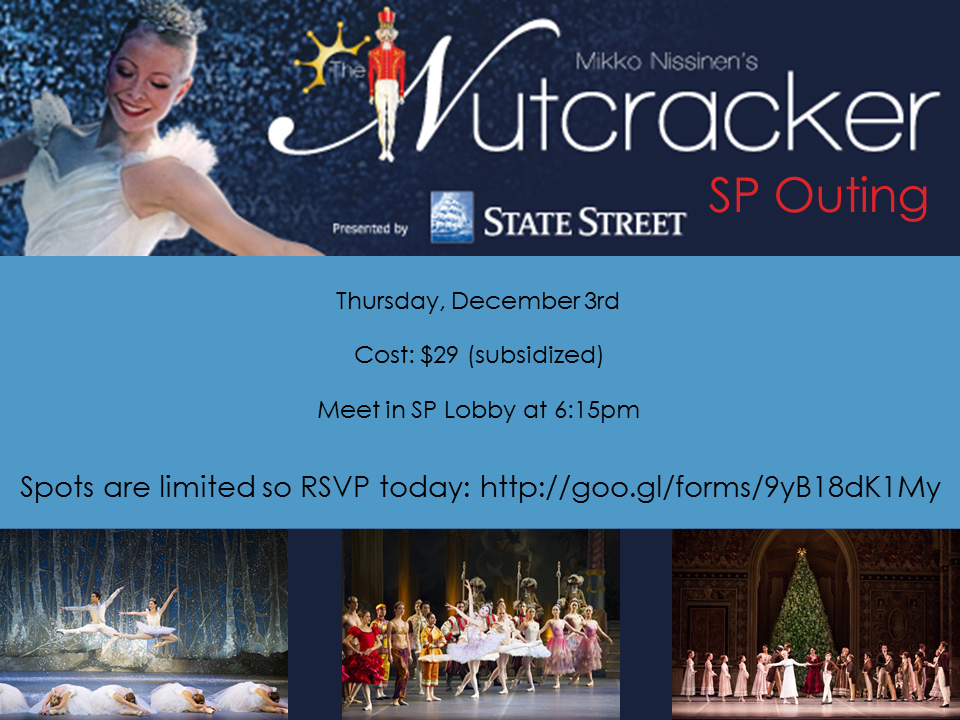 Introducing SP Talk
Saturday, December 5, 2015 23:59 – 23:59 | spec [at] mit.edu
Introducing sp-talk@mit.edu, a mailing list to talk about anything on your mind! Sign up like you would for any other interest group: go to s-p.mit.edu, click on My Account, scroll down to Interests, and check the box labeled "talk" under Community.
Or click here: https://s-p.mit.edu/myacct/interest_groups.php If you have any questions, feel free to email sp-vp-info@mit.edu.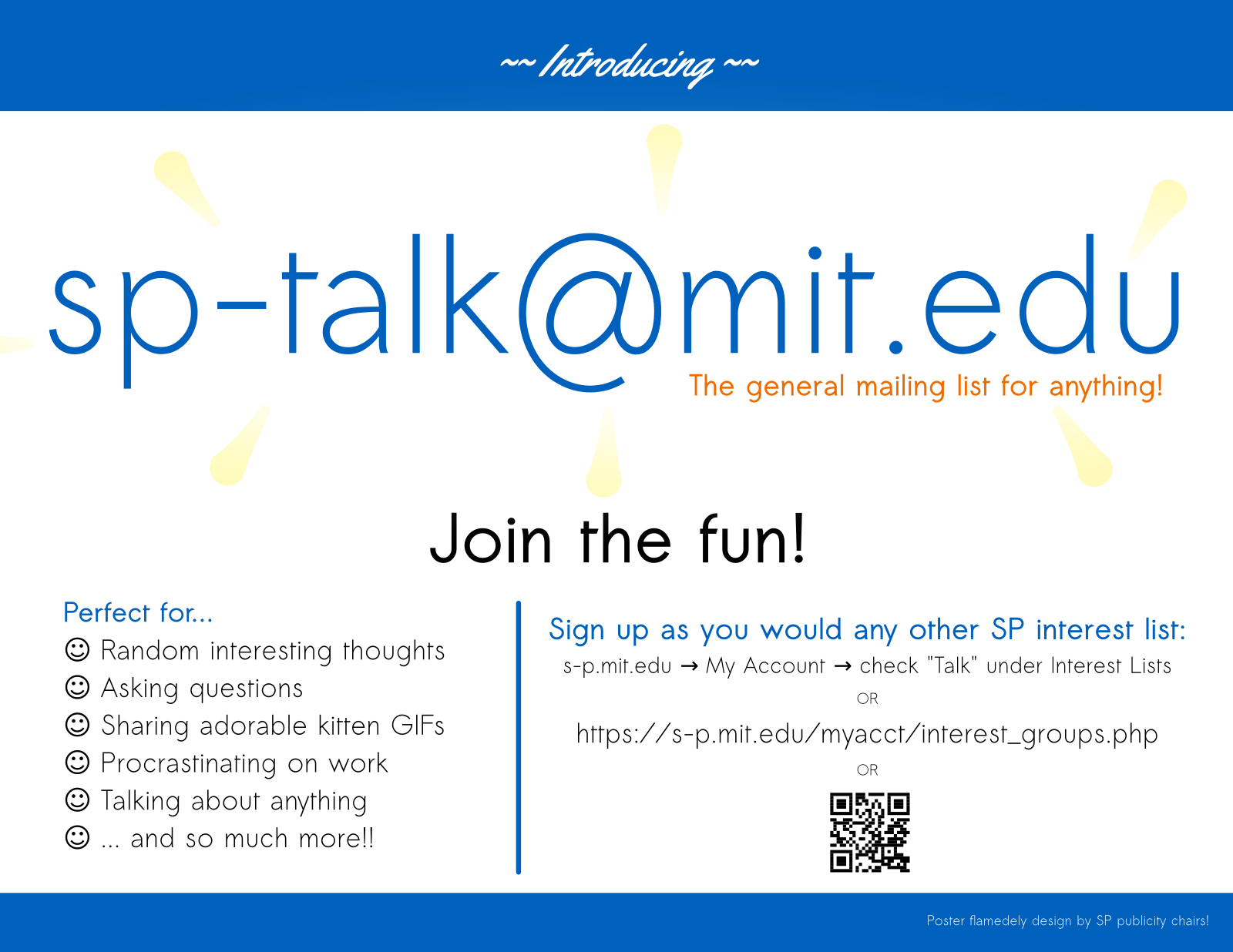 December Brunch
Sunday, December 6, 2015 12:00 – 13:00 | SP Mark Multi-Purpose Room | sp-brunch-chair [at] mit.edu
Come enjoy SidPac's monthly Sunday brunch! We'll have our usual array of delicious brunch food. Bring your own plate and utensils to help keep SP green. As always, prep is from 8am to 2pm–– come at any time to help out, and skip the line!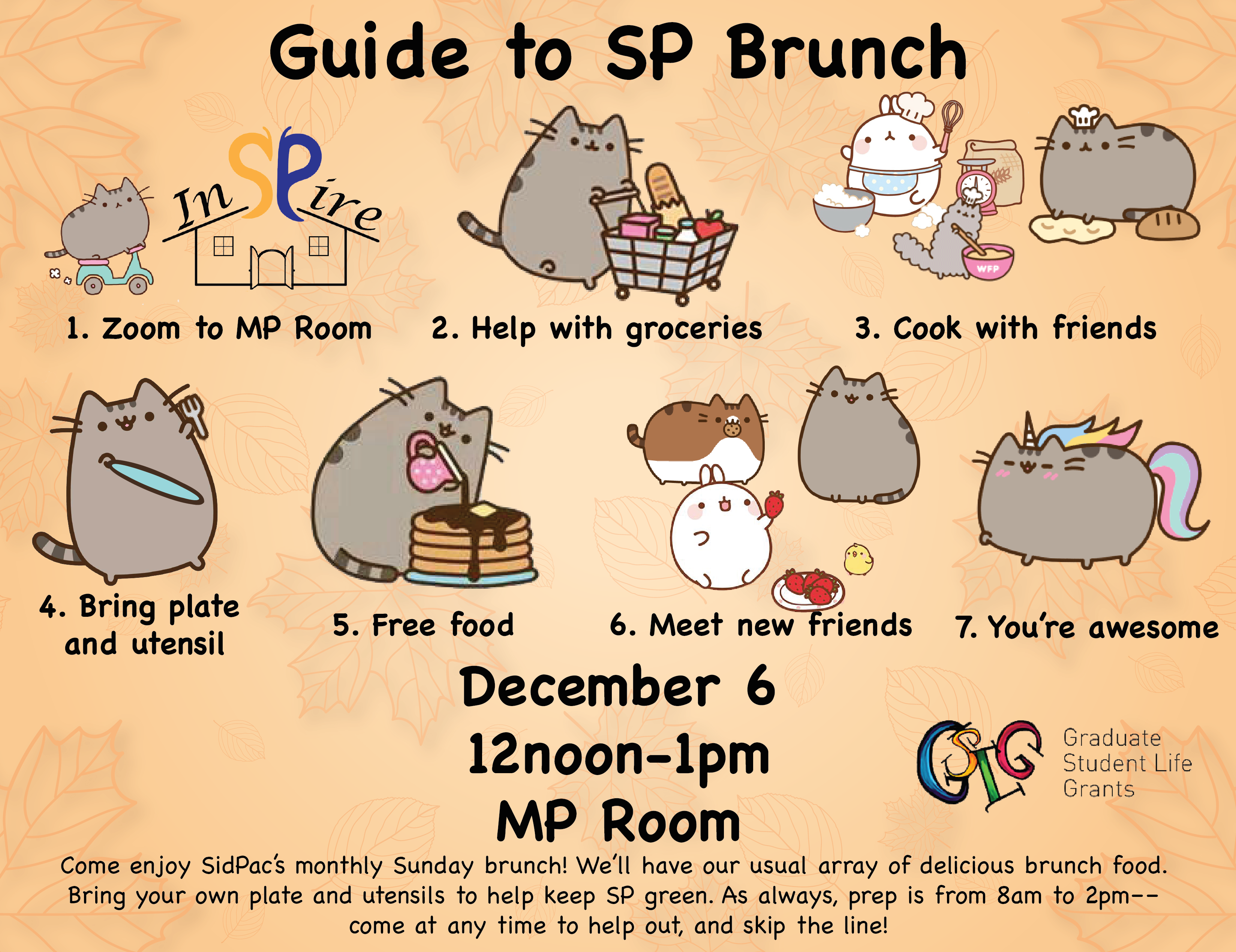 Gingerbread House Making Coffee Hour
Wednesday, December 9, 2015 21:00 – 22:00 | MP Room | sp-social-chair [at] mit.edu
We're spicing up coffee hour with gingerbread! Come to the Gingerbread House Making De-stress Coffee Hour (with hot cocoa!) to relax and escape from the stress at the end of term! Preparation starts at 8pm and cleaning starts at 9:45pm. We hope to see you there!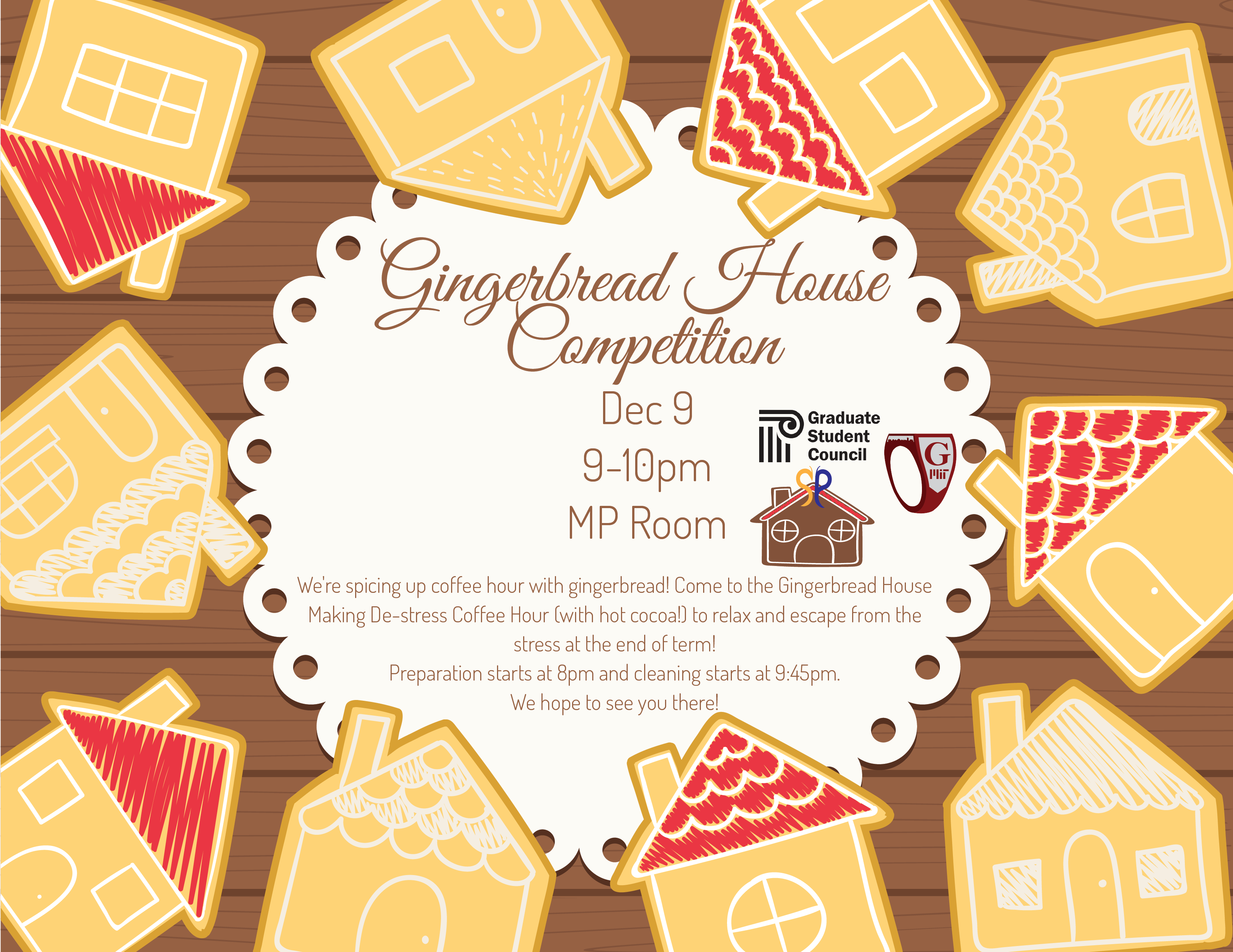 Professor Feng Zhang: Treasure Hunting in Nature
Thursday, December 17, 2015 | Multipurpose room | spalacio [at] mit.edu
Professor Feng Zhang visits Sidney Pacific to share with us his journey in science and engineering to become one of the most groundbreaking scientists of our time.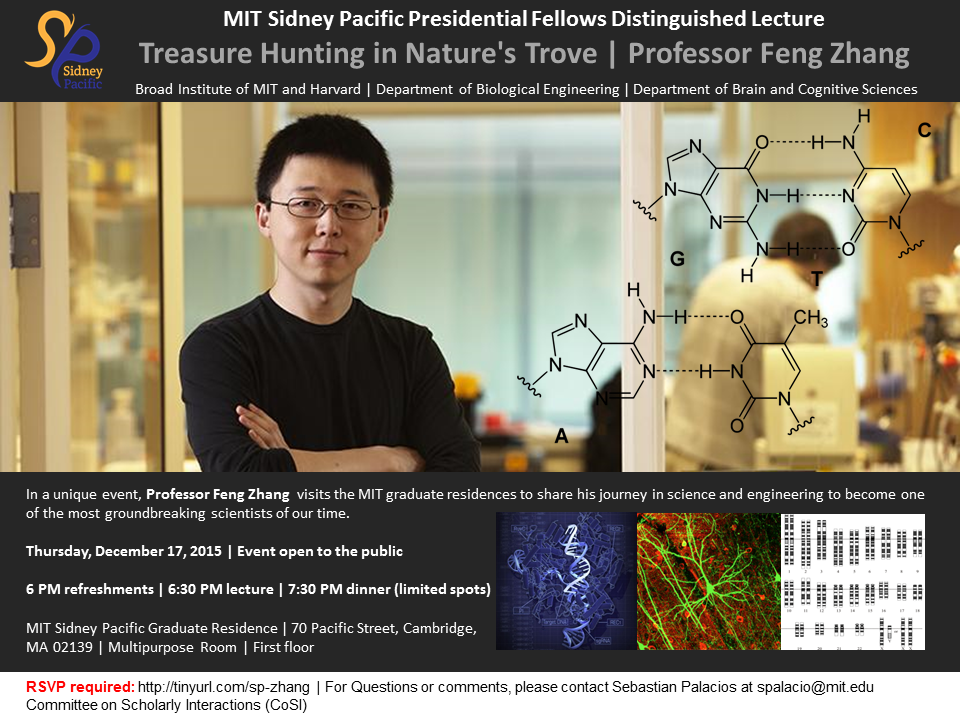 SPontaneous Events
Monday, February 15, 2016 23:59 – 23:59 | sp-housecup-coord [at] mit.edu
Organize a SPontaneous event and receive a $20 reimbursement: Pick a group activity, email/invite the corresponding igroups at least 1 hour before the event. Submit reimbursement requests with an itemized receipt (tax exempted) and proof of payment to the allocation ID: 50554. Don't forget to cc your igroup emails to sp-interhall-coord@mit.edu!