SP Helpers
Go here to sign up to hear about ways you can help out at SP!
MIT Grad Student Dinner Seminar
This series provides an institute wide platform for students to communicate their research and passion to a large audience outside of their own field, in low-pressure, diverse, inclusive, and collaborative environment.
Click here for more info or follow our Facebook page
Cupcake Competition
Monday, January 20, 2020 20:30 – 21:30 | Lobby | sp-interestgroups-chair [at] mit.edu
On Monday, January 20th, SP is having a wonderfully delicious competition: CUPCAKES! Do you want to bake and compete? Sign up at (https://forms.gle/cQ8kTcaFGEGjKvh79) by January 19th and SP will reimburse you up to $20. Do you want to taste and judge? On January 20th at 8:30pm in the lobby, our bakers will bring out their cupcakes for you to taste and judge! Prizes will be given to Most Delicious, Best Decorated, and Most Creative! The competition will be hosted by Andrea!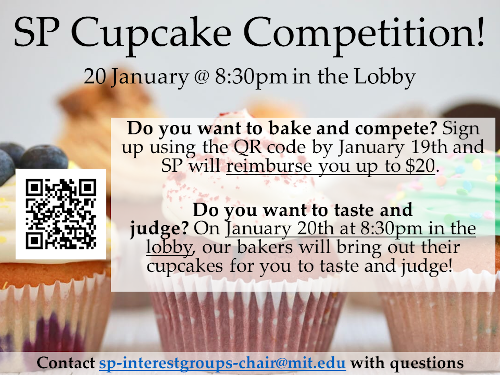 January House Meeting
Tuesday, January 21, 2020 | MP Room | sp-president [at] mit.edu
January House Meeting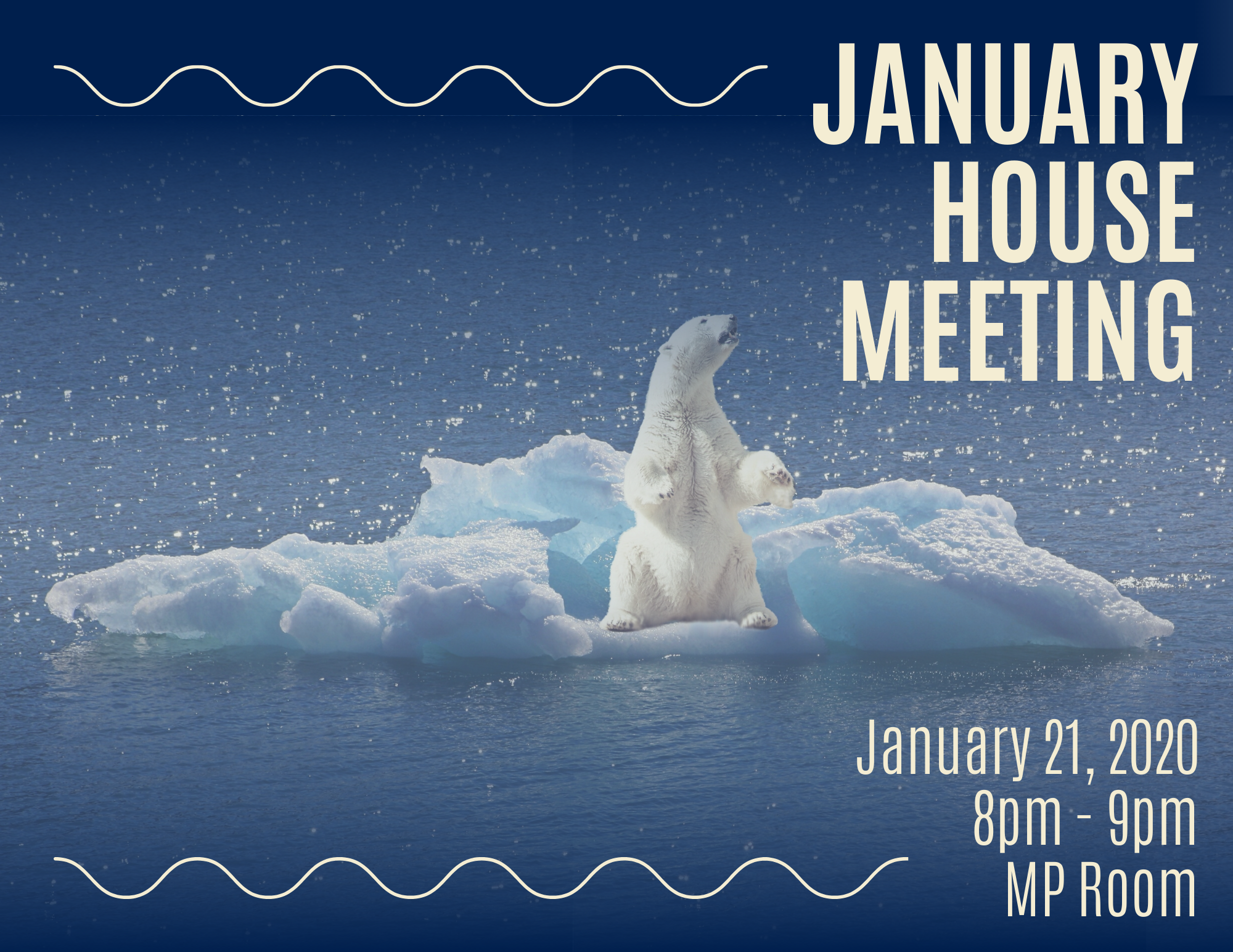 [CoSI Science, Technology, and Social Justice Series] [Dinner Discussion] Australia Wildfires: Decoding the impact on Nature and Human Ecosystem
Tuesday, January 28, 2020 19:00 – 20:00 | Seminar Room | sp-cosi-chair [at] mit.edu
Climate change is impacting our planet in various forms. Currently, we are witnessing wildfires across Australia. The impact of these wildfires is enormous. According to the Times article on January 11, "25,000 koalas feared dead on an island being consumed by flames. Ten thousand feral camels expected to be shot and killed. And claims that a whopping one billion animals estimated to have perished across Australia. These are a few of the numbers that have emerged in recent days to capture the toll of the extreme heat and raging fires on Australian animal life. They add to the already staggering scope of the fires, which have killed at least 24 people, destroyed more than 2,000 homes and scorched more than 15 million acres." Several questions have emergedó (1) what caused these wildfires?; (2) what scientific and policy framework will help in investigation and prevention of wildfires; (3) can indigenous knowledge help prevent the spread of wildfires? If yes, what would be the engagement process will look like? (4) what can we learn from this disaster? In light of these questions and more questions, we will host the dinner discussion on the topic "Australia Wildfires: Decoding the impact on Nature and Human Ecosystems." Join us for an engaging discussion among residents! Tuesday, January 28, 7 pm Seminar Room, MIT Sidney Pacific RSVP Required: https://tinyurl.com/CoSI-AustraliaFires For more information contact sp-cosi-chair@mit.edu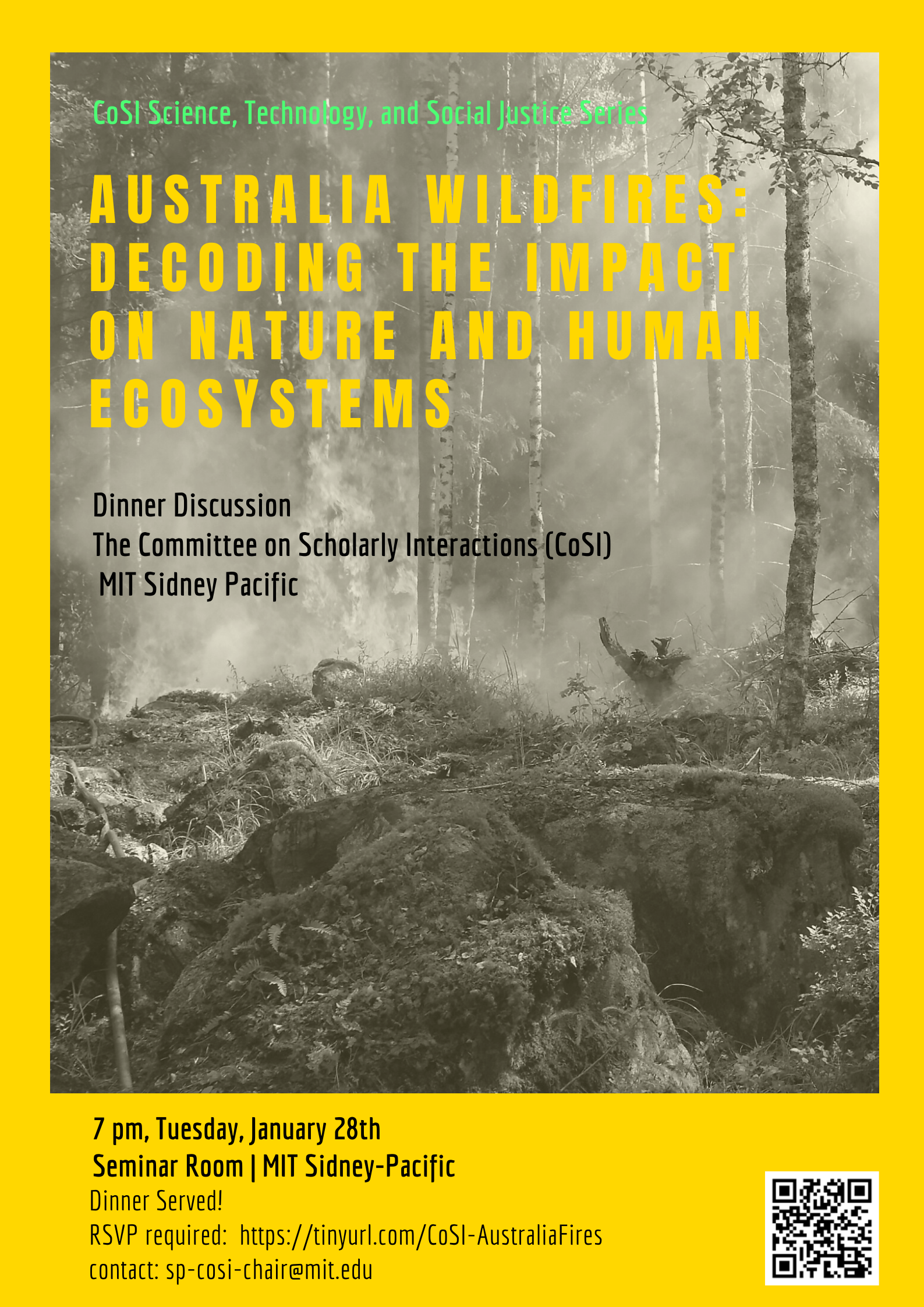 February Brunch
Sunday, February 9, 2020 12:00 – 14:00 | MP Room | sp-brunch-chair [at] mit.edu
Join us for the February Brunch! Please bring your plates and utensils to enter the 5 min early line. GradRat will be present at the brunch for students that wish to purchase rings. This is a long standing MIT tradition, and you can checkout gradrat.mit.edu for more details.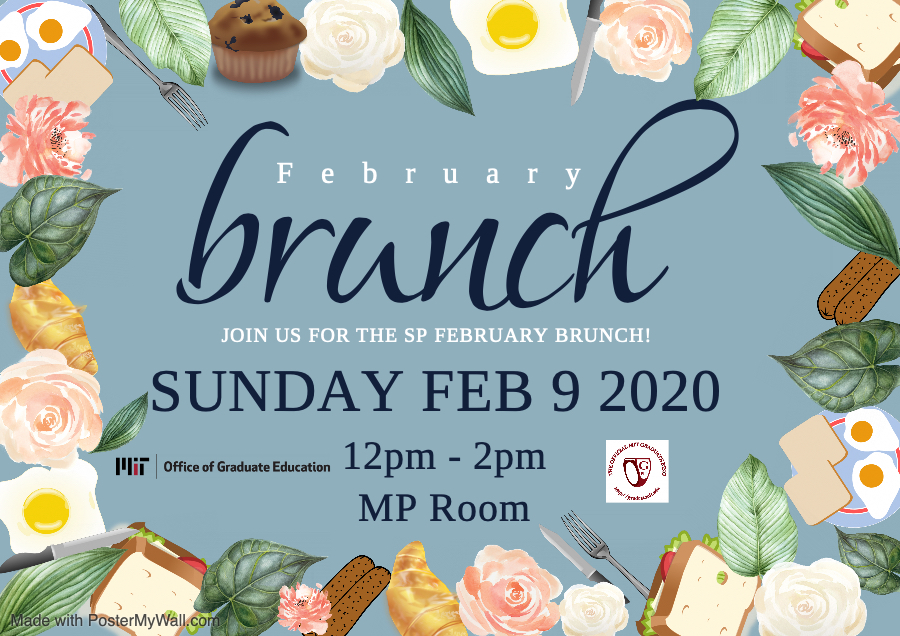 SP Book Club Calendar
Friday, June 19, 2020 23:59 – 23:59 | nuriaj [at] mit.edu
Join the 2019 Fall SP Book Club to debate interesting topics with SP colleagues and HoHs! Free book if you commit to participate in the debate :)