MIT Comedy Night at the Thirsty Ear Pub
Tuesday, March 11, 2014 20:00 – 22:00 | Thirsty Ear Pub, Ashdown House (NW35) | teec-comedy [at] mit.edu
- Join us for another MIT Comedy Night, with headliner Alingon Mitra (Winner of Boston Comedy Festival).
- Hosted by PJ Westin, featuring Phoebe Angle, Nick Chambers, Jake McDowell, EJ Murphy, Rohan Padhye, Josh Poirier.
- Snacks and soda provided. Presented by the Thirsty Ear Executive Committee. Sponsored by GSC Funding Board, Peter de Florez '38 Humor Fund, and GradRat.
- 21+ govt ID & MIT ID required for entry. Please have ID ready to show at the door.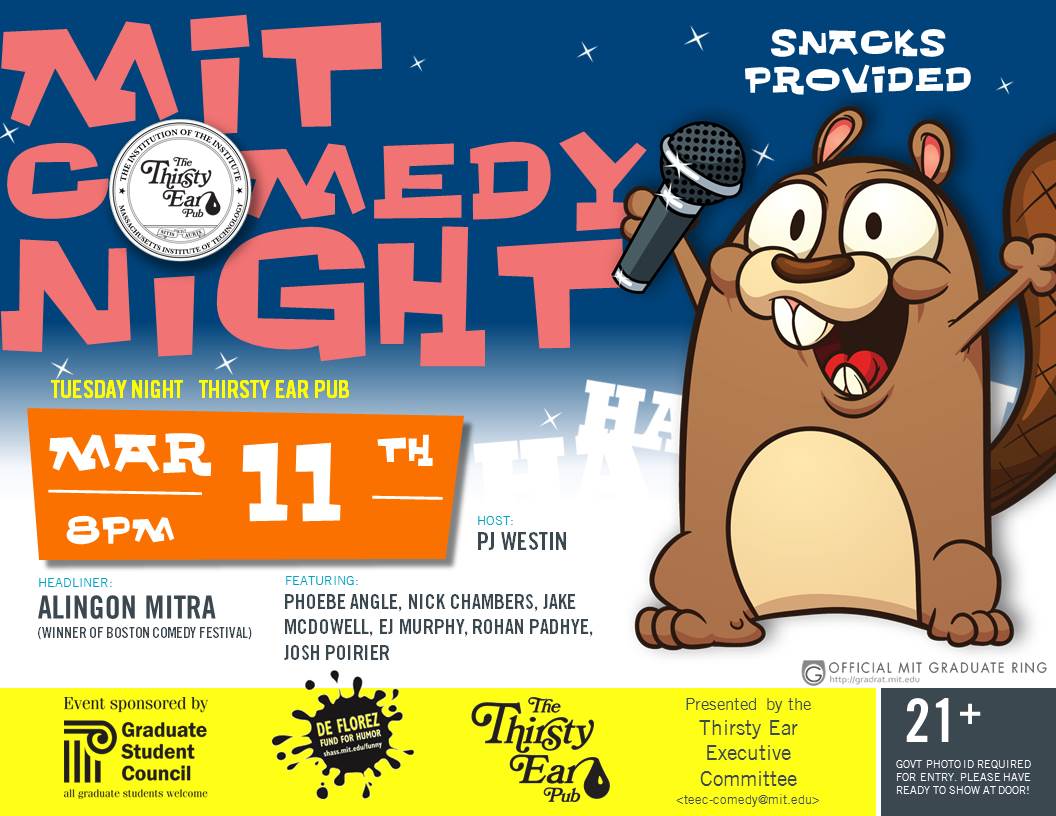 Exoplanets and the Real Search for Alien Life -- Lecture by Prof. Sara Seager
Tuesday, March 11, 2014 18:00 – 19:30 | Mark Multipurpose Room | sp-cosi-chair [at] mit.edu
The MIT Sidney Pacific / Presidential Fellows Distinguished Lecture Series presents:

Exoplanets and the Real Search for Alien Life
Sara Seager
Class of 1941 Professor of Planetary Science and Physics

Tuesday March 11
6 PM (refreshments), 6:30 PM (lecture)

RSVP: http://bit.ly/sp-seager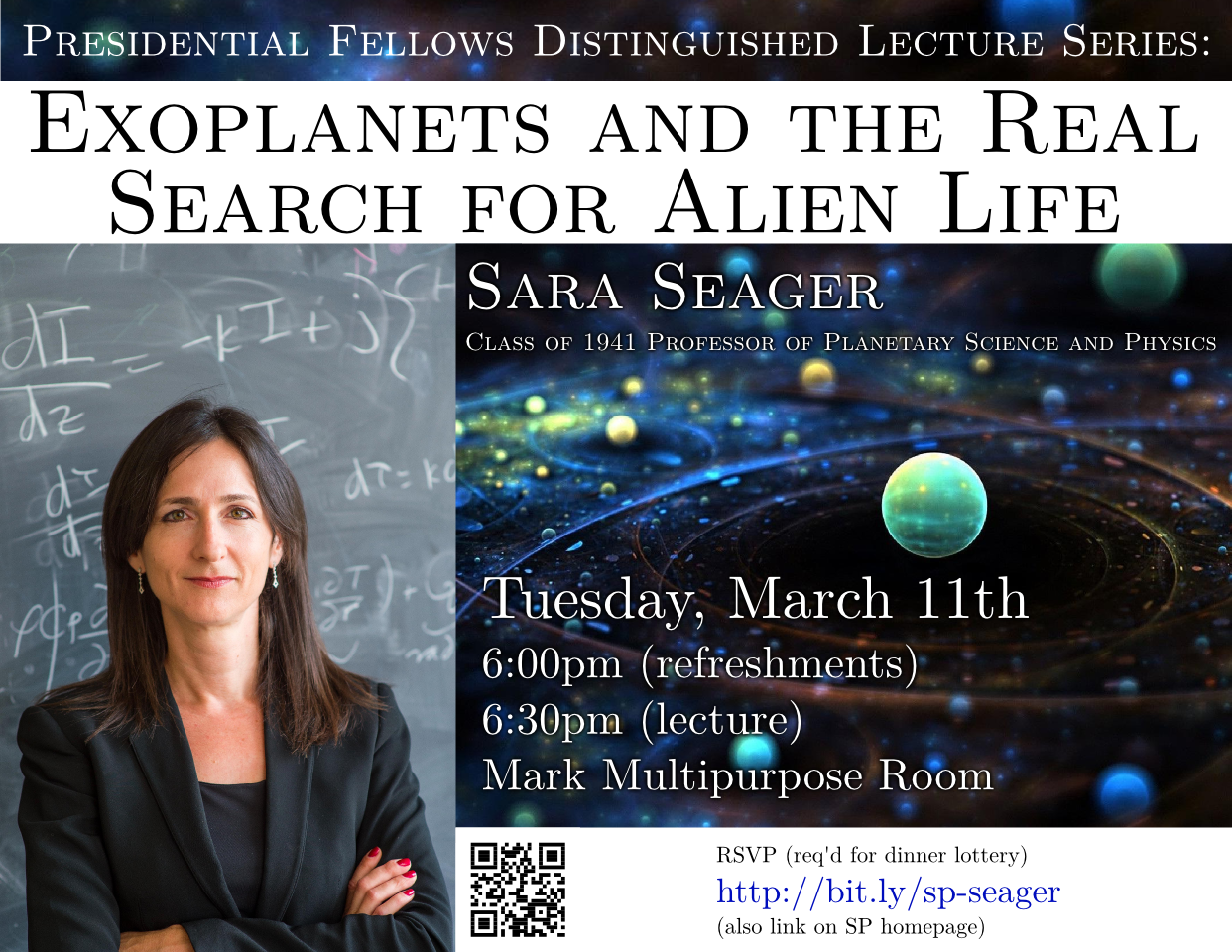 House Cup Dessert Night
Wednesday, March 12, 2014 21:00 – 22:00 | MP Room | sp-housecup-coord [at] mit.edu
Help your hall make some delicious dessert that everyone can come enjoy (and judge) at Coffee Hour!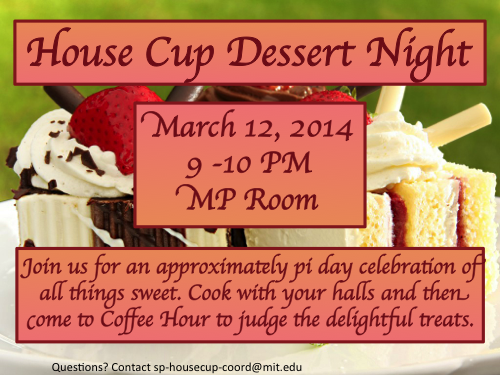 Pi Day at Ashdown
Friday, March 14, 2014 20:30 – 21:30 | Ashdown Hulsizer Room | dheera [at] mit.edu
Seventh annual Ashdown PI DAY celebration FRIDAY 3/14 | 8:30p | Ashdown Hulsizer Room FREE DESSERT night with over 10000* types of pies to choose from Pi RECITATION CONTEST with prizes of $30/$20 in gift certificates! Start memorizing today! If you don't feel like memorizing, come at least for the FREE dessert! *** Please bring plates/utensils to reduce waste. *** * specified in binary Sponsored by the GSC and open to all graduate students.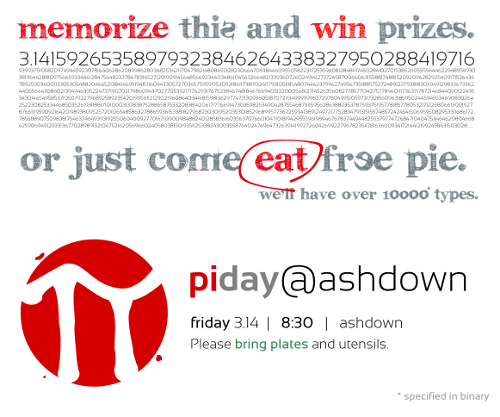 Camera Workshop Series at SP
Saturday, March 15, 2014 23:59 – 23:59 | sp-vp-info [at] mit.edu
Elevate your photography skills through interactive workshops. There will be 2 workshops & 1 outing in the semester. Stay tuned for more information.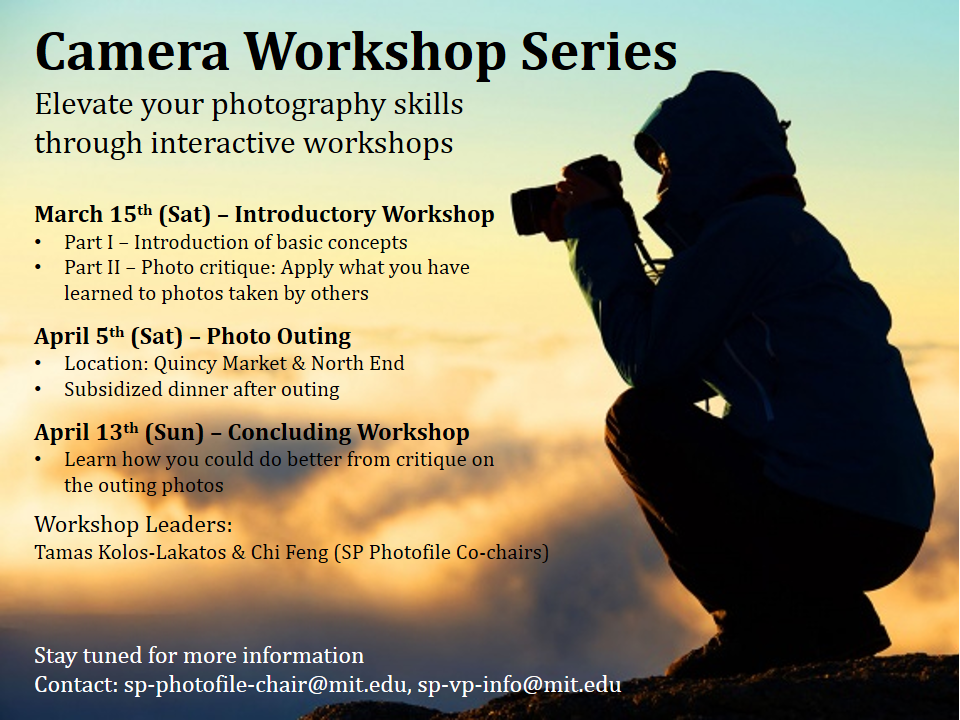 Cooking for CASPAR, Round 2!
Saturday, March 15, 2014 13:30 – 18:00 | SP Main Kitchen | sp-community-service-chair [at] mit.edu
Come join your fellow SP residents in cooking a meal for our neighbors at the CASPAR homeless shelter just across the street from Ashdown House! We'll meet in the SidPac Lobby and cook in the main kitchen, and we'll bring over and serve the food at 5PM sharp at the shelter. Come help us for all or part of the afternoon!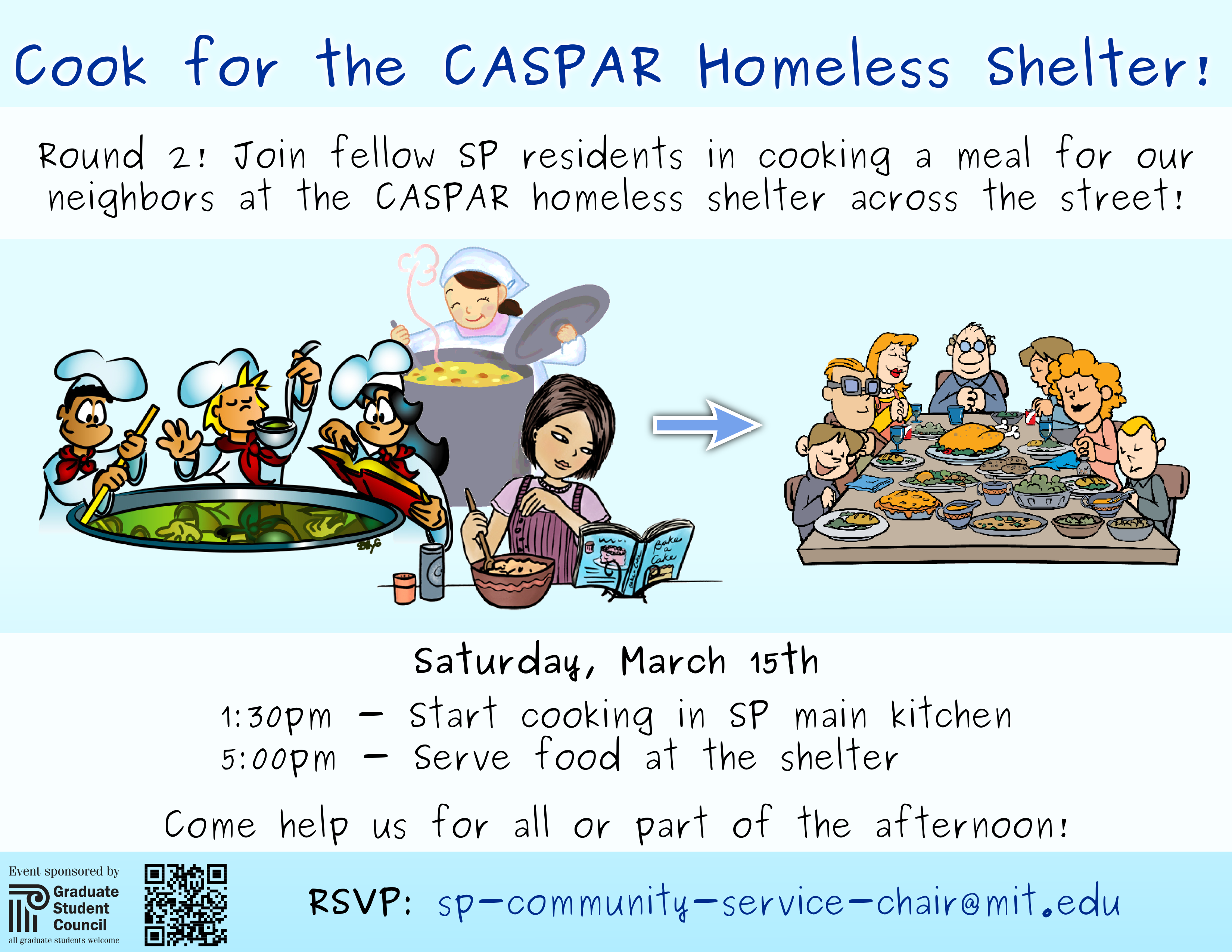 Outing to the annual Boston Flower and Garden Show
Saturday, March 15, 2014 12:30 – 17:00 | SP lobby | sp-plants-chair [at] mit.edu
Enjoy an afternoon of elegance and fun at the annual Boston Flower and Garden Show with fellow SP plants/gardening enthusiasts. See spectacular displays by cutting-edge landscape professionals, watch live demonstrations by industry experts and creative local chefs, and admire beautiful competition-level floral designs. The theme is "Romance in the garden." First 10 RSVPs receive free ticket ($20 value), and the next 10 receive a $10 rebate. RSVP today at the S-P homepage.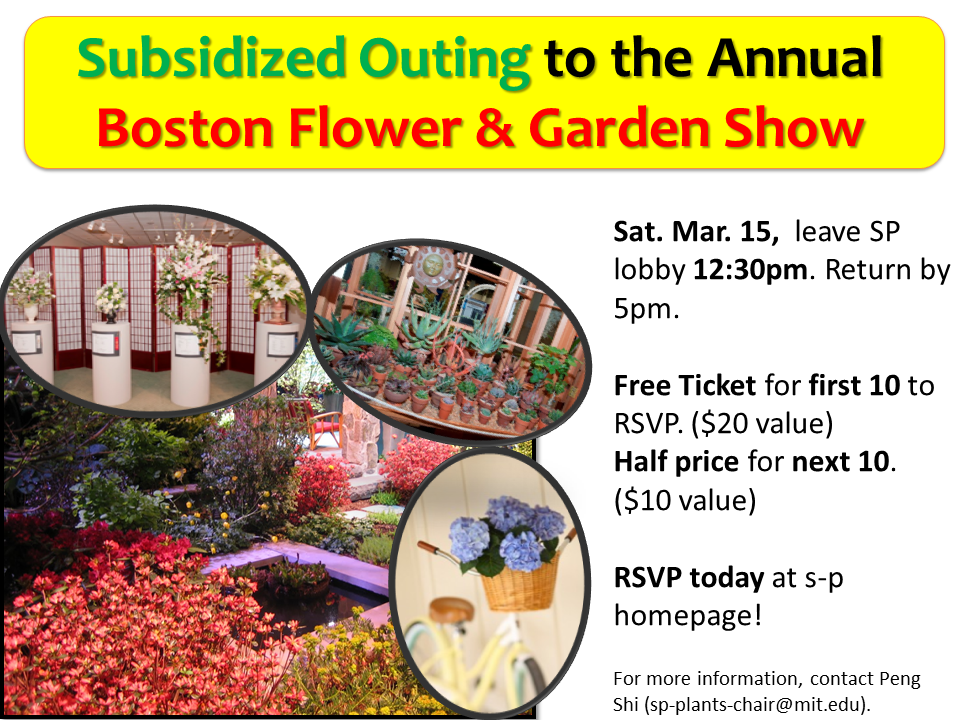 Camera Workshop
Saturday, March 15, 2014 18:30 – 21:00 | MP Room | sp-photofile-chair [at] mit.edu
This camera workshop will cover basic camera functionalities and it will give an insight into what makes a photograph successful and pleasing. We will do 30 minutes of "lecture," covering topics such as composition (e.g. rule of thirds), lighting, subject isolation, and some creative things such as long exposure or intentional motion blur. Guests are welcome to bring their own cameras to the workshop. Then we will look at a variety of pictures taken by SP residents and will discuss their strengths and weaknesses. This intro workshop will give a brief overview of how to tell a story with images. SP residents interested in submitting their work for the photo critique are encouraged to email submissions to sp-photofile-chair@mit.edu
Web Chair Office Hour
Sunday, March 16, 2014 23:59 – 23:59 | 6th floor kitchen (unless notified otherwise) | sp-vp-info [at] mit.edu
Interested in coding the SP website with the web chairs? Join the regular web chair office hour every Sunday 8 pm. Food may be provided occasionally. The usual meeting time and place is Sunday 8 pm in 6th floor kitchen. Contact the web chairs at sp-web-chair@mit.edu if you would like to attend.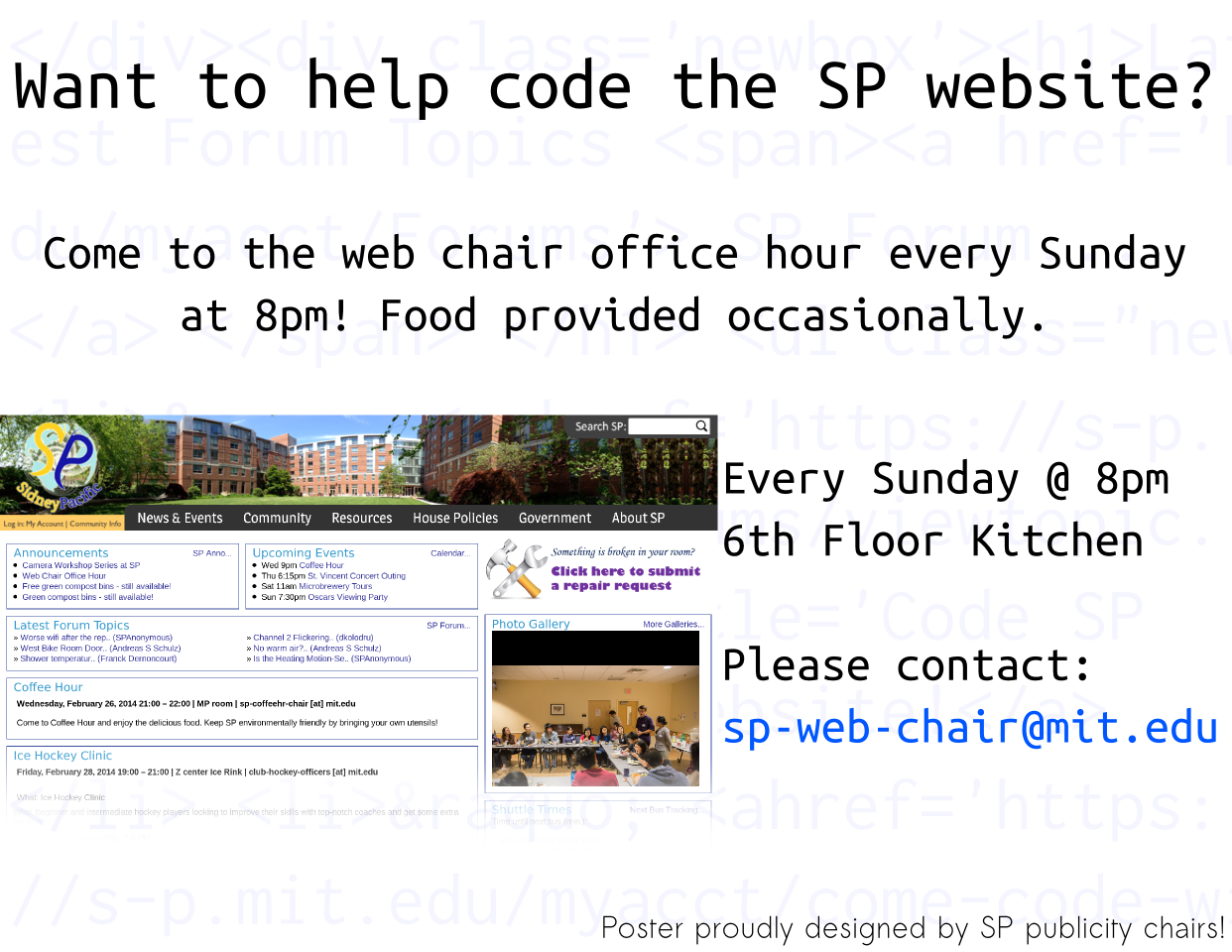 Beethoven and cupcakes
Sunday, March 16, 2014 15:15 – 17:30 | depart from SP lobby | sp-outing-chair [at] mit.edu
Experience Beethoven's chamber music at Boston's Emmanuel Church, then taste desserts from Georgetown Cupcake! Free for SP residents. RSVP to attend: https://signup.mit.edu/bc Find music program here: http://www.emmanuelmusic.org/calendar_tickets/13-14season/caltix13-14_beethoven_chamber.htm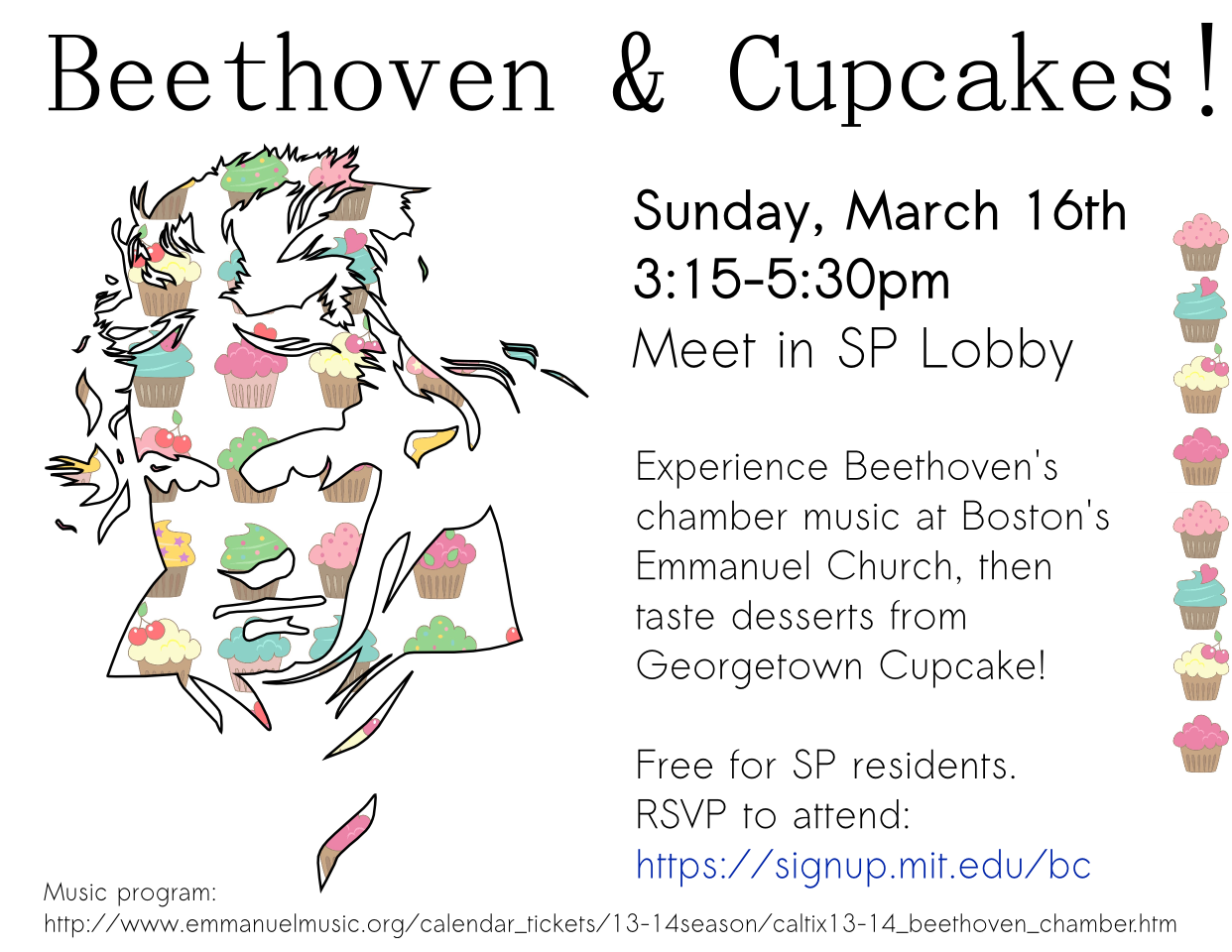 SPEC Nominations
Tuesday, March 18, 2014 23:59 – 23:59 | sp-vp-info [at] mit.edu
Nominations open for SPEC 14-15. Know someone who you think will make a great leader for our awesome residence? Email his/her name and nominated position to sp-nominations@mit.edu! Any SP resident can nominate any other resident or self-nominate. Nominations close on March 18th (Tue.) For more information, contact sp-trustees@mit.edu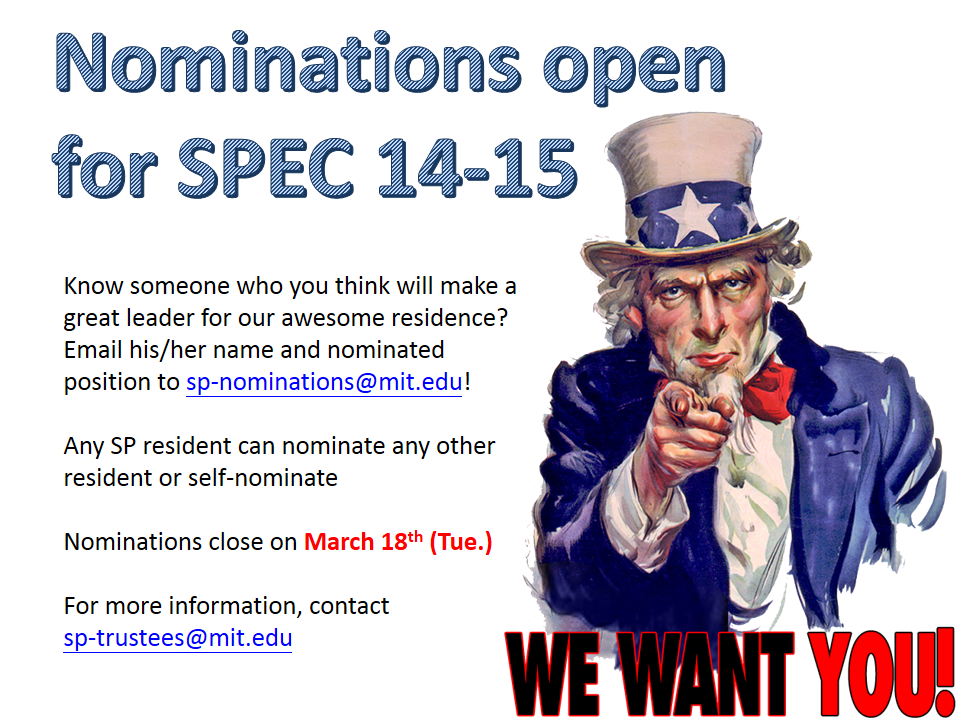 Third Thursday @ the Liist
Thursday, March 20, 2014 18:00 – 20:00 | E15 | gsc-ac [at] mit.edu
Join graduate students at the List to explore contemporary art and conversation. Learn more about the exhibitions "Sonia Almeida: Forward/Play/Pause", "Hourly Directional: Helen Mirra and Ernst Karel", and "Hans Op de Beeck: Staging Silence (2)" through guided tours. Enjoy pizza from Otto's, plus beer and wine.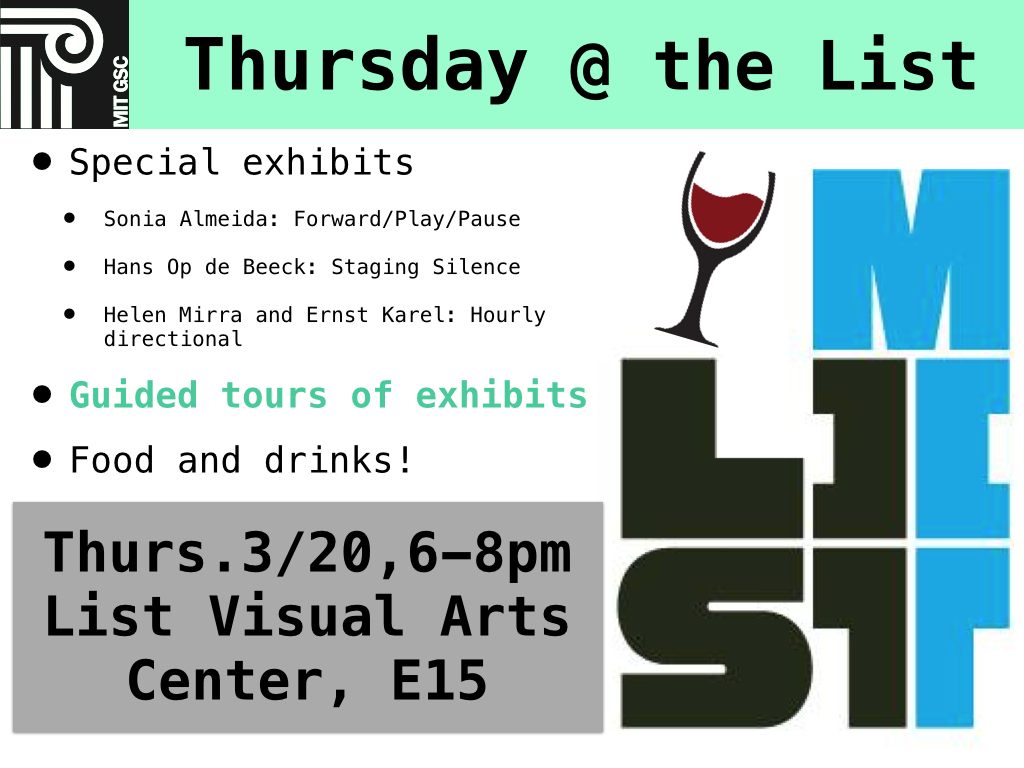 Green Movie Series
Thursday, March 27, 2014 19:00 – 21:30 | Sidney Pacific Seminar Room | sp-environment-chair [at] mit.edu
Join us at the first monthly Green Movie event! The series is starting on Thursday March 27 with the film 'Fuel', a movie that "shows us the way out of the mess we're in by explaining how to replace every drop of oil we now use, while creating green jobs and keeping our money here at home". Fossil Free MIT will join us to explain their petition for MIT to divest from fossil fuels. Environmentally friendly food will be served (we encourage you to bring your own plates, cups & utensils).