HVAC Room Allocation


For questions about move dates or any other issues, email sidpachvac@mit.edu to reach MIT administrators.
SP Roommate Dine Out
Tuesday, 1 September 2015 00:00 — Thursday, 10 September 2015 23:59 | sp-housecup-coord [at] mit.edu
Here's a chance to get to know your roommates and neighbors better. Sign-up forms have been emailed to you! We will pair you (and your roommate, if you have one) with your neighbors and send you on a free dinner on a date of your choice between Sept-1 to Sept-10 and to a restaurant of your choice! How cool is that? ;) Sign-up while spots last!!!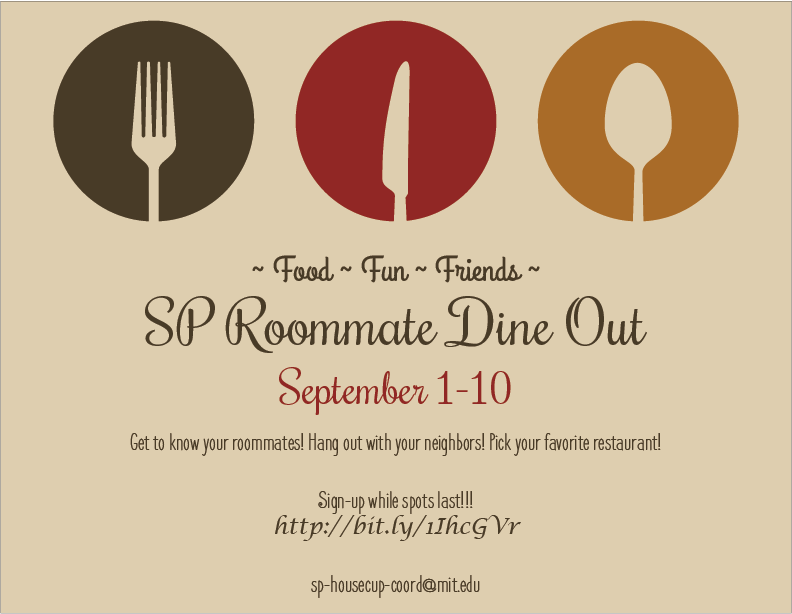 Coffee Hour 9/2
Wednesday, September 2, 2015 21:00 – 22:00 | MP Room | sp-coffeehr-chair [at] mit.edu
Come on down to the MP room from 9-10 PM for fruit, cheese, guacamole, and a variety of other snacks. Prep starts at 8PM in the kitchen and clean-up starts shortly before 10.
Plant sale
Wednesday, November 30, -0001 | SP Courtyard | sp-aquarium-chair [at] mit.edu
Pick up a plant for the room and enjoy fresh summer fruits & snacks at the SP Plant Sale! Tropical house plants, cacti, terrarium plants, potted herbs and organic solís made available by Ricky's Flower Market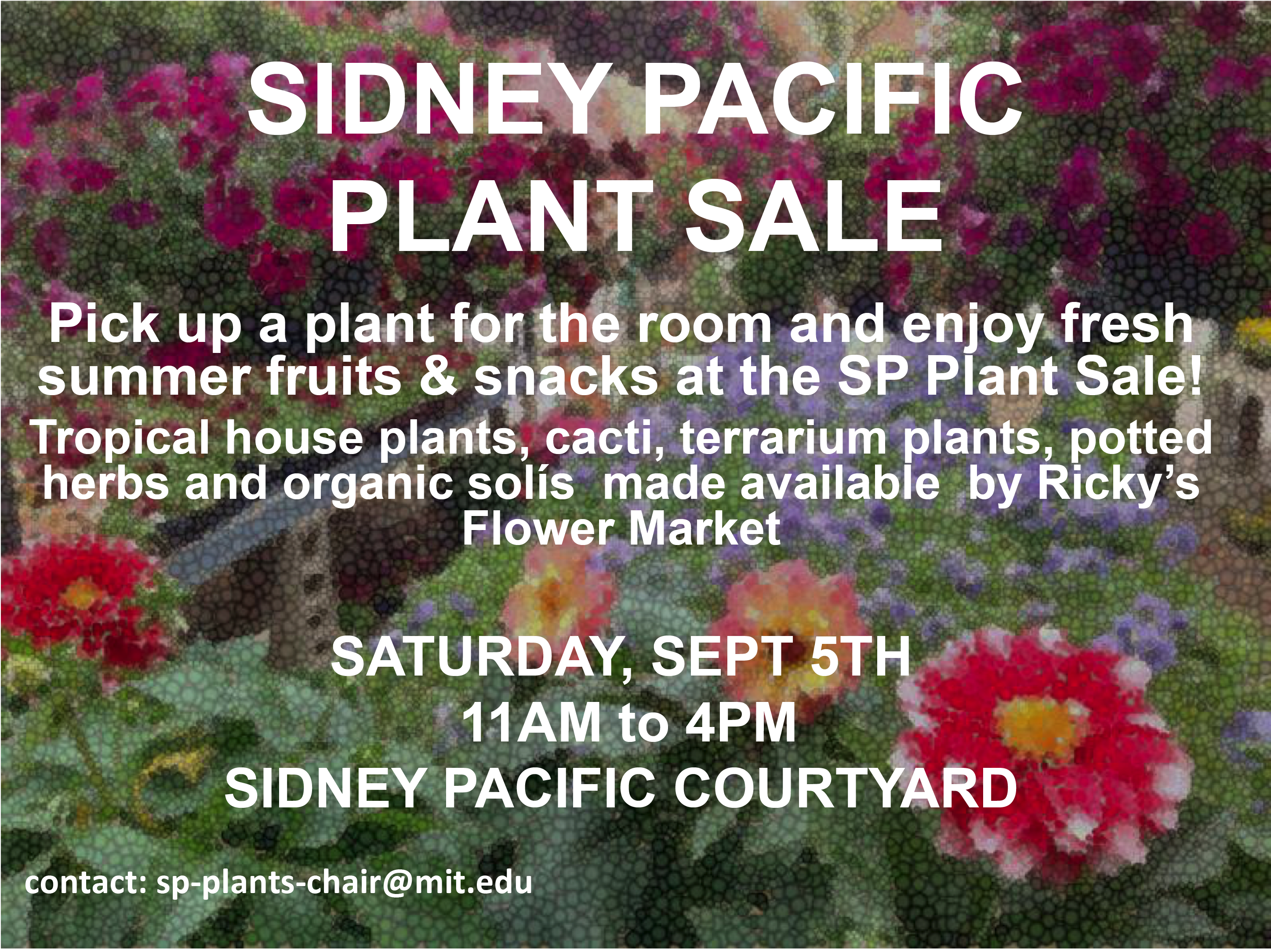 Orientation Brunch
Sunday, September 6, 2015 12:00 – 13:00 | SP Mark Multi-Purpose Room | sp-brunch-chair [at] mit.edu
Come enjoy SidPac's wonderful Orientation Brunch! We'll have our usual array of delicious brunch food. Bring your own plate and utensils to win prizes and help keep SP green. As always, prep is from 8am to 2pm -- come at any time to help out, and skip the line!
MIT Comedy Night at the Thirsty Ear Pub
Tuesday, September 8, 2015 20:00 – 22:00 | Thirsty Ear Pub | teec-comedy [at] mit.edu
What: MIT Comedy Night at the Thirsty Ear Pub
When: Tuesday, September 8th, 8p. Show starts 8:30p.
Where: Thirsty Ear Pub, Ashdown House (NW35)
Contact: teec-comedy@mit.edu

- Join us for another MIT Comedy Night, with headliner Mehran Khaghani (NBC's Last Comic Standing).
- Hosted by Thom Crowley, featuring Emily Ruskowski, Ken Reid, Danny Hatch, Kyle Franklin, and Alana Holt Peters
- Snacks and soda provided. Presented by the Thirsty Ear Executive Committee.
- Sponsored by GSC Funding Board, Peter de Florez '38 Humor Fund, and GradRat.
- 21+ govt ID & MIT ID required for entry. Please have ID ready to show at the door.
September House Meeting
Tuesday, September 8, 2015 20:00 – 21:00 | MP Room | spec [at] mit.edu
Agenda: 1. Overview of SP Vision and Initiatives 2. Trustee Nominations 3. Fall Budget and Voting 4. Service Awards 5. Upcoming Events 6. Open Floor and Dessert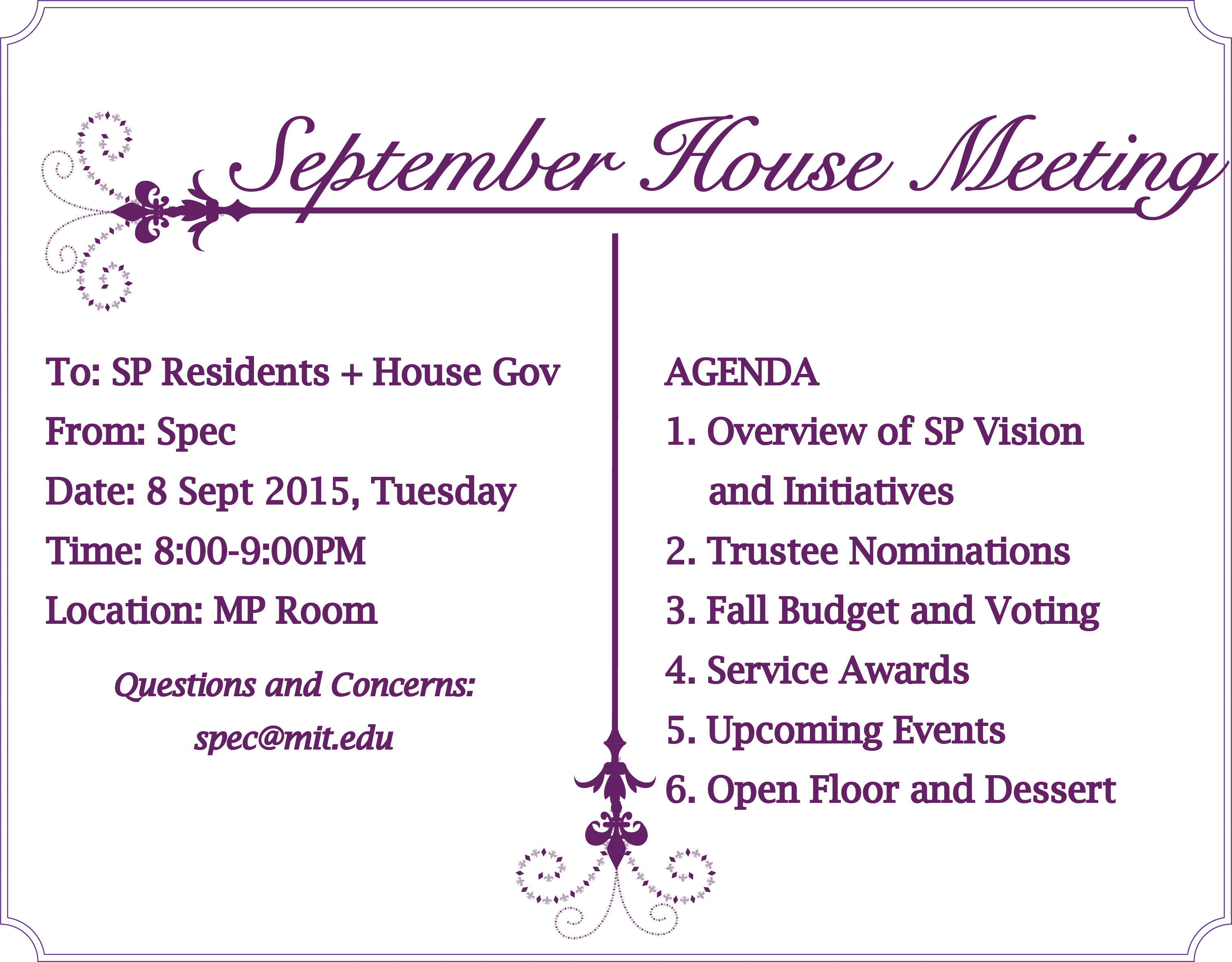 Orientation Coffee Hour Sept. 9
Wednesday, September 9, 2015 21:00 – 22:00 | MP Room | sp-coffeehr-chair [at] mit.edu
SP's annual orientation coffee hour is the perfect way to relax after the first day of classes. Come to the SP MP room from 9-10 PM for fresh fruit, guacamole, cheese, and several other delicious goodies. There will also be special treats to celebrate the beginning of classes.
Sidney Pacific Orientation Dance Party
Friday, September 11, 2015 20:00 – 23:00 | SP Courtyard | sp-orientation-chair [at] mit.edu
Sidney-Pacific is throwing a massive dance party for MIT graduate student orientation! Come get to know the S-P community by dancing the night away to the musical stylings of Dr. Dinonaut. Snacks will be provided -- including glow-in-the-dark cupcakes! -- as well as plenty of refreshments; 21+ ID required for alcohol. The party is taking place in the S-P courtyard, which will be decked out in blacklights (so if you want your clothes to glow, make sure to dress accordingly)!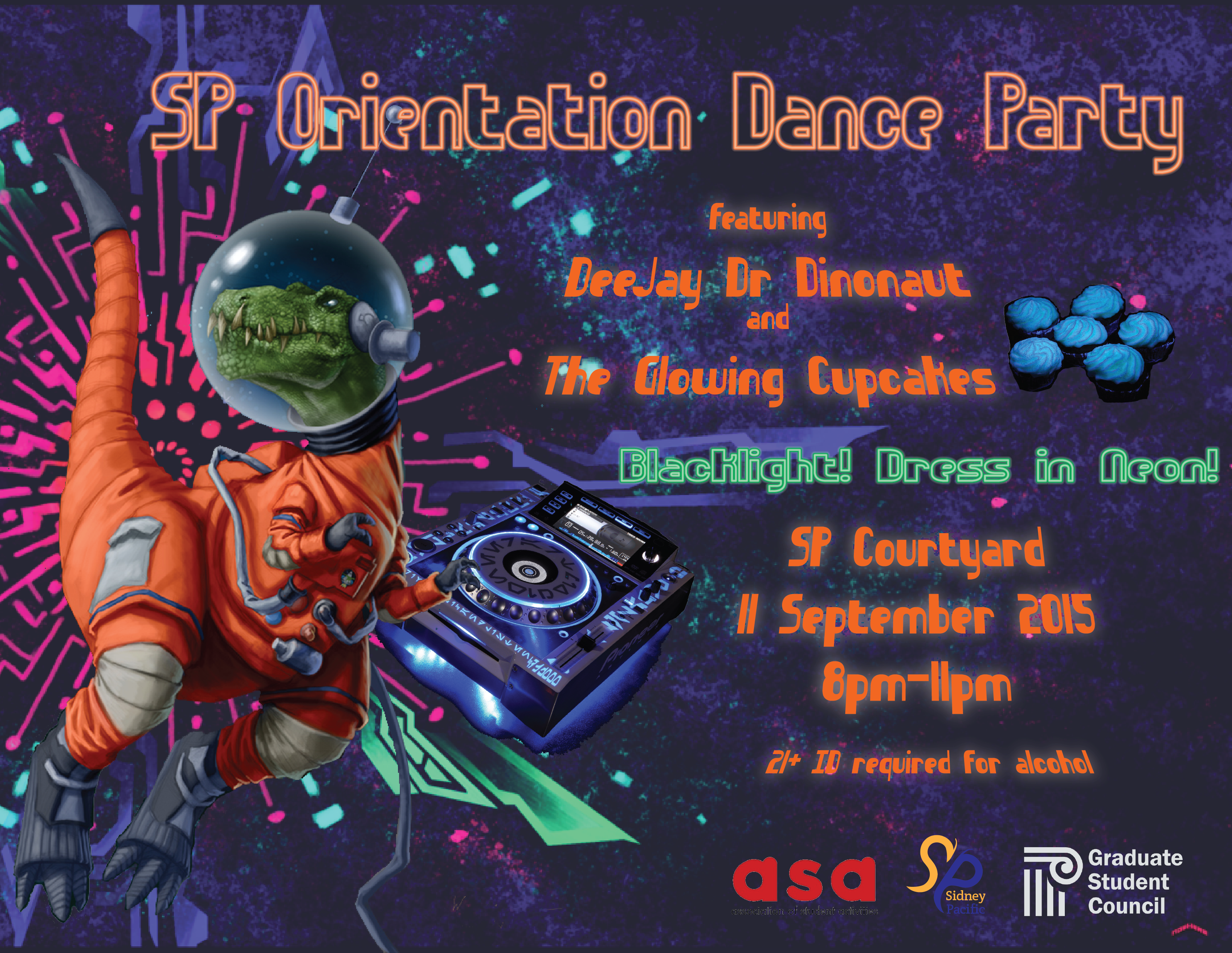 SP Open Doors Night
Saturday, September 12, 2015 19:00 – 22:00 | sp-housecup-coord [at] mit.edu
Open your doors to your neighbors and fellow residents, offer your favorite food and organize fun games!