MIT Comedy Night at the Thirsty Ear Pub
Tuesday, 5 August 2014 20:00 — Wednesday, 6 August 2014 22:00 | Thirsty Ear Pub | teec-comedy [at] mit.edu
- Join us for another MIT Comedy Night, with headliner Gary Petersen (Boston Comedy Festival).
- Hosted by Adam Langlois, featuring Jenny Chalikian, Casey Malone, Micky McCauley, Kevin Seefreid, and Sean Sullivan
- Snacks and soda provided. Presented by the Thirsty Ear Executive Committee.
- Sponsored by GSC Funding Board, Peter de Florez '38 Humor Fund, and GradRat.
- 21+ govt ID & MIT ID required for entry. Please have ID ready to show at the door.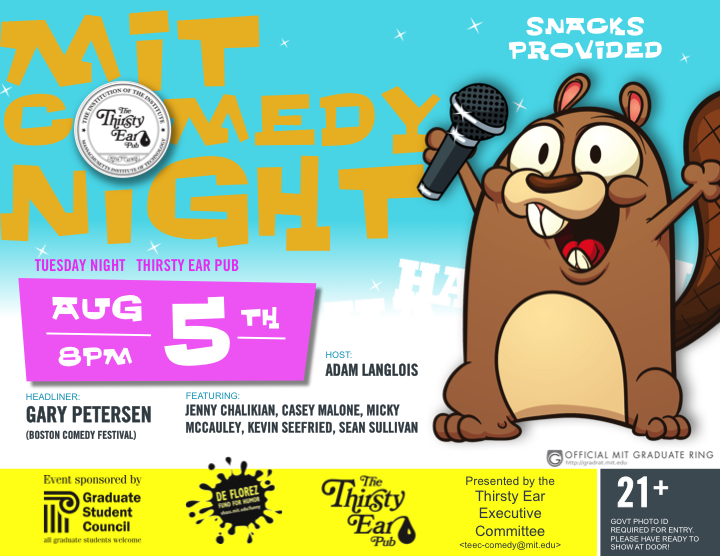 Coffee hour
Wednesday, August 6, 2014 21:00 – 22:00 | MP room | sp-coffeehr-chair [at] mit.edu
Love CANNOLI? You should try this coffee hour. Relax and enjoy the company of your friends. Lots of great food await you! :) Preparation starts at 8pm in kitchen. Cleaning starts at 9:45.
Social Dance Beginner Series
Thursday, 7 August 2014 20:00 — Thursday, 14 August 2014 21:00 | Sidney-Pacific Mark MP Room | sp-social-chair [at] mit.edu
Sidney-Pacific is hosting a series of 6 ballroom dance classes taught by the MIT Ballroom Dance Team. There will be two lessons for each of the following dances: cha cha, tango, and salsa/mamba. No experience or partner necessary.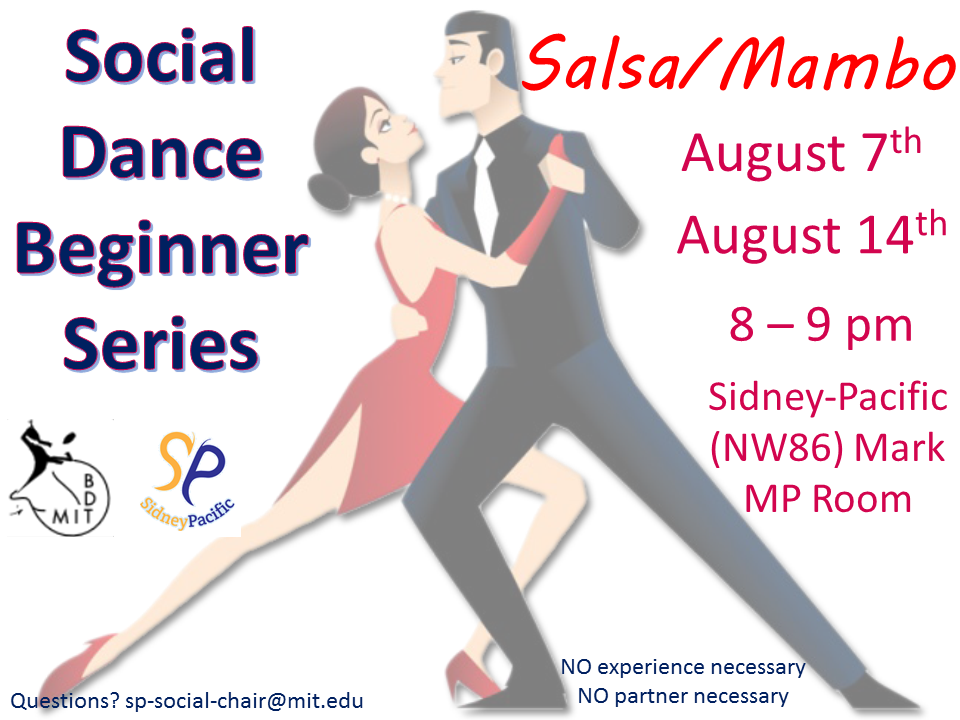 Grad Life Hackathon
Friday, 8 August 2014 20:00 — Saturday, 9 August 2014 20:00 | MP Room | sp-vp-info [at] mit.edu
MIT Graduate Life Hackathon
Develop software and hardware to improve graduate student life at MIT!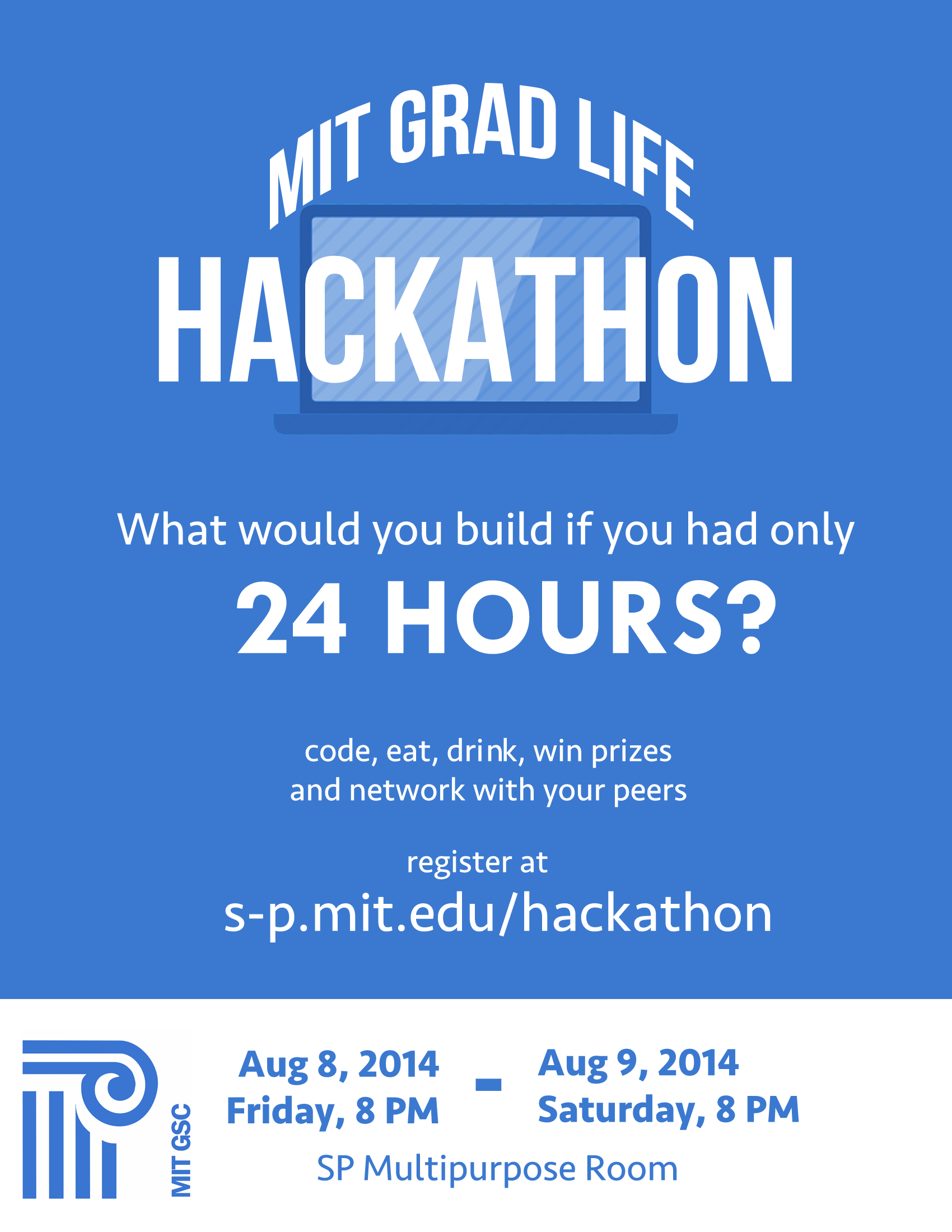 New England Aquarium Trip
Saturday, August 9, 2014 11:00 – 16:00 | 1 Central Wharf, Boston, MA 02110 | sp-aquarium-chair [at] mit.edu
As summertime continues in its stifling furnace form, why not enjoy a relaxing weekend day by the cool water? While you're at it, why not touch a stingray, or watch majestic sharks, and funny penguins go by? This is what a day at the New England Aquarium is all about, a day spent with friends and SP neighbors, by the water, far, far away from both work and heat. Tickets will be a reasonable $5/person. The rest of the cost is covered, courtesy of SP. Please RSVP :)
SP Halls of Fame
Sunday, August 17, 2014 13:30 – 15:00 | MP Room | sp-hallchair [at] mit.edu
Let's make art for SP! Come to an oil painting class (all levels of experience are welcomed!), and we'll showcase your work in your floor kitchen, along with your name and picture till the end of year. We only have 25 spots, first-come first-served!
SP-MORE: Furniture & Items Collection Initiative
Wednesday, August 20, 2014 23:59 – 23:59 | Study rooms 278, 480, and 578 (North Wing of Sid Pac) | sp-environment-chair [at] mit.edu
Are you moving out of Sid Pac? Do you have furniture & household items that you don't need anymore? Don't throw them away, but instead donate them to us! We will store donated items to give out to new residents in the upcoming fall. Donating to us instead of trashing your items is a GREENER way to handle your move-out. Please only donate clean & usable items, and absolutely no bedding (mattress, sheets, pillows, blankets etc.), clothing, shoes, towels, or food!