HVAC Renovation Project
HVAC Room Allocation


For questions about move dates or any other issues, email sidpachvac@mit.edu to reach MIT administrators.
USA Coffee Hour
Wednesday, July 1, 2015 21:00 – 22:00 | MP Room | sp-coffeehr-chair [at] mit.edu
Uncle Sam wants you at coffee hour on July 1st. Come to the MP room at 9pm to celebrate an early Independence Day with some patriotic treats along with normal coffee hour food. True patriots will come early at 8pm to prep and stick around afterward to help with clean-up.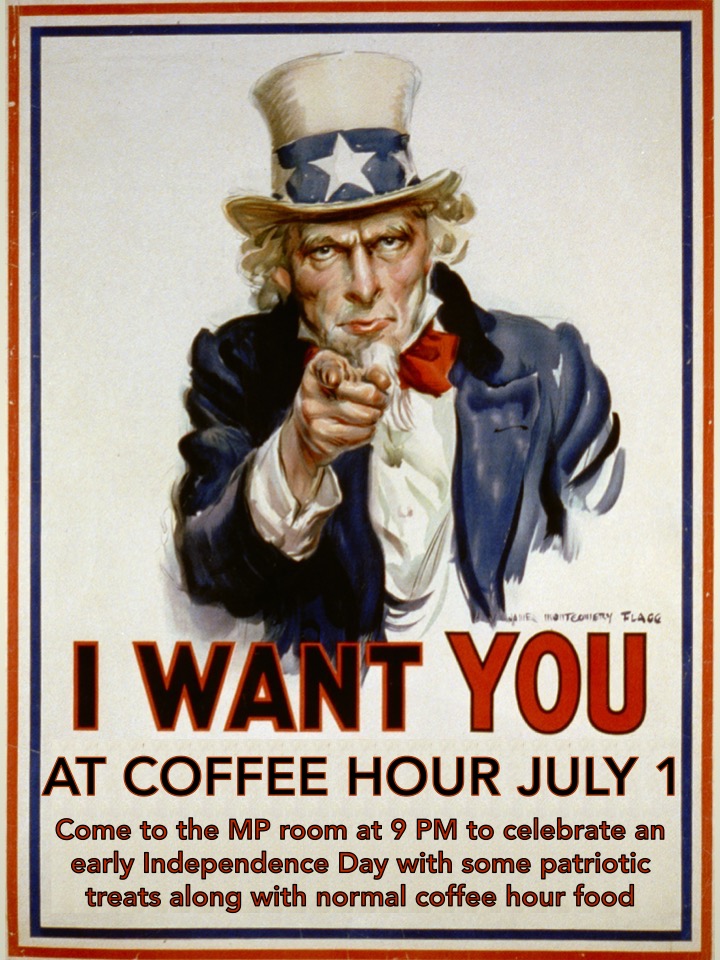 Web Office Hours
Sunday, 5 July 2015 19:00 — Sunday, 3 April 2016 20:00 | 6th Floor Kitchen | sp-web-chair [at] mit.edu
Come to request features, report bugs, or otherwise discuss the Sidney-Pacific website. Food is provided if you RSVP to sp-web-chair@mit.edu. Meets every Sunday (less frequently in summer).
Service Outing to the Greater Boston Food Bank
Wednesday, July 8, 2015 17:00 – 20:00 | Departing from lobby 7 to the Greater Boston Food Bank | sp-outreach-chair [at] mit.edu
Help sort donated food stored at the central food bank so that it may be divvied up and sent to all the regional food pantries, thereby facilitating the Food Bank's mission to address food insecurity in the Easter MA region. May 13, 2015 June 10, 2015 July 8, 2015 August 12, 2015 September 23, 2015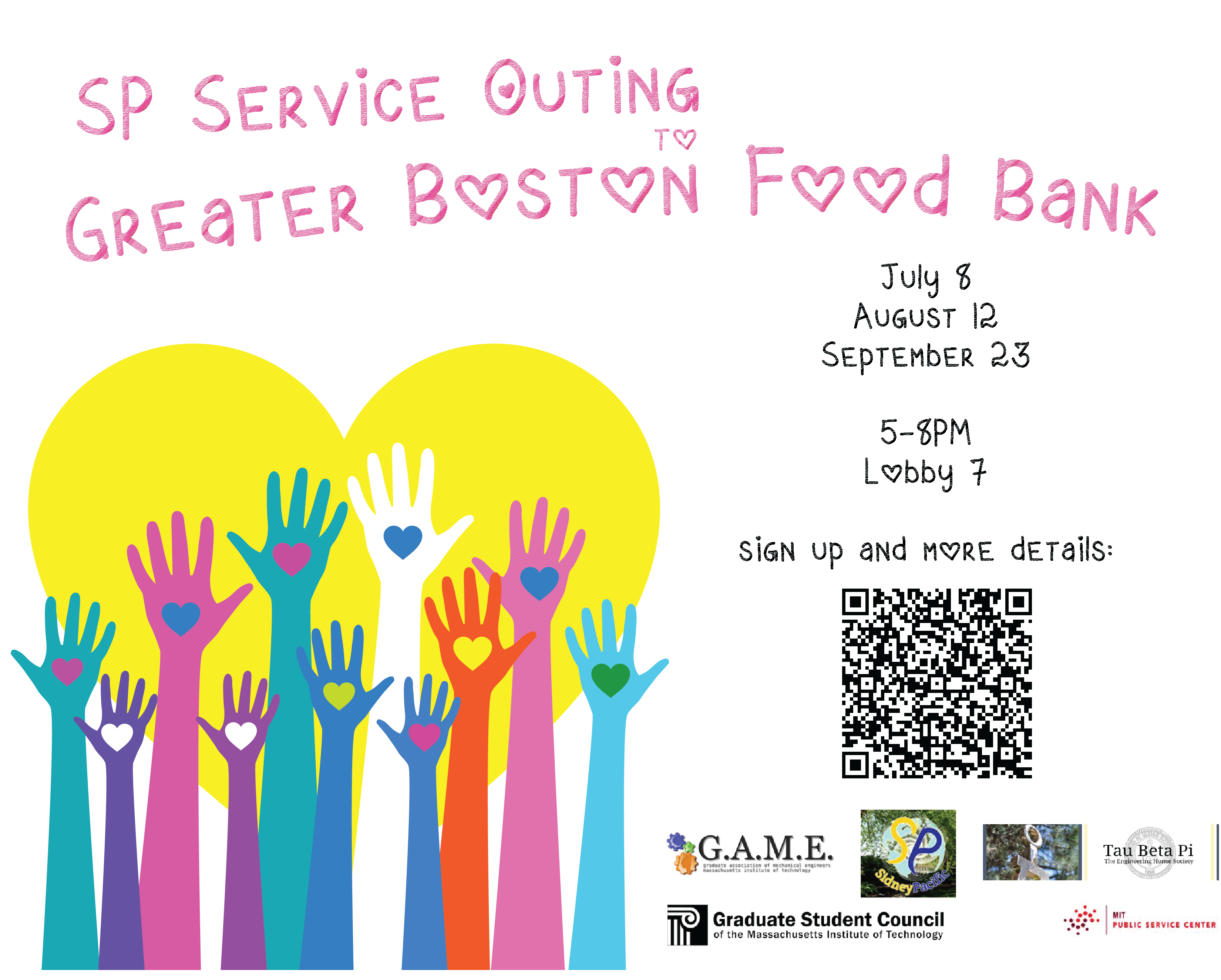 Cirque du Soleil: Varekai Outing
Thursday, July 16, 2015 18:15 – 22:00 | Agganis Arena | sp-outing-chair [at] mit.edu
Join SP as we go to see Cirque du Soleil's performance of Varekai on Thursday, July 16th. The show is at Agganis Arena, just across the BU bridge, so we will probably walk there. We will meet in the SP lobby at 6:15pm sharp as the show starts at 7:30pm. The tickets are subsidized by SP so the cost is $34 for residents. Tickets are limited so please RSVP here: http://goo.gl/forms/j9EKSBxhHw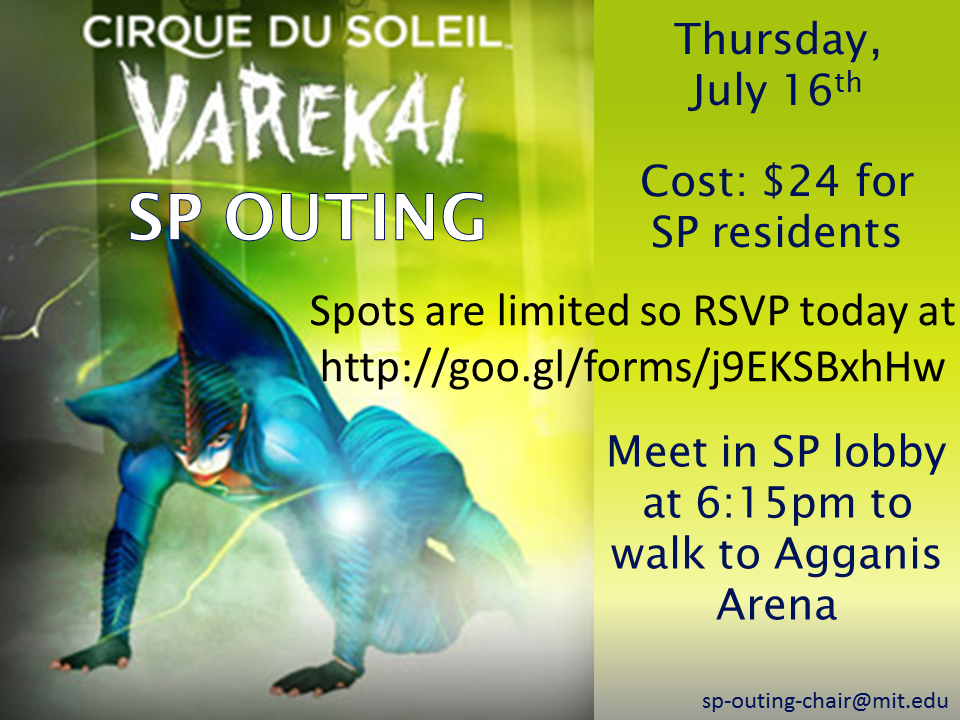 Moving out of SP? Don't throw all your stuff away!
Thursday, August 20, 2015 23:59 – 23:59 | sp-environment-chair [at] mit.edu
Are you moving out of Sid Pac this summer? As you pack, please remember that you do not have to trash everything! There are MANY ways for you to have a greener move-out by reducing the trash you generate. You can SELL your stuff (reuse-sell@mit.edu, Craigslist, for-sale signs on bulletin boards), or DONATE them (CASPAR homeless shelter, Goodwill Store, Planet Aid bins, MIT Furniture Exchange, freecycle.org, reuse@mit.edu, sp-igroups-reuse@mit.edu).