Independence Day Special Coffee Hour
Wednesday, June 29, 2022 21:00 – 23:30 | MP Room | sp-coffeehr-chair [at] mit.edu
Independence Day Special Coffee Hour: enjoy a wide range of pies and "Blue, White, and Red"-themed American treats.
cultural movie series
Sunday, July 3, 2022 19:00 – 21:00 | sp seminar room | sp-cultural-chair [at] mit.edu
Come to enjoy our first summer cultural movie. This time we will watch "Rang De Basanti" together!
July Brunch
Sunday, July 3, 2022 12:00 – 14:00 | Sid-Pac MP room | sp-brunch-chair [at] mit.edu
Be the first to celebrate Independence Day with your friends and join Sid-Pac July Brunch on Sunday July 3rd.
MIT Graduate Dorm July 4 BBQ
Monday, July 4, 2022 17:00 – 20:00 | SP Courtyard | sp-vp-reslife [at] mit.edu
Join the MIT Graduate dorm community at a multicultural July 4 BBQ featuring dishes like bossam, satay and banana splits! We will be having this joint event with friends at Ashdown and Warehouse so come down to hang out with them over good food and cheer!
SidPac Spontaneous Event
Sunday, July 31, 2022 23:59 – 23:59 | sp-hallchair [at] mit.edu
Have a random, spur of the moment (SPontaneous!) idea for an event? Fill this form for further details (June-July 2022)! Link: tinyurl.com/SidPacSpontaneousEvent, Questions? Contact sp-hallchair@mit.edu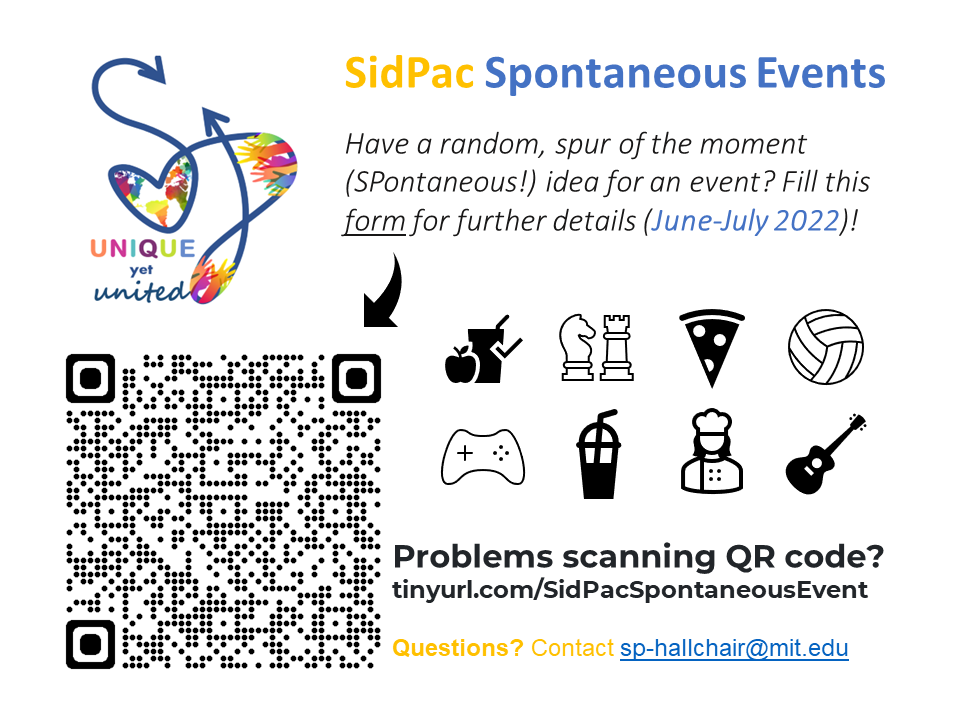 SP Dine-In Program
Sunday, July 31, 2022 23:59 – 23:59 | sp-dailylife-chair [at] mit.edu
Enjoy food with fellow SP residents this summer! Each SP resident can reimburse up to $15 for food ingredients when they cook/bake with at least one other SP resident. (Ordering take-out does not count ) You can participate once throughout June and July.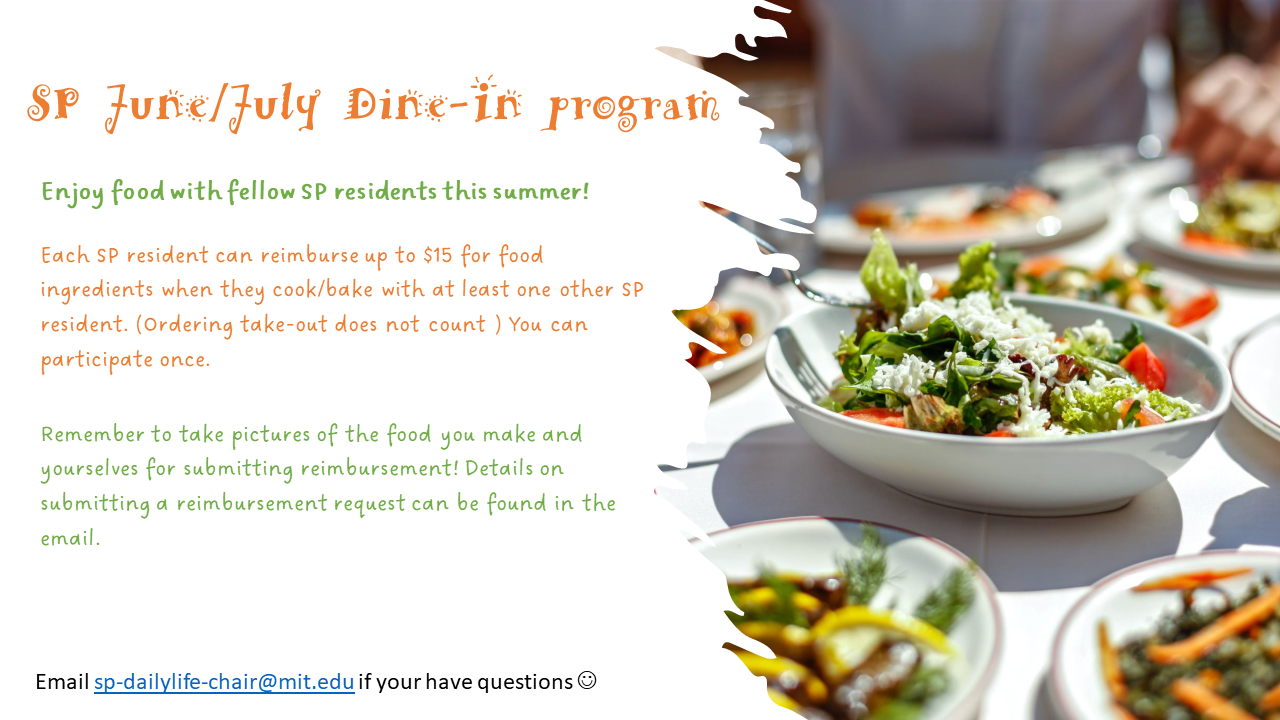 Coffee Hour
Wednesday, 22 June 2022 21:00 — Wednesday, 21 June 2023 23:30 | MP Room | sp-coffeehr-chair [at] mit.edu
Weekly Coffee Hour as an event to relax, meet friends, and enjoy freshly cut fruits, snacks, and drinks.
Weekly board game night
Saturday, 25 June 2022 19:30 — Saturday, 31 December 2022 22:30 | MP room | sp-interestgroups-chair [at] mit.edu
Come play board games in the MP room every Saturday night! There will be different food each week (vegetarian options provided). We have One Night Ultimate Werewolf, Dominion, Catan, Exploding Kittens, Avalon, Sushi Go amongst other games.