SP Helpers
Go here to sign up to hear about ways you can help out at SP!
MIT Grad Student Dinner Seminar
This series provides an institute wide platform for students to communicate their research and passion to a large audience outside of their own field, in low-pressure, diverse, inclusive, and collaborative environment.
Click here for more info or follow our Facebook page
Open Doors Night
Saturday, September 28, 2019 18:00 – 21:00 | Throughout SP | sp-interestgroups-chair [at] mit.edu
Open Doors Night is an SP tradition! Residents sign up to open their apartments as hosts, while fellow residents can visit each apartment, meeting new people and eating great snacks along the way! Hosts will be reimbursed up to $20 for snacks and nonalcoholic beverages. A schedule of hosting apartments will be posted in the SP lobby during the event.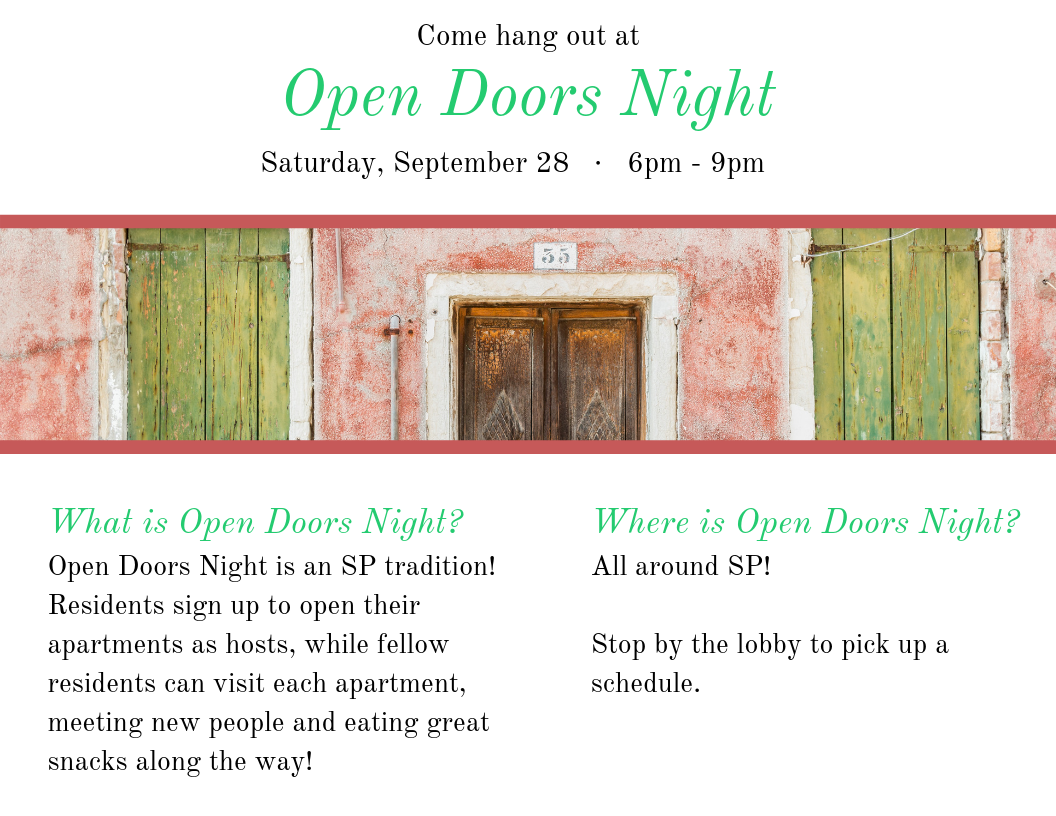 October Brunch
Sunday, October 6, 2019 12:00 – 14:00 | MP Room | sp-brunch-chair [at] mit.edu
Join us for October Brunch! As usual, bring your own plates and utensils to enter the 5 minutes early line. We will also be doing surveys with students for our funding reports next year. GradRat will be there for a chance to purchase your graduate ring! For more information about GradRat, check out their website http://gradrat.mit.edu or email gsc-ring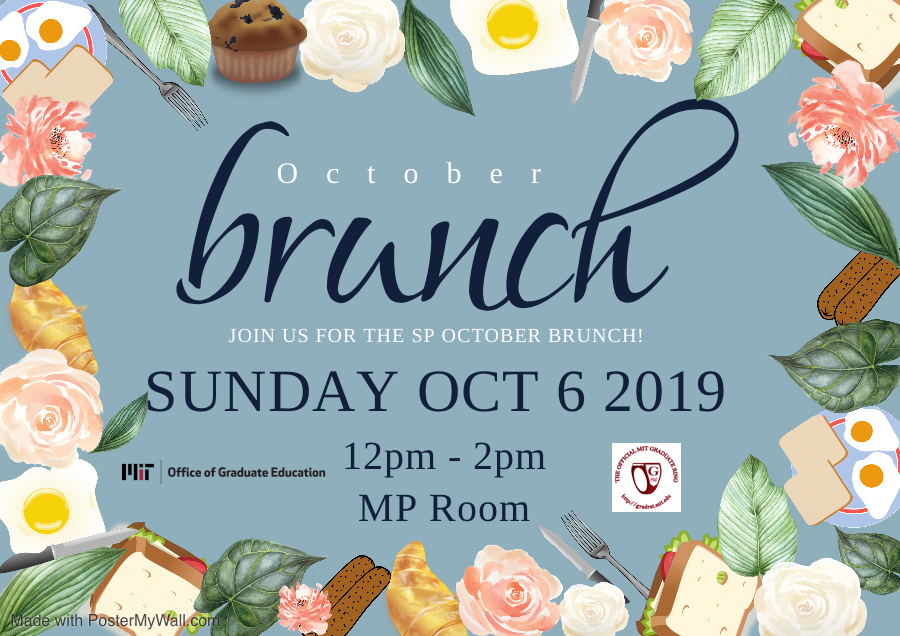 SP Dine Outs
Sunday, October 13, 2019 23:59 – 23:59 | sp-dine-out [at] mit.edu
Get to know your roommate (or neighbor if you're in an efficiency) by going out to eat together, and SP will reimburse you up to $12 per person! Just submit your receipts and roommate surveys by October 13th to get reimbursed. Pick up an information packet at the front desk for surveys and more information. Email sp-dine-out@mit.edu with any questions.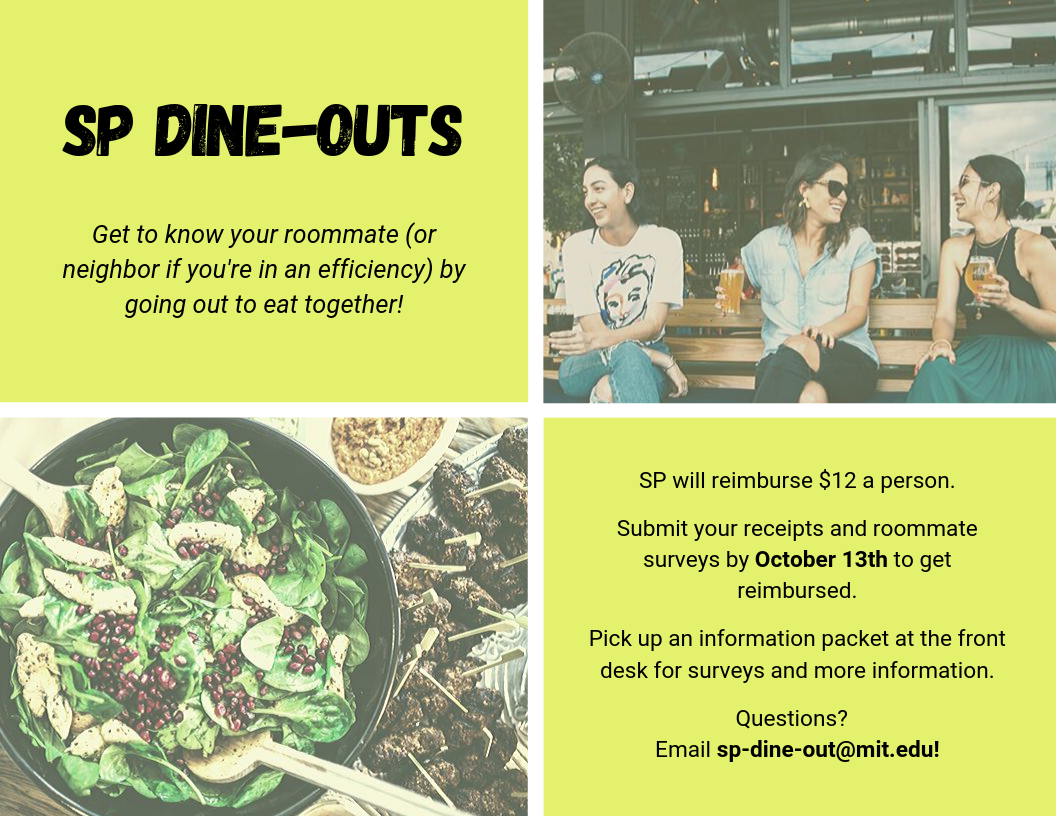 October - SP Book Club
Thursday, October 24, 2019 21:00 – 12:00 | 268 | nuriaj [at] mit.edu
Do you enjoy reading? Are you looking for motivation to read? Do you enjoy debating along with drinks and snacks? ... join the 2019 SP Book Club. We will meet again in October to discuss "Station Eleven" by Emily St John Mandel, a post-apocalyptic novel. If you don't have the book, request a copy by sending an email to . Heads of House will provide one for free if you commit to participate in the debate. Is that easy!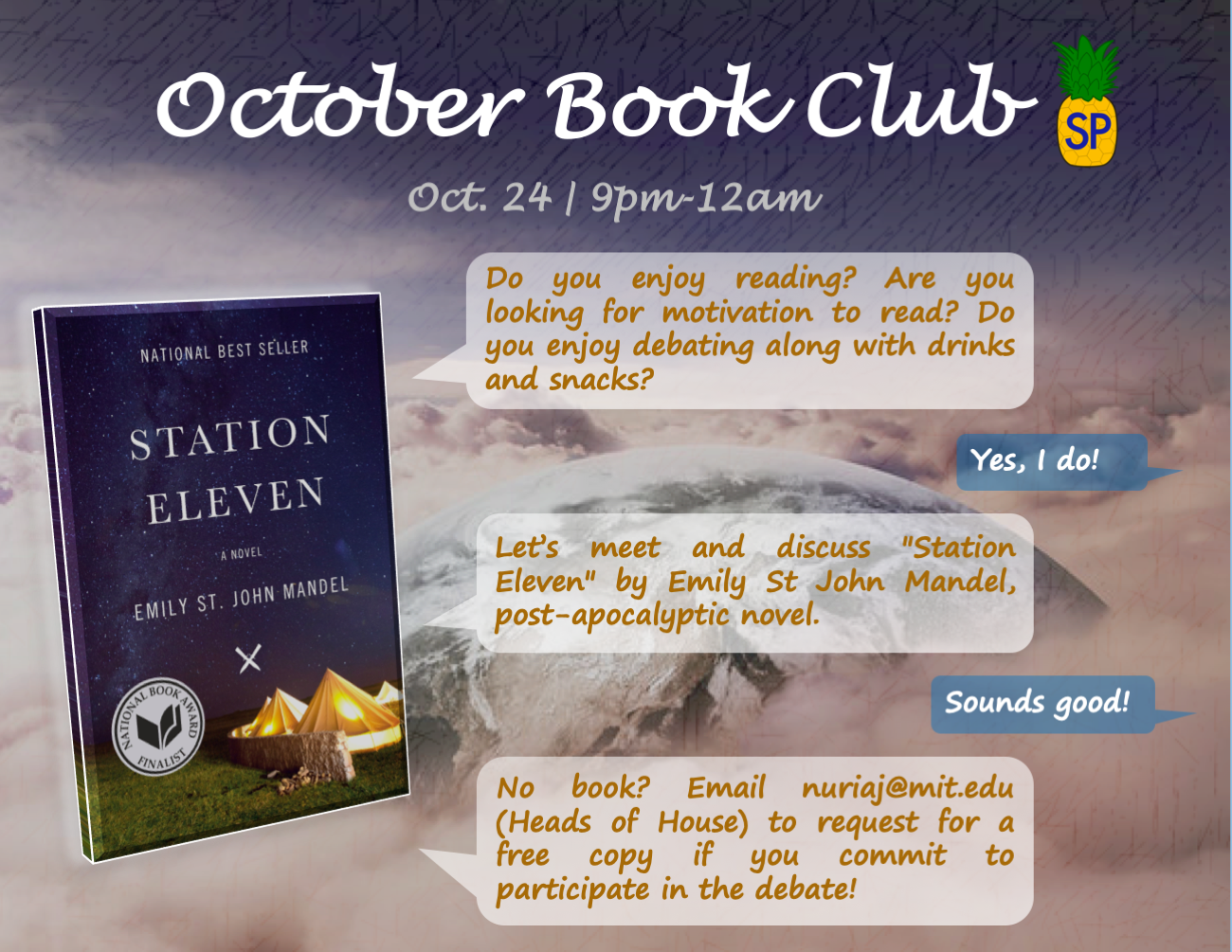 SP Book Club Calendar
Friday, June 19, 2020 23:59 – 23:59 | nuriaj [at] mit.edu
Join the 2019 Fall SP Book Club to debate interesting topics with SP colleagues and HoHs! Free book if you commit to participate in the debate :)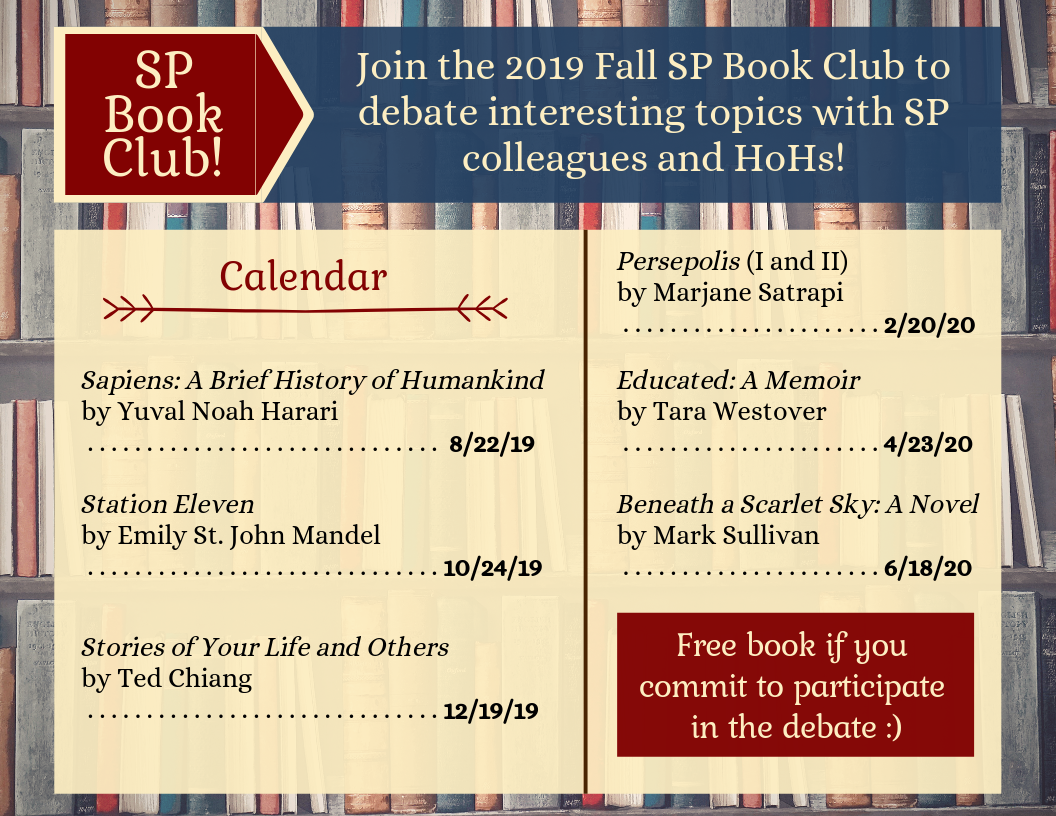 HC with a HC
Sunday, 15 September 2019 21:00 — Monday, 2 December 2019 22:00 | See list | sp-hallchair [at] mit.edu
Every Monday Night in the following kitchens: 9/23: 3rd 9/30: 7th 10/7: 8th 10/14: 4th 10/21: 2nd 10/28: 5th 11/4: 9th 11/11: 5th 11/18: 4th 11/25: 6th 12/2: 2nd Hot Chocolate with a Hall Councillor Hot and cold drinks including hot chocolate, iced chocolate, tea, and apple cider will all be available, along with some light snacks. Please BYO mug or glass! Newcomers always welcome, hope many of you are able to make it!