Giant Interhall BBQ Bonanza
Sunday, July 27, 2014 19:00 – 21:00 | SP Courtyard | sp-hallchair [at] mit.edu
Come to the most epic BBQ of the summer, brought to you by your friendly neighborhood hall councilors. This isn't your average summer BBQ: the menu features grilled steak tips, grilled summer vegetables, secret family recipes, and more in addition to your traditional BBQ favorites!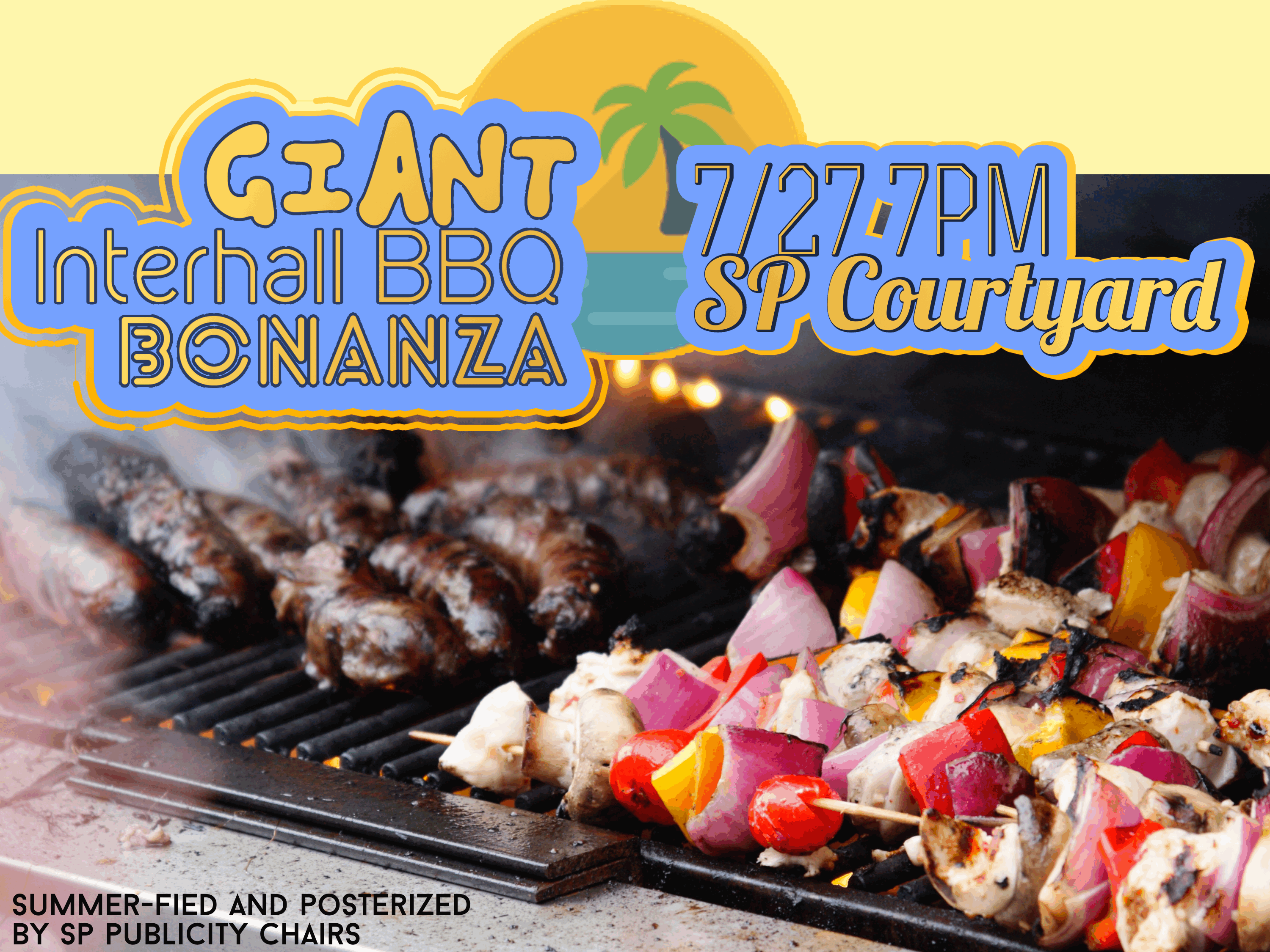 Free furniture pick-up by MIT Furniture Exchange
Wednesday, July 30, 2014 | sp-environment-chair [at] mit.edu
GOODWILL, NOT LANDFILL! If you are moving out this summer, there is a free furniture pick-up by the MIT Furniture Exchange on Tuesday, July 29, 2014. Movers will come to Sidney Pacific to pick up your furniture, at no cost to you. Please fill out the following Google Form by THURSDAY JULY 24 to have your furniture picked up for donation!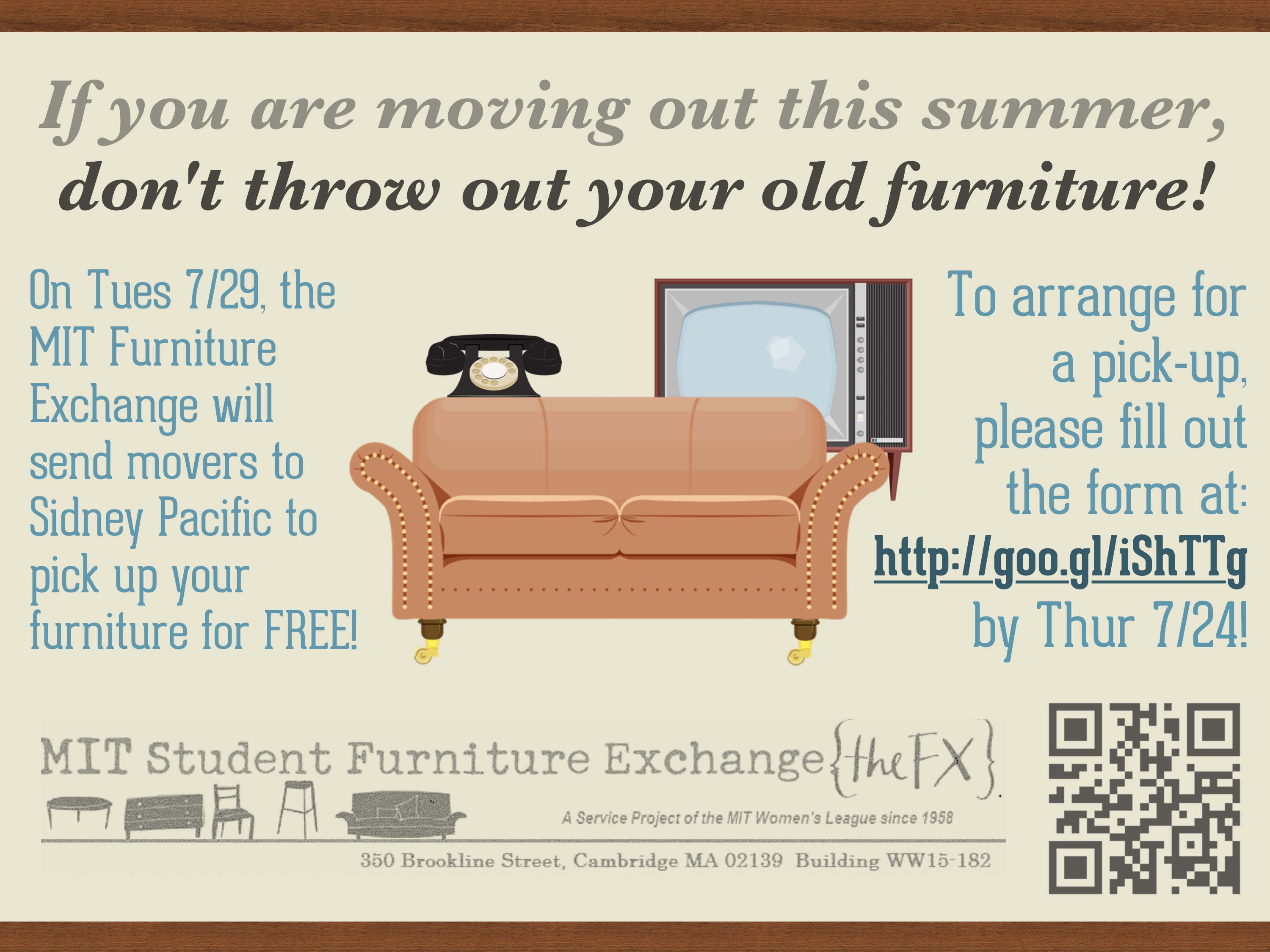 MIT Comedy Night at the Thirsty Ear Pub
Tuesday, 5 August 2014 20:00 — Wednesday, 6 August 2014 22:00 | Thirsty Ear Pub | teec-comedy [at] mit.edu
- Join us for another MIT Comedy Night, with headliner Gary Petersen (Boston Comedy Festival).
- Hosted by Adam Langlois, featuring Jenny Chalikian, Casey Malone, Micky McCauley, Kevin Seefreid, and Sean Sullivan
- Snacks and soda provided. Presented by the Thirsty Ear Executive Committee.
- Sponsored by GSC Funding Board, Peter de Florez '38 Humor Fund, and GradRat.
- 21+ govt ID & MIT ID required for entry. Please have ID ready to show at the door.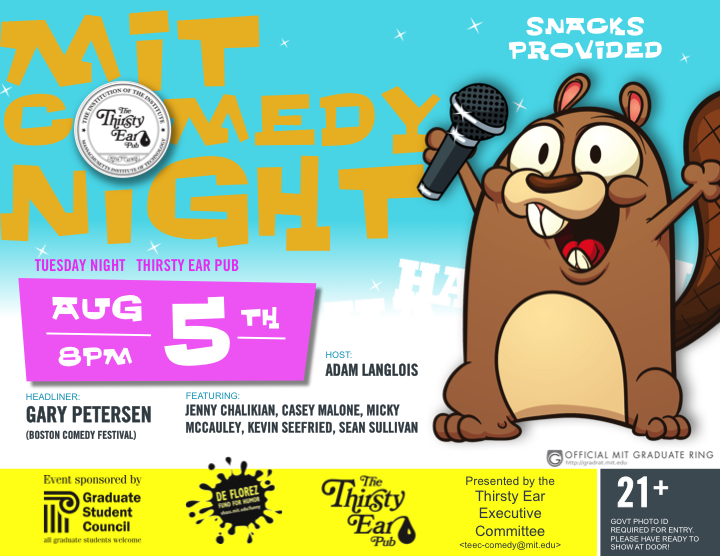 Social Dance Beginner Series
Thursday, 7 August 2014 20:00 — Thursday, 14 August 2014 21:00 | Sidney-Pacific Mark MP Room | sp-social-chair [at] mit.edu
Sidney-Pacific is hosting a series of 6 ballroom dance classes taught by the MIT Ballroom Dance Team. There will be two lessons for each of the following dances: cha cha, tango, and salsa/mamba. No experience or partner necessary.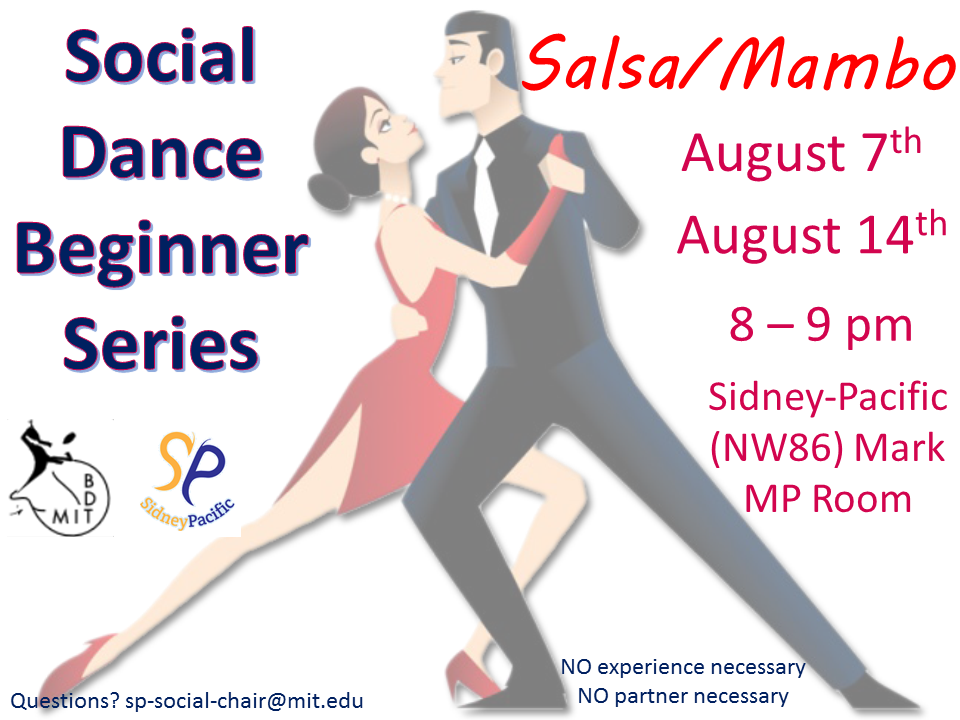 SP-MORE: Furniture & Items Collection Initiative
Wednesday, August 20, 2014 23:59 – 23:59 | Study rooms 278, 480, and 578 (North Wing of Sid Pac) | sp-environment-chair [at] mit.edu
Are you moving out of Sid Pac? Do you have furniture & household items that you don't need anymore? Don't throw them away, but instead donate them to us! We will store donated items to give out to new residents in the upcoming fall. Donating to us instead of trashing your items is a GREENER way to handle your move-out. Please only donate clean & usable items, and absolutely no bedding (mattress, sheets, pillows, blankets etc.), clothing, shoes, towels, or food!