Officer and Hall Councilor Applications
Officer applications close on March 21 (in 2 days and 6 hours)
Note that applicants completing applications before March 17 receive priority for interview scheduling.
Officers and hall councilors do not need to enter the continuing status lottery to live in SP for the 2018-2019 academic year.
SP Helpers
Go here to sign up to hear about ways you can help out at SP!
MIT Grad Student Dinner Seminar
This series provides an institute wide platform for students to communicate their research and passion to a large audience outside of their own field, in low-pressure, diverse, inclusive, and collaborative environment.
Click here for more info or follow our Facebook page
Apply to Be an SP Officer or Hall Councilor!
Thursday, March 21, 2019 23:59 – 23:59 | spec [at] mit.edu
You don't have to be a hero to be an SP Hall Councilor or Officer, but you'll be a hero to SP. Get involved, make friends, make a difference in the SP community, and get guaranteed housing in SP for 2018-2019. Apply to be an Officer at https://s-p.mit.edu/secure/apply/ Deadline: March 21 Apply to be a Hall Councilor at https://s-p.mit.edu/myacct/government/apply/hc_app.php Meet the Candidates: March 14-16 Final Deadline: March 17 Email spec@mit.edu with any questions!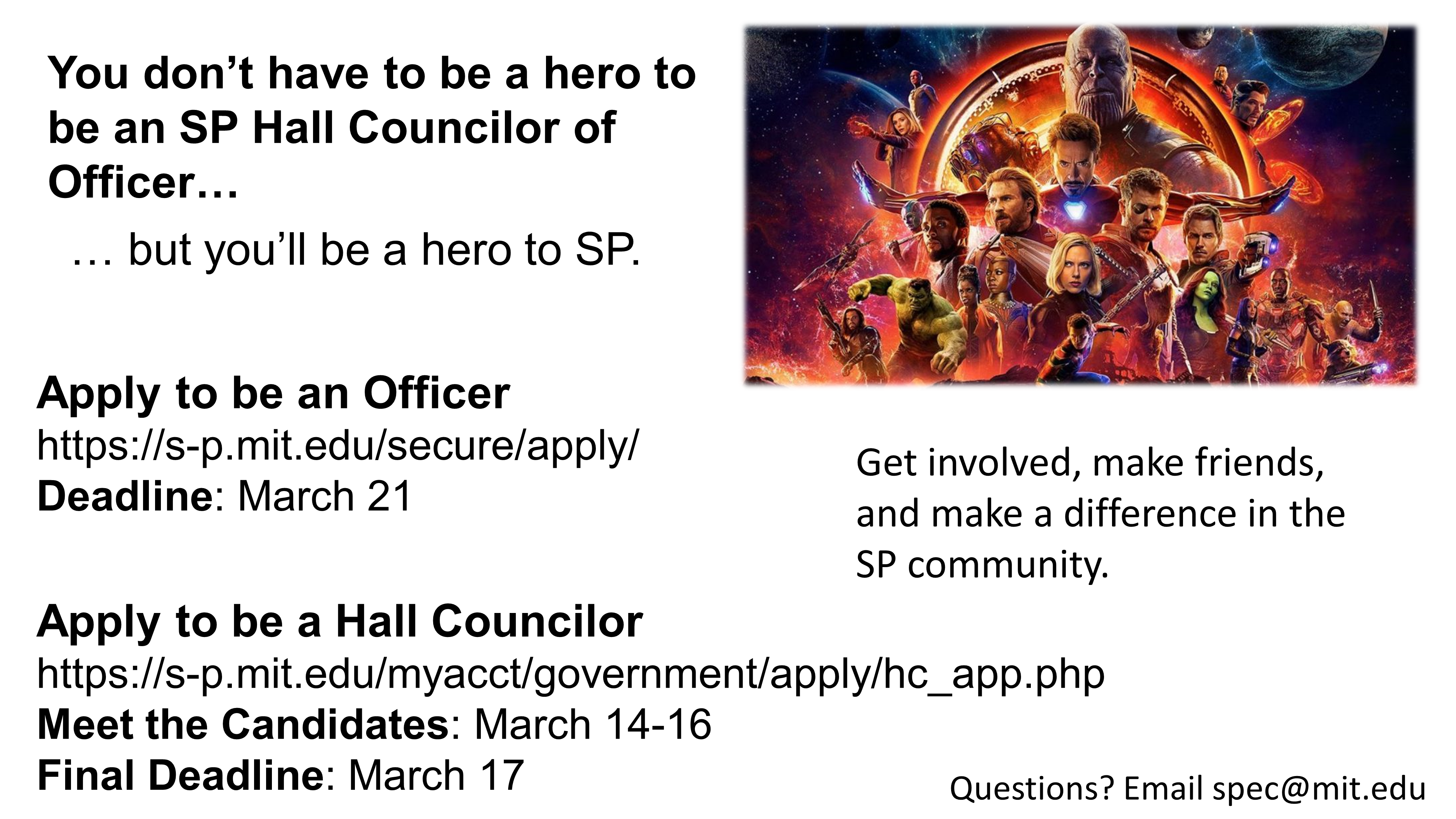 Queer Movie Night
Friday, March 22, 2019 | Multi-Purpose Room | acarney [at] mit.edu
Join us for a night of positive queer movies! We're watching "Turtle Hill, Brooklyn" and "The Feels." There will be cake and food. All are welcome!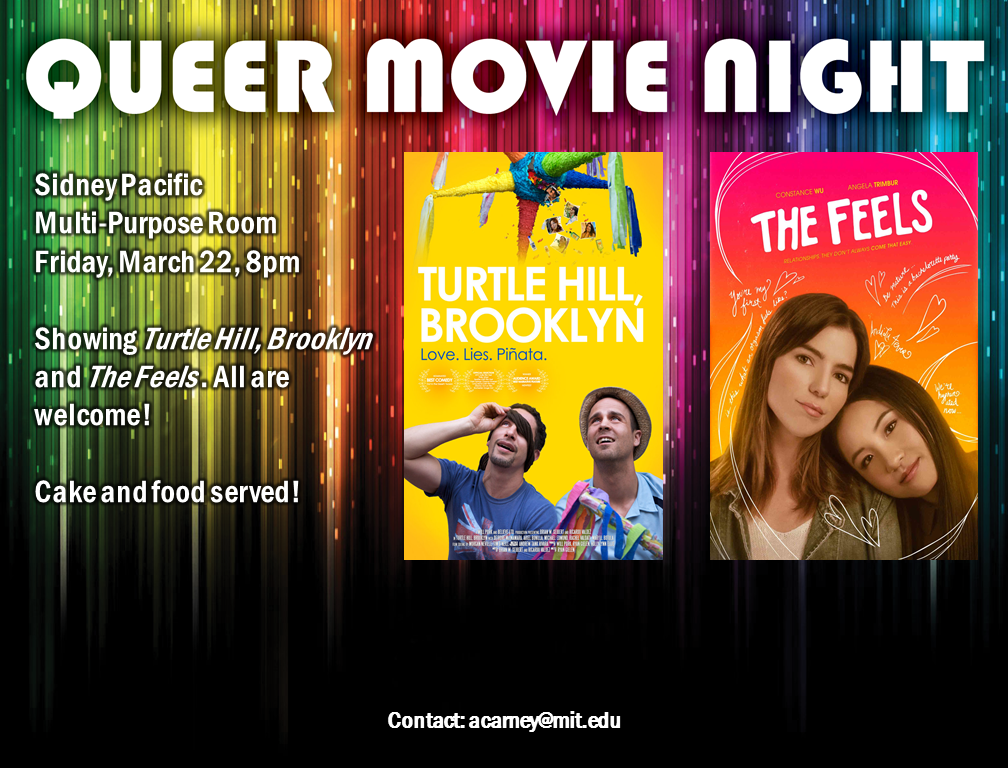 March Brunch
Sunday, March 24, 2019 12:00 – 14:00 | MP Room | sp-brunch-chair [at] mit.edu
Please join us for SP Brunch on March 24 in SP MP Room. We are trying to be environmentally friendly, so there will be a special line for those that bring their own plates (they will be allowed early access). This event is sponsored by OGE, and GradRAT - the official Graduate Ring of MIT! Drop by to check out and buy your own ring. The deadline to buy rings to have them delivered by Commencement 2019 is April 19 so don't delay! Check out http://gradrat.mit.edu for more info.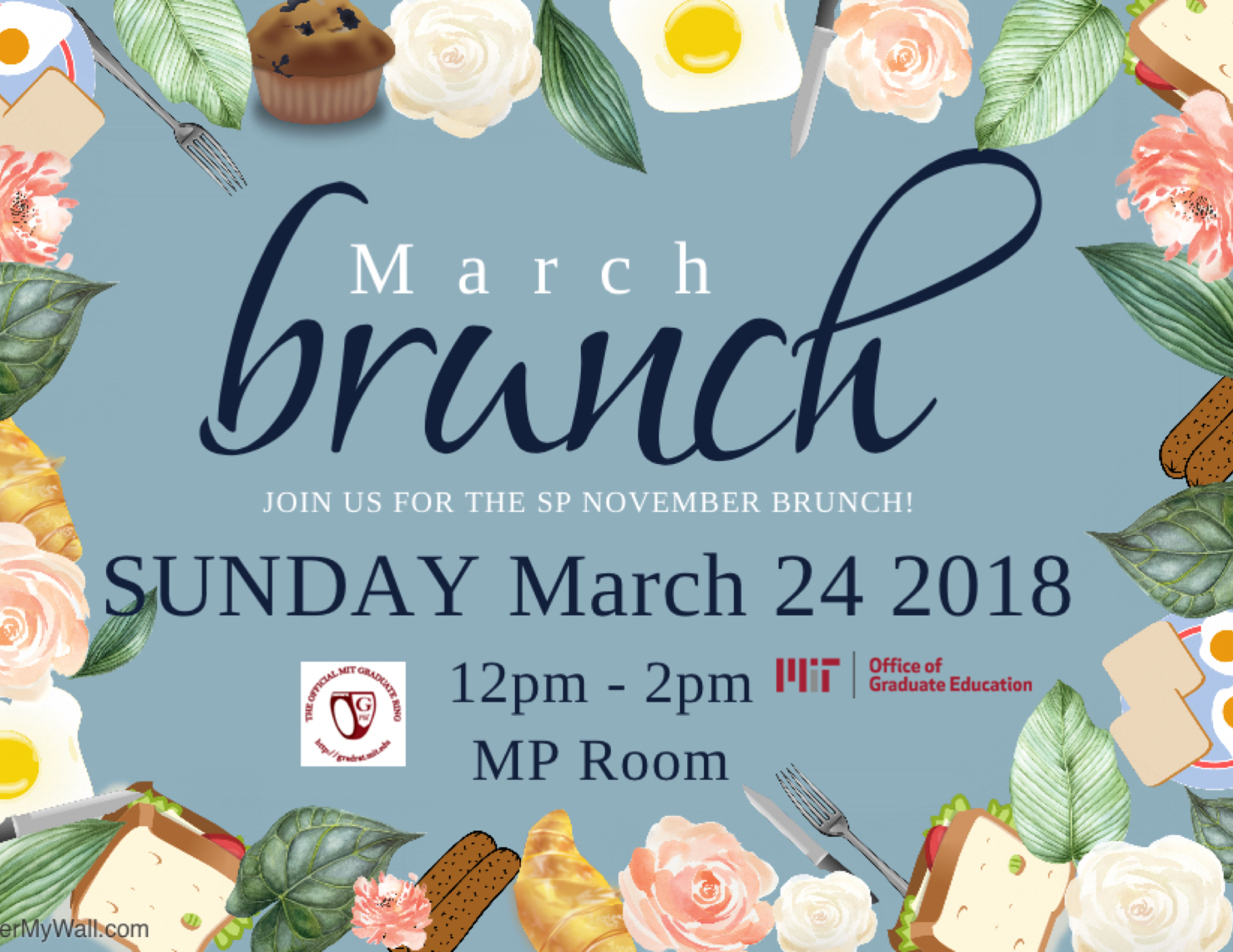 Volunteer for CASPAR's "Strengthening Our Community" Event
Thursday, March 28, 2019 16:30 – 21:00 | Pfizer, 610 Main Street, Cambridge, MA 02139 | sp-outreach-chair [at] mit.edu
SidPac frequently cooks meals for the CASPAR shelter. This time we will be helping them with a fundraising event. 12 volunteers are needed at CASPAR's annual "Strengthening Our Community" fundraiser. Work will involve setup, take-down, and running the event. CASPAR officials will direct volunteers. Date/time: Thursday, March 28, 4:30-9:00 Location: Pfizer, 610 Main Street, Cambridge, MA. RSVP here: https://goo.gl/forms/ZVp2wIJcXEOTN5eE2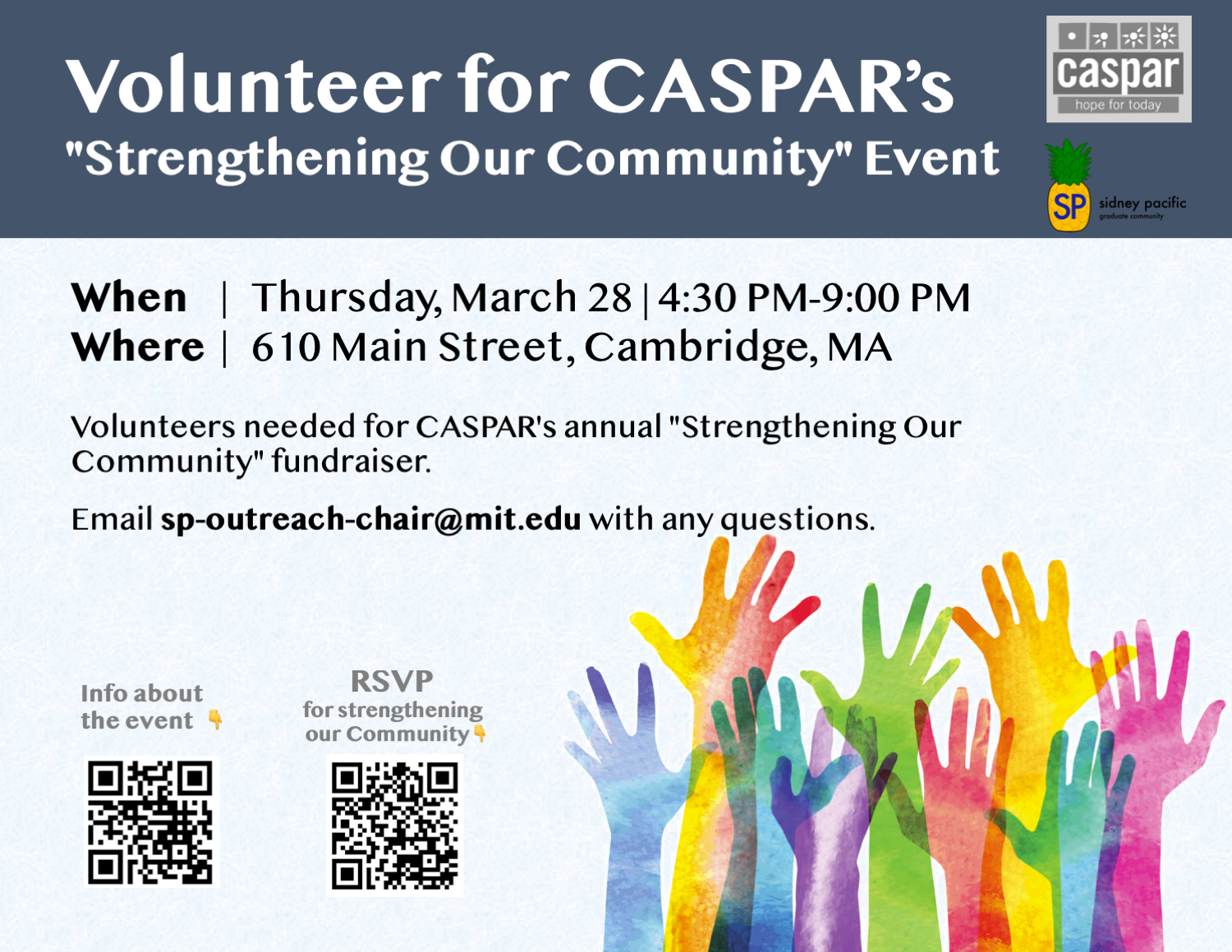 Spring Book Club
Saturday, April 6, 2019 23:59 – 23:59 | sp-interestgroups-chair [at] mit.edu
The SP Book Club choice this semester is..... Pachinko by Min Jin Lee! The book can be purchased on Porter Square Books, Amazon, Barnes and Noble, Google Books, etc. If you read the book and attend the book cub meeting, SP will reimburse most of the cost of the book. We will pick the date and time for the book club meeting later in the semester! [Expect mid April] If you have any questions, reach out or email sp-books@mit.edu