Murder Mystery Party
Saturday, October 25, 2014 19:00 – 21:00 | Sidney Pacific Seminar Room | sp-social-chair [at] mit.edu
You are a suspect in a juicy murder mystery at a masquerade ball in a town fraught with scandal. Defend your innocence and track down the killer with your fellow residents. Masks and refreshments provided. You will receive a role and accompanying props shortly before the event. Sign up soon!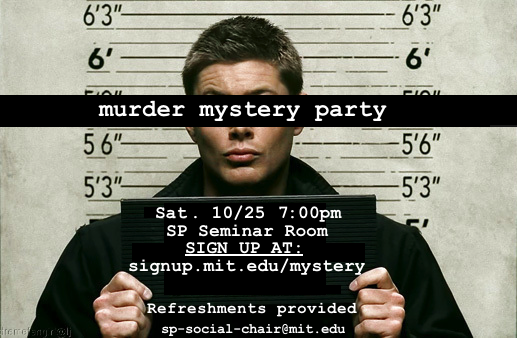 Harvest Pizza Party
Sunday, October 26, 2014 16:00 – 18:00 | 5th Floor Kitchen | sp-plants-chair [at] mit.edu
Please join us as we celebrate the community garden/-ers by showcasing our plants and baking pizza themed around the fall harvest!!! --Enjoy making & eating pizza (all materials provided, feel free to bring your own secret sauces & ingredients) --Learn about SP plant care resources --Everyone welcome (including your favorite potted friends)! (Please RVSP)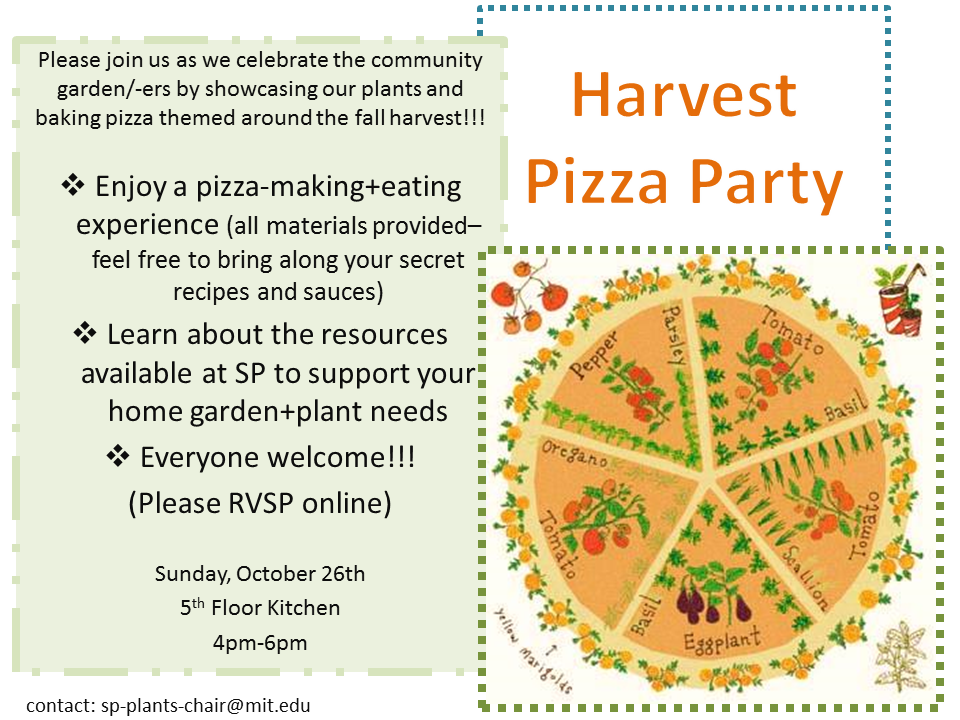 Broadway Musical Outing: Mama Mia!
Thursday, October 30, 2014 12:00 – 12:00 | Citi Emerson Colonial Theatre | sp-outing-chair [at] mit.edu
Dear Broadway/Music/Acting/Dancing/Love Enthusiasts, A mother. A daughter. 3 possible dads… sounds like another fun musical! Join us on Thursday October 30 at 7:30 at the Citi Emerson Colonial Theatre near the Boston Commons for a night of fun, music, laughter, and dance! Balcony: $34 ($24 for SP residents) Mezzanine: $48 ($38 for SP residents) RSVP by filling out the following form: https://docs.google.com/forms/d/1bbKrJIR91nmA1L4HkoDSTtsguXHi6ml7AIeItuO1vek/viewform Thank you! ~Marianna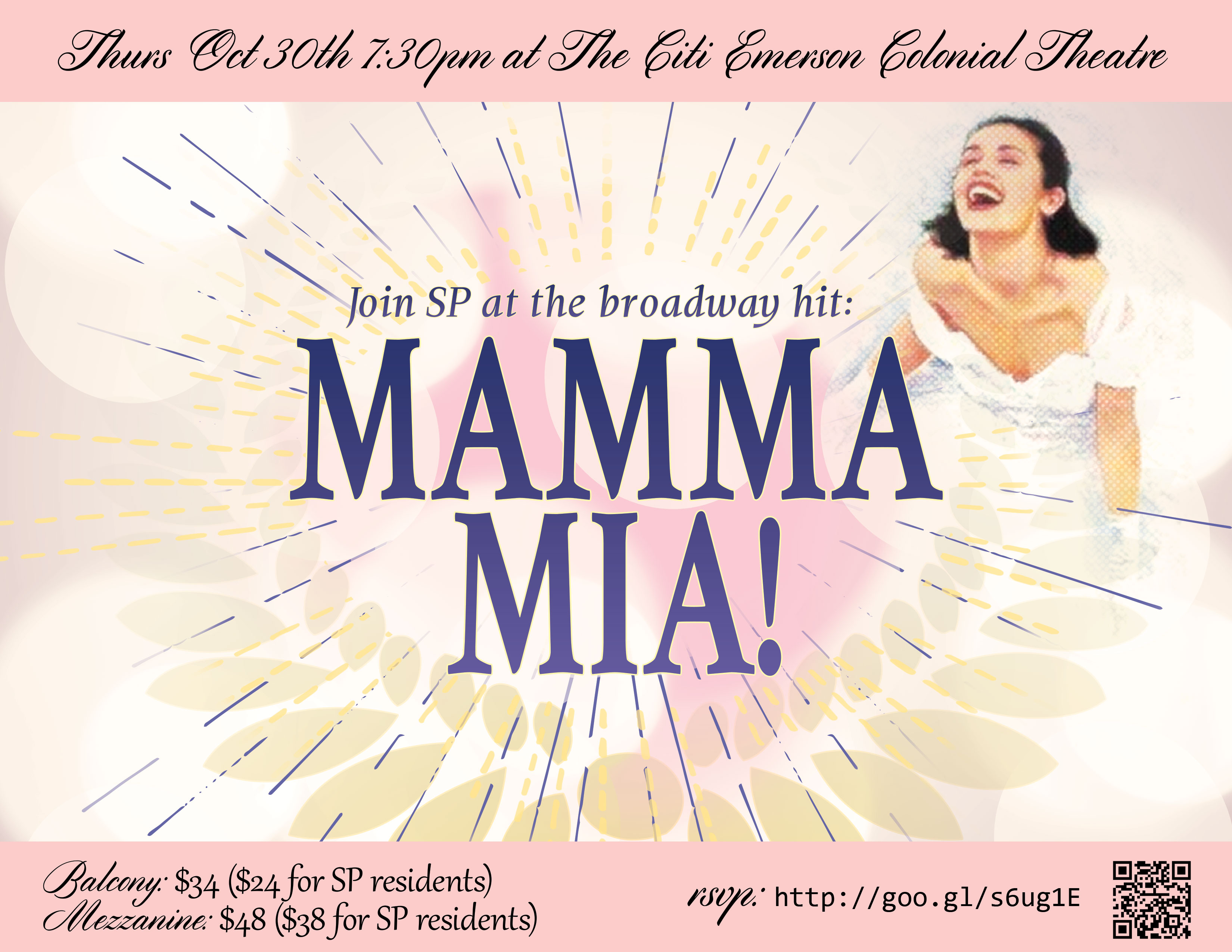 Halloween Dance Party
Friday, October 31, 2014 21:30 – 00:30 | Multipurpose Room | sp-social-chair [at] mit.edu
Come join the MIT graduate community for a fun evening! Appetizers and pumpkin carving at Edgerton from 6 to 7:30 pm! Dinner and games at Ashdown and the Warehouse from 7:30 to 9 pm! Dessert, drinks (please bring 21+ ID), and dance at SP from 9 to 1 am! Featuring DJ BREK ONE. Prizes to top costumes.
Food for Thought!
Saturday, November 1, 2014 23:59 – 23:59 | sp-newsletter-chair [at] mit.edu
The SP Newsletter Committee looking for creative writing, music composition, photography and art, and any other forms of expression that can be exhibited through the newsletter. If you are interested, please send your articles to the newsletter chair at sp-newsletter-chair@mit.edu. If selected, you will be invited to exclusive free food events where you get to meet others that share your artistic interests!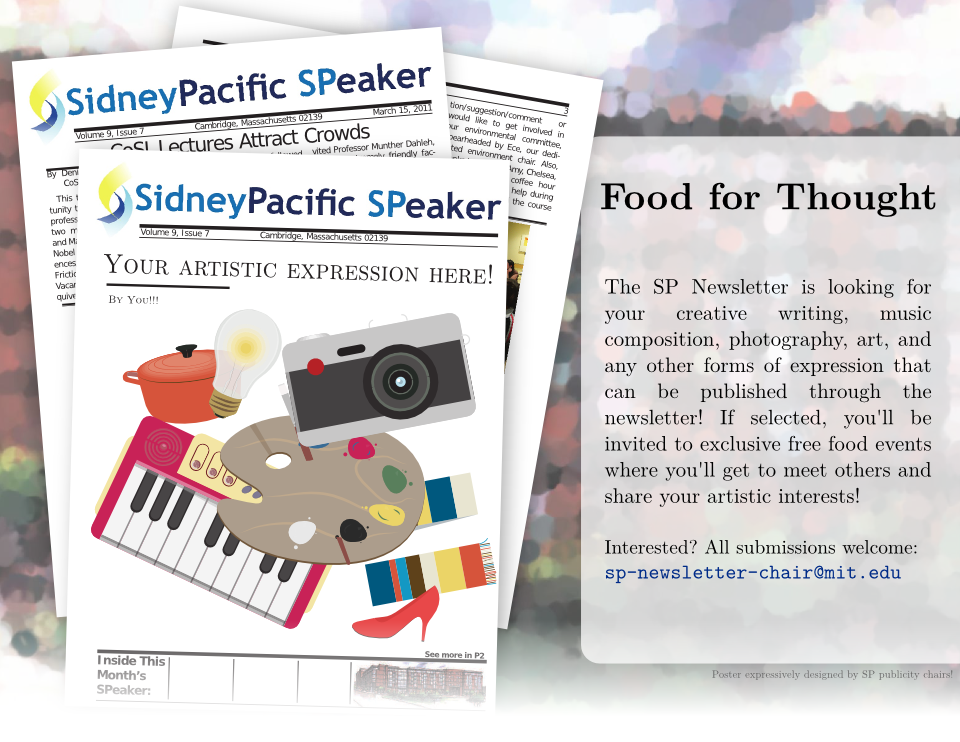 November Brunch
Sunday, November 2, 2014 12:00 – 13:00 | Mark MP Room | sp-brunch-chair [at] mit.edu
November is coming... which means November Brunch! As always, prep starts at 8am -- come at any time to cook or learn, and skip the line! Bring your own plate and utensils to win prizes and help keep SP green.
Casino Rueda Workshop
Friday, November 14, 2014 19:00 – 22:00 | Multipurpose Room | sp-social-chair [at] mit.edu
We will be hosting a Casino Rueda Workshop at SP. Learn to dance this Cuban form of salsa. All skill levels are welcome.
Gingerbread House Making Coffee Hour
Wednesday, November 19, 2014 21:00 – 22:00 | SP Mark Multipurpose Room | sp-social-chair [at] mit.edu
We're spicing up coffee hour with the aromatic goodness of gingerbread! Bring your friends and decorate gingerbread houses with us!