EARTH WEEK: Clean Bin Project Film Screening
Thursday, April 24, 2014 18:00 – 20:30 | 3-270 | sp-environment-chair [at] mit.edu
The Clean Bin Project is a fun, indie documentary about waste and consumption. In this multi-award winning, festival favorite, find out how a Canadian couple challenged themselves to live completely zero-waste for a whole year. Come and enjoy some snacks and get inspired! The screening will be followed by a panel discussion with MIT community members who have also challenged themselves to live zero-waste. This film screening is a part of a series of Earth Week events at MIT. For the full schedule, check out our website at https://mit.edu/earthday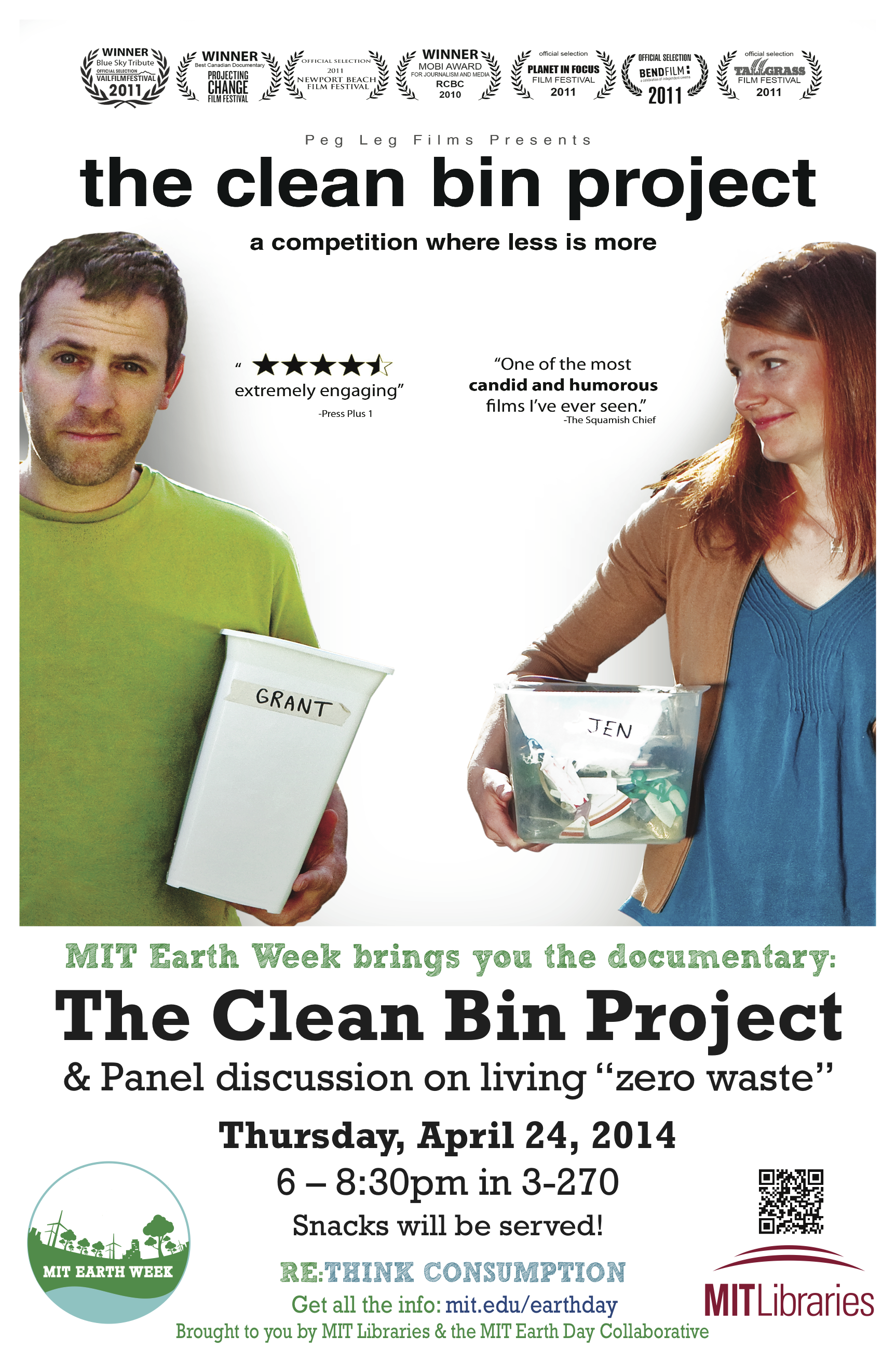 EARTH WEEK: "Finding Enough" – An Exploratory Lunchtime Seminar
Thursday, April 24, 2014 12:00 – 13:30 | 4-105 | sp-environment-chair [at] mit.edu
Join us in this thought-provoking lunch-time workshop to explore why we want what we want and where our own personal fears of "not enough" come from. Each of us have issues, objects, or services that we "never have enough" of: boots, chocolate, hugs, money, work, success, or travel. Without judgment on what we each are seeking, we'll dig into why we want these things, and what might be ways to look beyond the good or service to other ways that we could meet those same needs.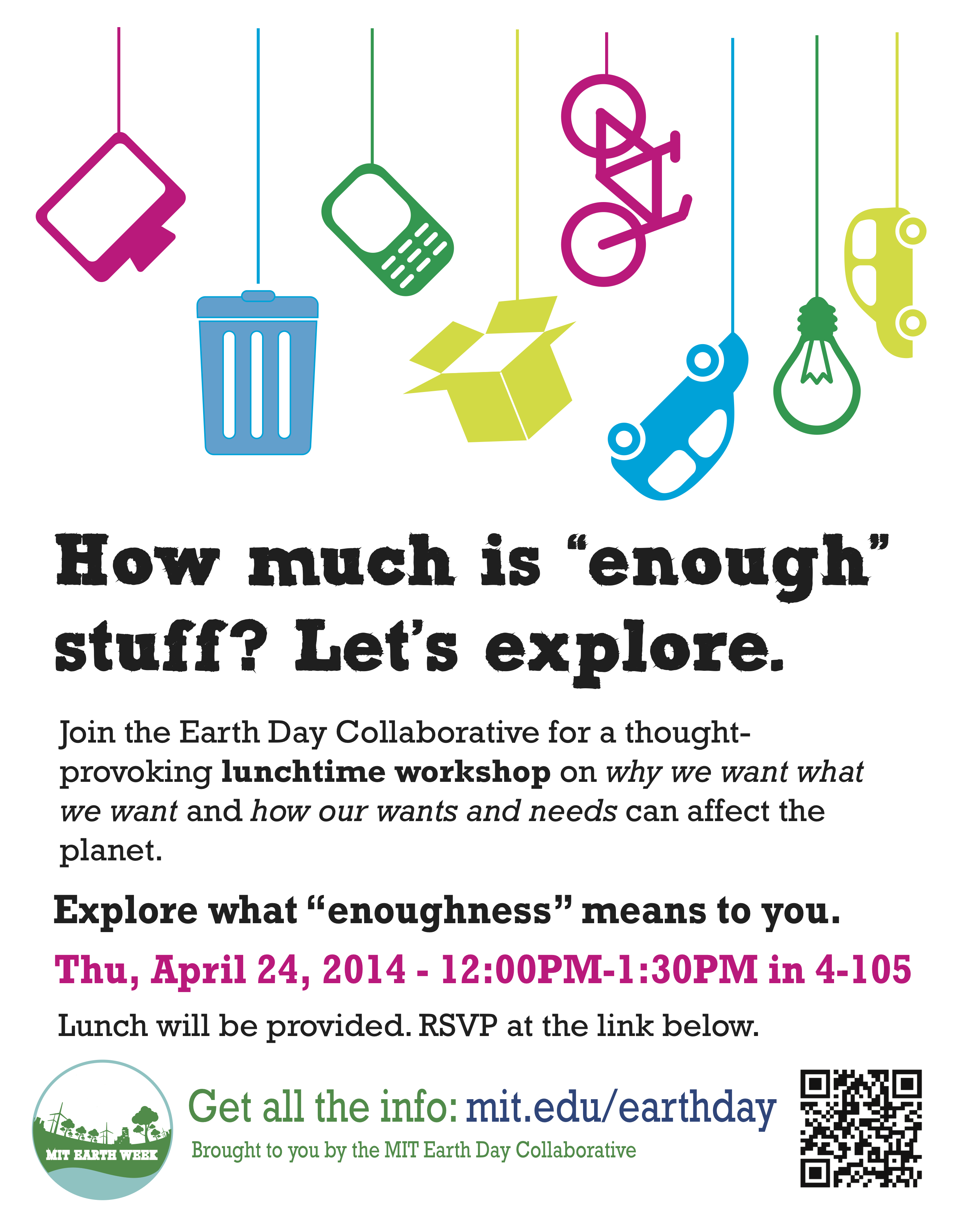 EARTH WEEK: Choose to Reuse & special Earth Day E-Waste Drive & Art Exhibit
Thursday, April 24, 2014 08:00 – 13:00 | Stata (building 32) 1st floor | sp-environment-chair [at] mit.edu
Choose to Reuse & special Earth Day E-Waste Drive & Art Exhibit on Thursday April 24, 8am-1pm. This is your chance to recycle all your electronics, books, clothes and any other stuff hanging around your office/home -- drop-off starts at 8am. Also, IS&T will be hosting a special E-Waste collection drive -- help us reduce harmful chemicals by recycling your E-Waste. E-Waste Recycling Drive and Choose to Reuse 11am-1pm (drop-off begins at 8am).
EARTH WEEK: Public Waste Audit at W20
Friday, April 25, 2014 10:00 – 13:00 | Steps of W20 (Student Center) | sp-environment-chair [at] mit.edu
Get your hands dirty at the Public Waste Audit on Friday 4/25/14 from 10:00 AM to 1:00 PM on the steps of W20. This collaborative audit will assess the fractions of recyclables and organic waste mixed in with the garbage to raise awareness about consumption and waste at MIT. The whole event will be documented by video & photos by our very own Photofile chair, Chi Feng! Please RSVP to volunteer to either "get your hands dirty", or share information at the info table. This Public Waste Audit is a part of a series of Earth Week events at MIT. For the full schedule, check out our website at mit.edu/earthday
An introductory class to Argentine tango
Saturday, May 3, 2014 14:00 – 15:30 | MP Room | dongying [at] mit.edu
Come out, learn to tango, and meet new friends!
RSVP here!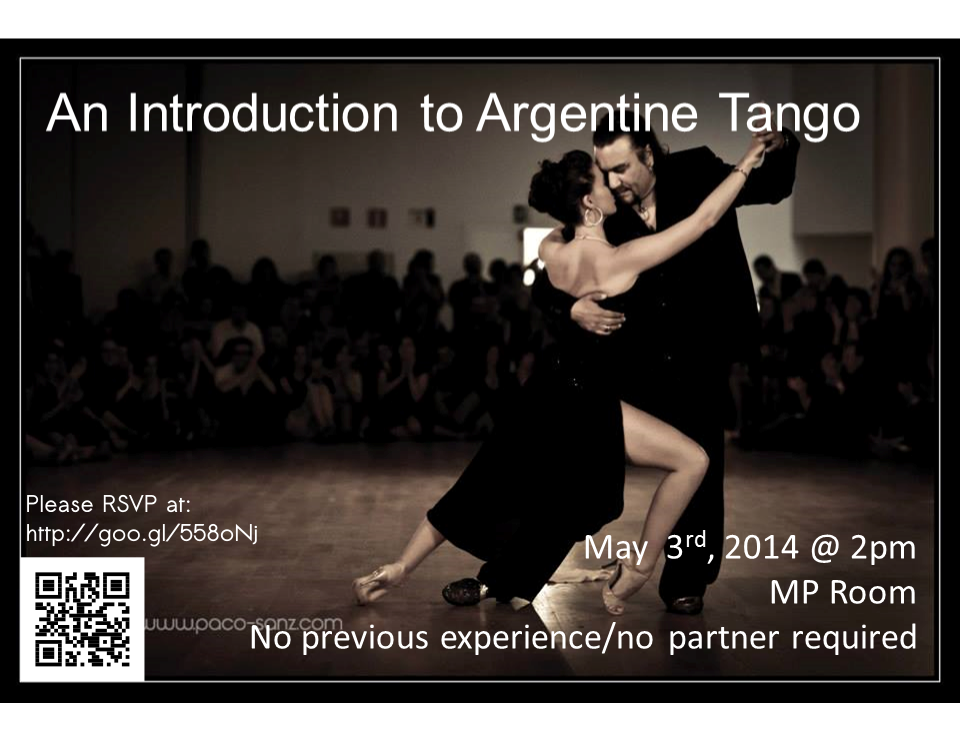 Arnold Arboretum Bike and Hike Outing
Saturday, May 3, 2014 10:30 – 13:30 | Meet in SP lobby | sp-outing-chair [at] mit.edu
April showers bring May flowers, and that's why you should join us for an enjoyable day at the arboretum on May 3rd, from 10:30 AM to 1:30 PM. We will go in two groups: one group will take the T and the other group will go by bike. After a leisurely hike through the arboretum, we will have lunch at a nearby restaurant. Lunch will be subsidized and snacks will be provided for Sidney-Pacific residents, and guests are welcome to join at their expense.