MIT Comedy Night at the Thirsty Ear Pub
Tuesday, December 10, 2013 20:00 – 22:00 | Thirsty Ear Pub, Ashdown House (NW35) | teec-comedy [at] mit.edu
- Join us for another MIT Comedy Night, with headliner Rick Canavan (Boston Comedy Festival).
- Hosted by Sam Ike, featuring Dana Jay Bein, Justin P Drew, Andrew Durso, Andrew Mayer, James Nixon, Sam Jay.
- Snacks and soda provided. Presented by the Thirsty Ear Executive Committee. Sponsored by GSC Funding Board, Peter de Florez '38 Humor Fund, and GradRat.
- 21+ govt ID & MIT ID required for entry. Please have ID ready to show at the door.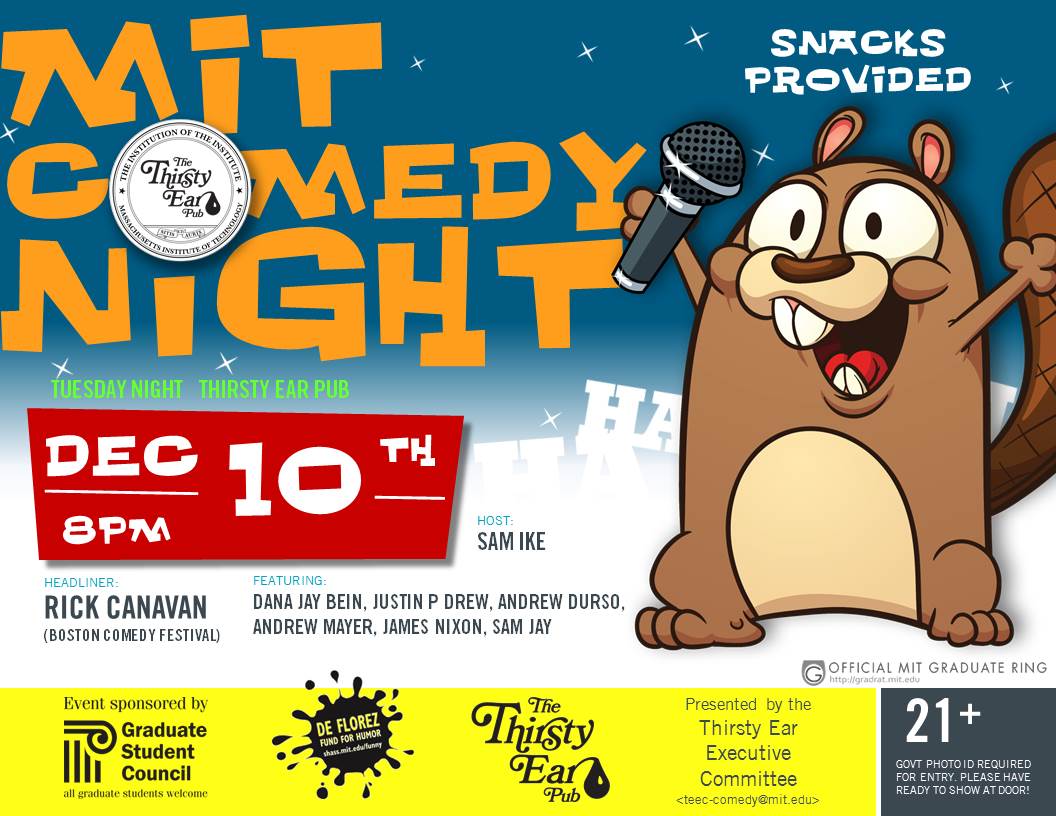 Coffee Hour
Wednesday, December 11, 2013 21:00 – 22:00 | MP room | sp-coffeehr-chair [at] mit.edu
Come to Coffee Hour and enjoy the delicious food. Keep SP environmentally friendly by bringing your own utensils!
From: SP To: SP - a winter social event
Friday, December 13, 2013 17:30 – 19:30 | Mark Multipurpose Room | sp-social-chair [at] mit.edu
For some fun, winter cheer, and food! Sign up at tinyurl.com/fromSPtoSP to (1) participate in the secret gift exchange! We will reimburse $10 gifts/crafts, first 40 respondents. (2) Prepare and share a favorite food! We will reimburse $25 per individual or group, first 7 respondents. (3) Suggest a song! We will play music over speakers in the MP room, might even sing them if we want! Please visit the website or email sp-social-chair@mit.edu for more information.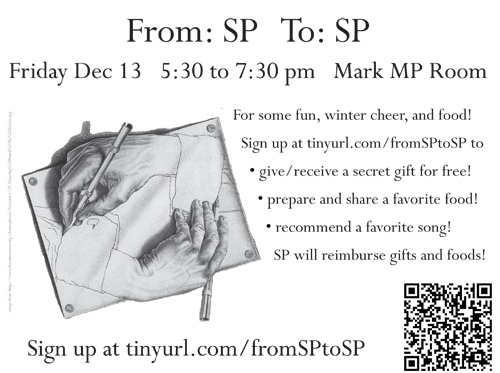 Protect Yourself From Gastroenteritis Outbreak
Saturday, December 14, 2013 23:59 – 23:59 | sp-vp-info [at] mit.edu
Protect Yourself From Gastroenteritis Outbreak. Wash your hands frequently and consistently. Seek medical help if necessary. MIT Urgent Care: E23-First floor, Walk-in hours: 7 a.m.–11 p.m. every day, 24-hour phone assistance: 617-253-4481