MIT Grad Student Dinner Seminar
This series provides an institute wide platform for students to communicate their research and passion to a large audience outside of their own field, in low-pressure, diverse, inclusive, and collaborative environment.
Click here for more info or follow our Facebook page
Interest Groups + SPontaneous Events
Tuesday, October 27, 2020 23:59 – 23:59 | sp-interestgroups-chair [at] mit.edu
SP has funding to help all residents run any events they'd like! See attachment for more information, and contact sp-interestgroups-chair@mit.edu with any questions.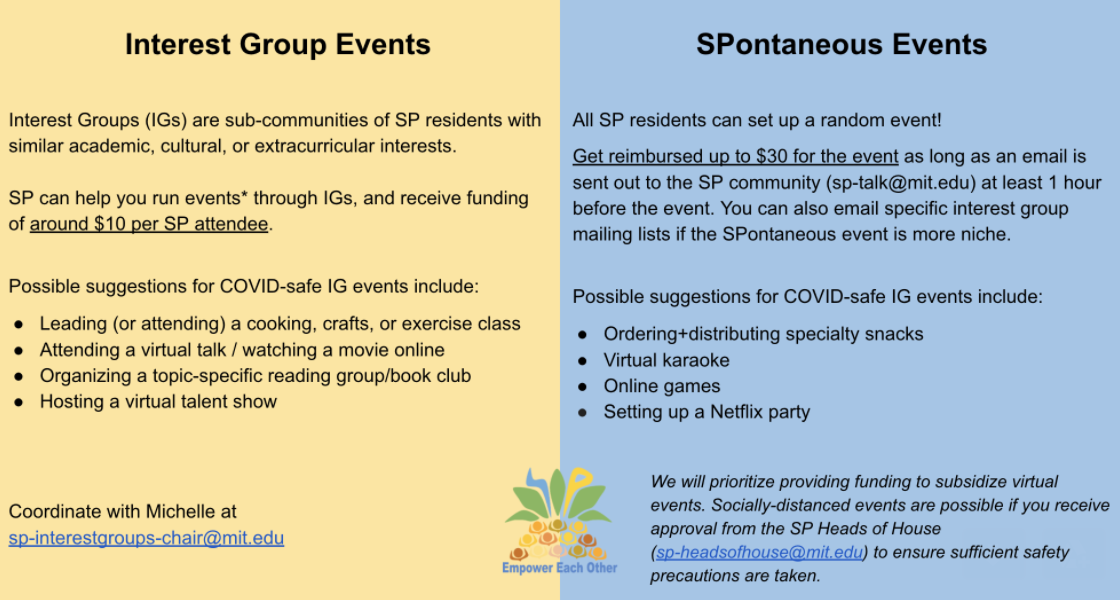 SPOCC ExPANsiON!!
Wednesday, January 6, 2021 23:59 – 23:59 | Your room! | sp-brunch-chair [at] mit.edu
Tl;dr: You could get your home cooking and/or takeout reimbursed (up to $14) if you cook and share your recipe OR write an awesome food review and submit it here: https://forms.gle/qbmaa5diV6LbiqGe7. SPOCC is expanding to feature BOTH recipes AND food reviews written by SidPaccers on local food businesses all around Boston! SPOCC will continue on its current Facebook page: https://fb.me/SidPacOCC and will gather all SidPac foodies to discuss recipes, takeouts, seek advice, post questions, etc.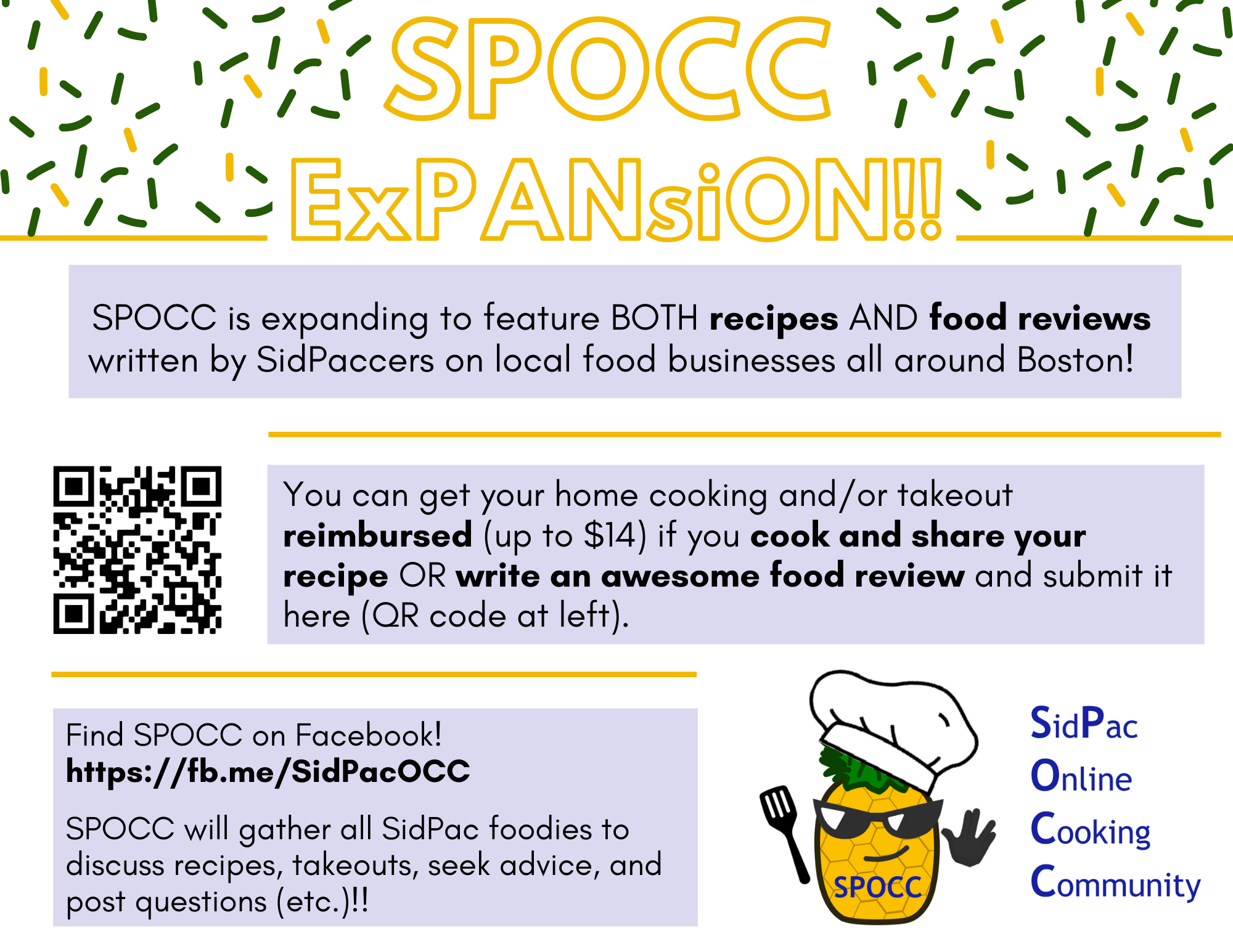 SP Book Club
Thursday, June 24, 2021 23:59 – 23:59 | nuriaj [at] mit.edu
Pick one, some, or all the books from the year-long list! You can get a free copy if you commit to attend the discussions. To stay up to date about all SP Book Club news, don't forget to subscribe to the "igroups-reading" list on the SP website. For more info, email nuriaj@mit.edu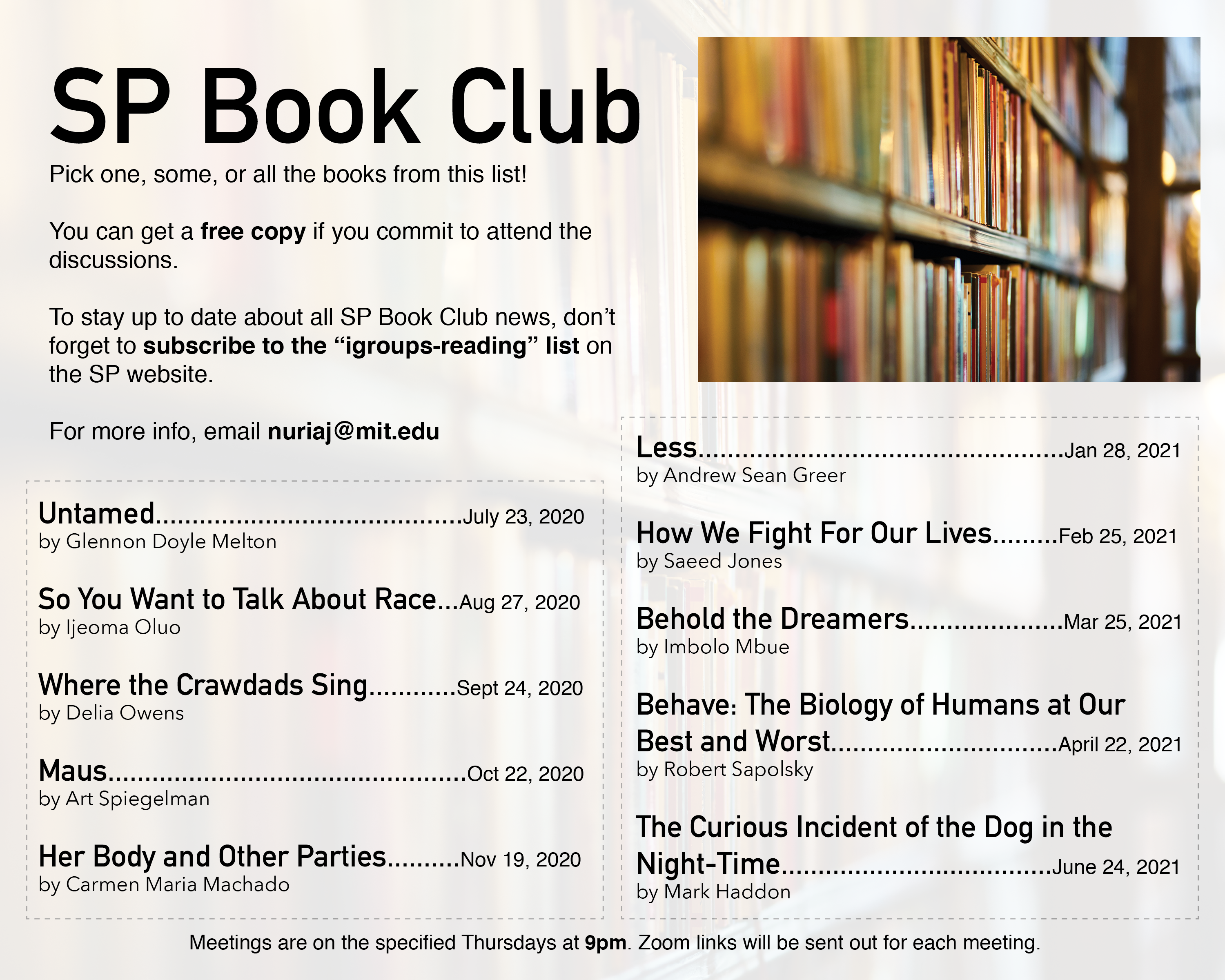 Coffee Hour
Wednesday, 12 August 2020 20:30 — Thursday, 26 November 2020 22:00 | Zoom: https://mit.zoom.us/j/91636865883 | sp-coffeehr-chair [at] mit.edu
Zoom password: coffee Join us in the first thirty minutes to chat with other residents individually preparing fruit and snacks. RSVP'd participants will have fruit delivered to their door during this time, with a selection of tea available on each floor. Remote participants can be reimbursed for snack food! From 9pm to 10pm, join us for breakout rooms focused on different web games, discussion, and other activities while enjoying food! RSVP here: https://tinyurl.com/sp-coffee-hour