HVAC Renovation Project
HVAC Room Allocation


For questions about move dates or any other issues, email sidpachvac@mit.edu to reach MIT administrators.
Jimmy Fund Scooper Bowl Outing
Thursday, June 4, 2015 17:00 – 20:00 | City Hall Plaza, Boston | sp-outing-chair [at] mit.edu
Join SP as we go to the largest all–you–can–eat ice cream festival, which serves ice cream and frozen yogurt, from the nation's leading ice cream companies!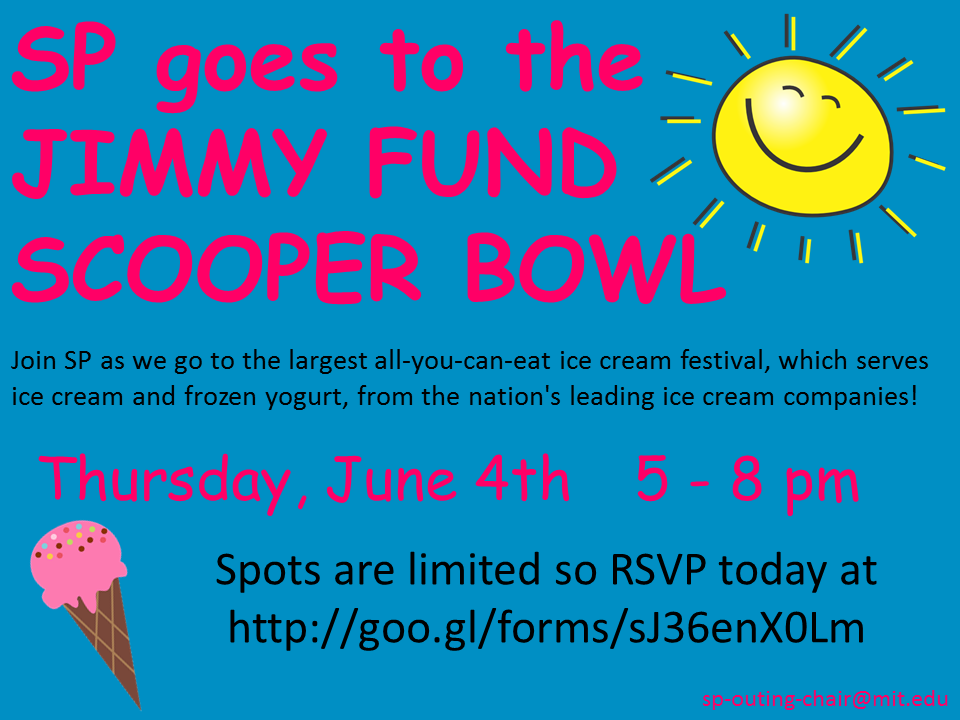 Moving out of SP? Don't throw all your stuff away!
Thursday, August 20, 2015 23:59 – 23:59 | sp-environment-chair [at] mit.edu
Are you moving out of Sid Pac this summer? As you pack, please remember that you do not have to trash everything! There are MANY ways for you to have a greener move-out by reducing the trash you generate. You can SELL your stuff (reuse-sell@mit.edu, Craigslist, for-sale signs on bulletin boards), or DONATE them (CASPAR homeless shelter, Goodwill Store, Planet Aid bins, MIT Furniture Exchange, freecycle.org, reuse@mit.edu, sp-igroups-reuse@mit.edu).