HVAC Renovation Project
SP HVAC renovation survey
Monday, December 1, 2014 23:59 – 23:59 | spec [at] mit.edu
Survey link: https://s-p.mit.edu/hvac-survey This short survey (~5 minutes) is extremely important to help SPEC, the HVAC steering committee, and MIT Housing make the most appropriate policies and decisions for the SP community during the renovation project. Please be assured that your responses are not binding and will be treated as confidential. The results will be presented in a way that individual respondents cannot be identified.
Gingerbread House Making Coffee Hour with Hot Cocoa
Wednesday, December 3, 2014 21:00 – 22:00 | Multipurpose Room | sp-social-chair [at] mit.edu
We're spicing up coffee hour with gingerbread! Come to the Gingerbread House Making De-stress Coffee Hour (with hot cocoa!) to relax and escape from the stress at the end of term! Preparation starts at 8pm and cleaning starts at 9:45pm. We hope to see you there!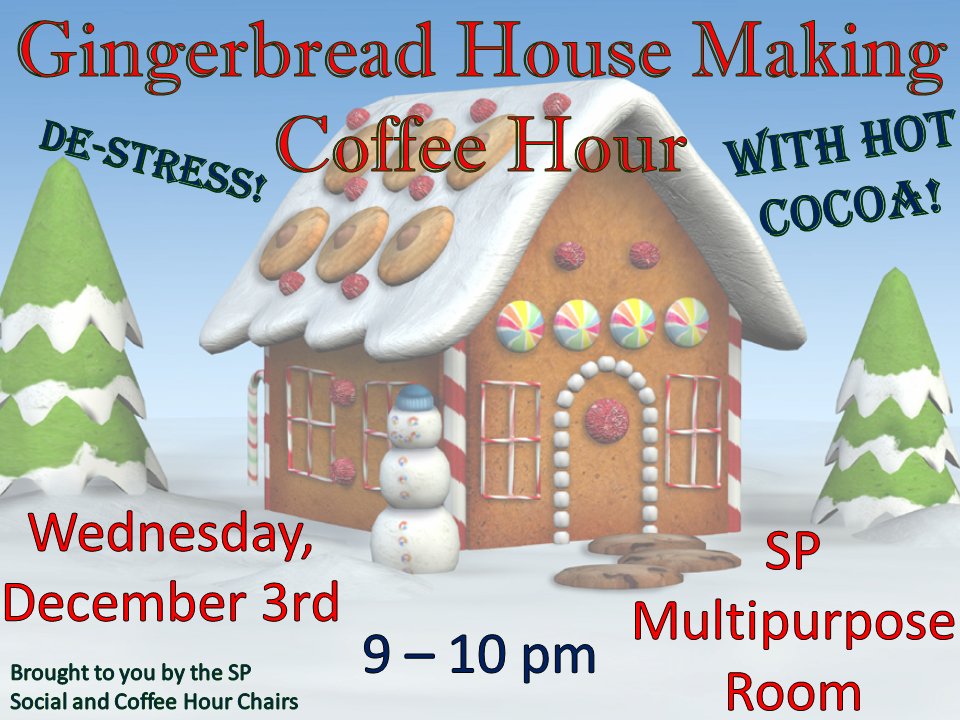 ImprovBoston Comedy Outing
Thursday, December 4, 2014 19:30 – 21:30 | 40 Prospect St, Cambridge, MA | sp-outing-chair [at] mit.edu
ImprovBoston Mainstage is the cornerstone of comedic talent at ImprovBoston. Showcasing our Freeform style of play, an ever-evolving show, Mainstage is the heart of ImprovBoston. Blending games, scenes, skillful storytelling, memorable music and audience participation, an elite cast of Boston's best improvisers creates a show that redefines itself with every performance. No rules. No boundaries. Just spectacular comedy and incredible improvisation.
Nutcracker Ballet
Thursday, December 4, 2014 | Boston Opera House | sp-outing-chair [at] mit.edu
SP outing to Boston Ballet's production of The Nutcracker Show starts at 7:30, tickets are $40, with $10 subsidy. Due to limited supply, this event is only for SP students. Seats are Orchestra Left. RSVP: http://goo.gl/1c15lb