Sidney-Pacific residents have many resources at their disposal, because Sidney-Pacific has one of the best facilities around and a well-organized inventory. These resources (and the officers behind them) support both academic and non-academic needs of the community as well as official and recreational programming of the government.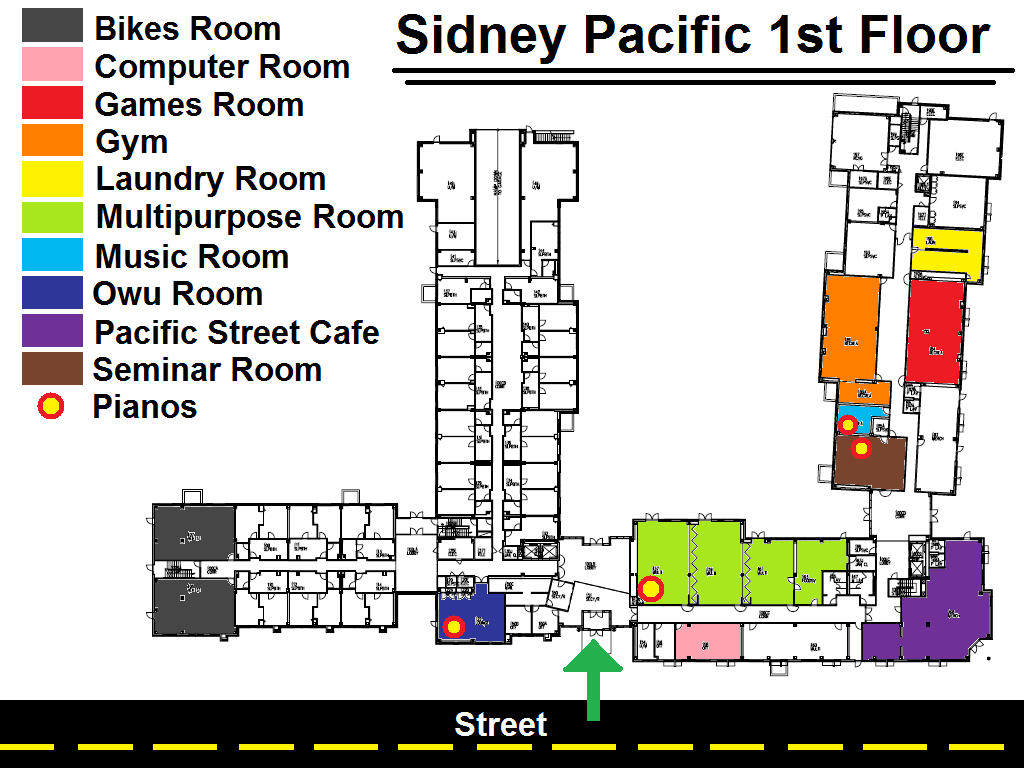 The courtyard contains a large patio area with BBQ grills. The first floor contains two bike rooms, a computer resource room with 15 computers and 5 printers, a number of common rooms, a music room, a game room, a fitness center, and a laundry room. Floors 2-6 contain lounges with TVs, DVD players, etc. Floors 2-5 contain study rooms with classroom-sized whiteboards. Floors 2-9 are all equipped with common kitchens complete with TVs and entertainment systems. The official reservations for the common rooms can be found on the room calendar.
Residents may check out items from the front desk including hundreds of DVDs of movies, TV series, documentaries, music, as well as vacuums, cots, board games, and many more. They are well-catalogued here, for residents to choose, check out, and even renew online.
We also have lots of art displays and a whole range of musical instruments for residents' practice. We have our own fleet of Zipbikes for daily rentals, and we own more than 50 plants that are scattered throughout the building. On top of all that, we have a dedicated team of officers taking care of the facilities, improving on it year by year, and trying to provide a positive, constructive environment for residents' living and learning.

In the Resources section (see menu on the left), you can also access the Housing Repair, Recycling, Parking, and Shuttle Tracking information.
Although living at Sidney-Pacific can be as comfortable as you get, please do not forget about other campus and graduate student resources, such as Cable TV, Campus IT, and Telephone services.