S-P Housefellows Committee




:


S-P Housefellows Committee

HOUSEFELLOWS PROGRAM

Sidney-Pacific (S-P) Housefellows are MIT faculty, administrative stuff and friends who do not live at S-P, however are part of the S-P community through this program. Housefellows are invited at different socials, cultural affairs, and dinners at S-P to enjoy the company of a new vibrant graduate student community. The goal of the Housefellows Program is to facilicate social interaction and encourage the residents to know our esteem Housefellows.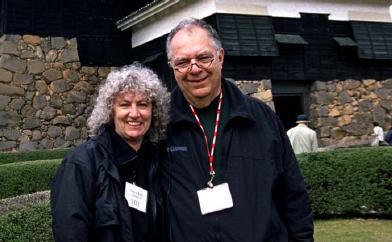 Samuel Jay Keyser, Professor Emeritus of Linguistics and Philosophy
Nancy Kelly, Administrative Officer in the Office of the President

Samuel Jay Keyser, MIT's Peter de Florez professor emeritus of linguistics, and current special assistant to the chancellor, is also editor-in-chief of Linguistic Inuiry, a mojor journal in the field of theoretical linguistics, as well as an associated monograph and book series. Jay has published on book of poems, Raising the Dead, and a children's book, The Pond God and Other Stories. His spouse, Nancy Kelly, is an administrative officer of the MIT president's office. Nancy is an inveterate traveler and an accomplished photographer who has recorded a number of trips with Jay.

Visit the photo albums of MIT Alumni Association for trip journals of Jay and Nancy.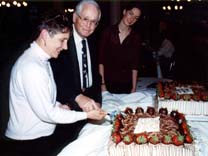 Vernon Ingram, Professor of Biology
Beth Ingram

Vernon Ingram is John and Dorothy Wilson Professor of Biology. In 1956, he discovered the effect on the protein structure of hemoglobin of the sickle cell anemia mutation. This explained in molecular terms how a gene controls the structure of the protein which it encodes. It also explained the first "Molecular Disease". Vernon and his wife, Beth Ingram, were the house master of Ashdown for 16 years before retiring from Ashdown in 2001. They have influenced lives of thousands of graduate students at MIT.

Robert S. Langer,Professor of Chemical and Biomedical Engineering

Robert S. Langer is the Kenneth J. Germeshausen Professor of Chemical and Biomedical Engineering. Dr. Langer has written 725 articles and 420 abstracts. He also has nearly 500 issued or pending patents, one of which was cited as the outstanding patent in Massachusetts in 1988 and one of 20 outstanding patents in the United States. Dr. Langer's patents have been licensed or sublicensed to over 100 pharmaceutical, chemical, biotechnology and medical device companies; a number of these companies were launched on the basis of these patent licenses. Dr. Langer has received over 100 major awards. In 2002, he received the $500,000 Charles Stark Draper Prize, considered the equivalent of the Nobel Prize for engineers and the world's most prestigious engineering prize, from the National Academy of Engineering. Forbes Magazine (1999) and Bio World (1990) have named Langer as one of the 25 most important individuals in biotechnology in the world.

Robert S. Langer is the Honorary Housefellow of S-P.

COMMITTEE OBJECTIVES FOR 2003-04


Introduce the Housefellows to residents at various events.


Organize/collaborate with other committees inviting Housefellows for social interactions at least one event a month.


Increase awareness of the Housefellows Program among S-P residents.



COMMITTEE MEMBERS

Syed M Alam (Chair)
Choong-Hyun Lee
Shudoa Chen
Daryush Mehta

Contact: sp-housefellows-chair [at] mit.edu

Interested to join the Housefellows Committee? Send us an email.


For more information, please email sp-housefellows-chair (at mit.edu)



---
Return to Committee Pages List